News
Justice League vs. The Fatal Five Animated Movie Arrives in April
The Justice League will face off against a classic group of villains in a new animated movie. Here's the first trailer...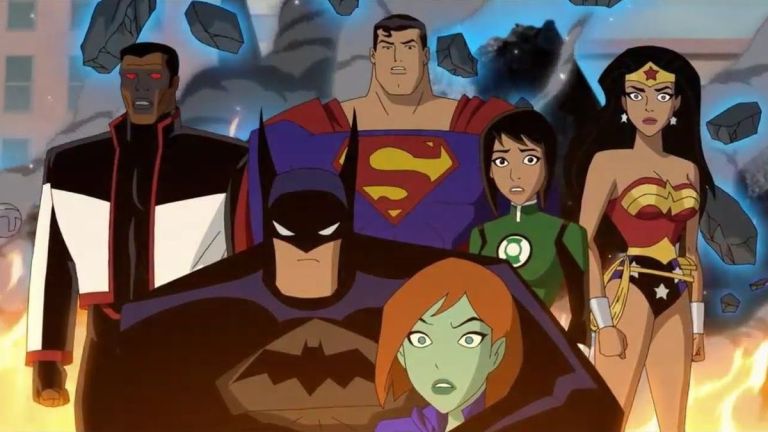 Fans of the Bruce Timm era of DC animated adventures such as Batman: The Animated Series and Justice League are in for a treat: the company's next animated movie, Justice League vs. The Fatal Five, is a nostalgic return to Timm's iconic art style. In fact, if you look closely, the new movie recaptures quite a few of the designs from Justice League Unlimited, including the longer ears on Batman's cowl. 
As you'd expect, the movie pits DC's pantheon of heroes against the Fatal Five, a group of supervillains from the 30th century. While they're usually the Legion of Super-Heroes' problem, these baddies have traveled back in time to give Superman, Batman, Wonder Woman, and the rest a hard time.
See for yourself in the trailer below:
The Fatal Five made their comic debut in 1967 in the pages of Adventure Comics #352. Initially, they were a band of supervillains that the Legion of Super-Heroes turned to when the Earth was in trouble. After that whole mess was resolved, the Fatal Five resumed their battles against the Legion of Super-Heroes, giving them all kinds of headaches. 
Typically, the Fatal Five consists of the cyborg Tharok; an incredibly strong alien named Validus; Persuader and his Atomic Axe; Mano, who can disintegrate things with just his touch; and the Emerald Empress. That appears to be the same lineup of villains that will oppose the Justice League.
These baddies most famously appeared in the Legion of Super-Heroes cartoon series that ran from 2006 to 2008 on Kids' WB. The series was short-lived with only 26 episodes before leaving the air. The Fatal Five haven't appeared on screen since. 
Expect to see the Legion of Super-Heroes in the mix, too, with Saturn Girl, Brainiac 5, and Starboy set to appear. Mr. Terrific, Miss Martian, and Green Lantern Jessica Cruz round out the good guys. And if you're wondering just how authentically '90s and '00s this movie is going to be, Kevin Conroy, George Newbern, and Susan Eisenberg are all set to reprise their roles as Batman, Superman, and Wonder Woman, respectively. 
The movie is directed by Sam Liu, whose DC animated work goes all the way back to the 2004 The Batman cartoon. Batman: The Animated Series veteran Alan Burnett, Supergirl writer and story editor Eric Carrasco, and X-Men and Spider-Man 1990s animated series writer James Krieg penned the script. Timm himself is serving as executive producer.
Justice League vs. The Fatal Five will release digitally on March 30 and straight to video and on DC Universe on April 16.
John Saavedra is an associate editor at Den of Geek. Read more of his work here. Follow him on Twitter @johnsjr9. 
Matthew Byrd is a staff writer for Den of Geek. He spends most of his days trying to pitch deep-dive analytical pieces about Killer Klowns From Outer Space to an increasingly perturbed series of editors. You can read more of his work here or find him on Twitter at @SilverTuna014.