News
Justice League 2: Everything You Need to Know
Justice League 2 might not happen for quite some time (if ever), but we look at a few possibilities for how it might.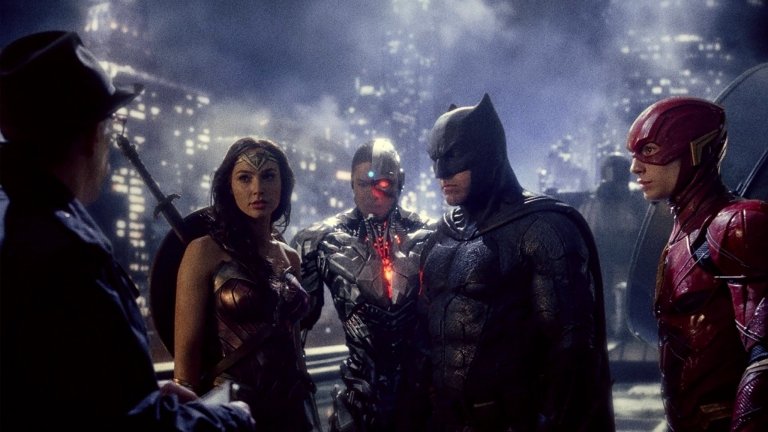 Justice League didn't perform according to Warner Bros' expectations at the box office, taking in $658 million worldwide. While that's a respectable number by most standards, it's not when it's a superhero team up flick, and especially not when it's $10 million less than 2013's franchise starter, Man of Steel.
Despite this, the good news it that the studio is still continuing with the DCEU. The Aquaman movie is a success, Shazam is locked in for April 2019, and we'll get both Birds of Prey and Wonder Woman 1984 in 2020, with James Gunn's Suicide Squad 2 likely to follow. But what about Justice League 2? 
Here's everything we know about the troubled road this movie has to take…
Justice League 2 Cast
Assuming this movie gets made in the next five years, it's a virtual lock that Gal Gadot will be there as Wonder Woman, Jason Momoa as Aquaman, Ray Fisher as Cyborg, and Ezra Miller as The Flash. Ben Affleck's status as Batman remains up in the air, as does Henry Cavill as Superman.
Justice League 2 Release Date
Justice League 2 was one scheduled for release on June 14, 2019. That date was quietly removed from the schedule long before the first movie was released, and that date has since been taken by the Shaft reboot. WB does have an "untitled event film" scheduled for August 2, 2019, but that isn't going to be Justice League 2.
In other words, don't expect Justice League 2 before 2021 at the earliest, and when it happens, it may have a totally different Batman under the cowl and a new Superman in the cape. However, by the time this happens, we'll have had a Shazam movie and possibly a Green Lantern Corps movie, which means there may be some more room at the table for new heroes.
We'll update this with more information as it becomes available. In the meantime, the complete DCEU Superhero Movie release schedule can be found here. Expect it to change even more over the next few months.
Justice League 2 Villain
The logical scenario would be for the team to take on Darkseid after beating up on his minion, Steppenwolf, in the first film. But now that Ava DuVernay is working on her own New Gods movie, that would seem to take Darkseid off the table.
But the appearance of Lex Luthor and Slade "Deathstroke" Wilson in the post-credits scenes would seem to indicate they would like to go with a "supervillain team-up" route. We have some more details on that here.
Justice League 2 Story
Granted, we're getting way ahead of ourselves here, but we outlined a few possibilities in detail right here if you're interested. 
Justice League 2 Director
The plan was originally for Zack Snyder to return for Justice League 2. Things got tricky when he suffered a personal tragedy and had to drop out of post-production on the first film, letting Joss Whedon step in for reshoots and to supervise the film's completion. But even before all that it seemed unlikely he was in a hurry to get back to Justice League 2. According to an item in The Hollywood Reporter last year, Mr. Snyder made it known that he wanted to take a break from massively budgeted superhero movies to work on something a little smaller. In this case it's The Last Photograph, a thriller set in Afghanistan, that he's been developing since before he took on Man of Steel or Batman v Superman: Dawn of Justice.
Considering that Joss Whedon bowed out of writing and directing the Batgirl movie for the studio, it does make him available, but he doesn't seem like a terribly likely choice at the moment, either, especially given all the controversy surrounding that project and his involvement with Justice League in the first place.
But the sad reality is, we might not see Justice League 2 for a very long time, but we'll update this with more information as it becomes available.