Features
Just what is Roland Emmerich's White House Down?
Channing Tatum's in talks to play the lead in White House Down. But what is it, and could it (whisper it) be a worthy successor to the Die Hard series?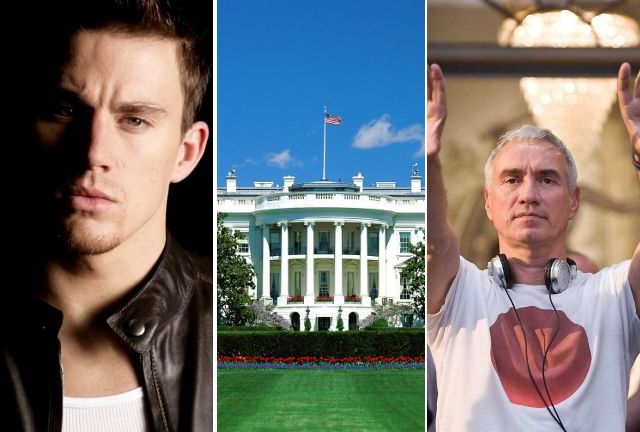 By now, you've probably heard the news that Channing Tatum's been in talks to star in Roland Emmerich's forthcoming
White House Down,
an action movie written by James Vanderbilt, a hotshot writer whose
The Amazing Spider-Man, Total Recall
and
RoboCop
reboots will be illuminating multiplexes soon (very soon, in the case of
Spidey
and
Total Recall
). Now, given Emmerich's career to date, which has seen him blow up famous landmarks (including the White House) in such action disaster epics as Independence Day and 2012, most interweb comments have boiled down to, "Oh good, another action disaster epic where the White House gets blown up. Yawn."  Such apathy's understandable, we suppose, particularly in light of the aforementioned
2012
, which almost felt like an absurdly over-the-top parody of the modern disaster genre, and also Emmerich's last movie,
Anonymous
, an ill-advised attempt at a historical conspiracy drama.  
White House Down,
meanwhile, may prove to be another departure for Emmerich. Sure, it's got explosions and violence in it, but this is more of a pure action movie in the pure 80s mode than the post Irwin Allen disaster stuff we've become accustomed to.  The reason we know this is because Vanderbilt's script has enjoyed an unusual amount of industry buzz. A couple of months ago,
White House Down
was a spec script (that is, written without any promise of purchase by a major studio), before Sony snapped it up for a staggering $3million. Such dizzying spec script payouts are unusual, but not unknown – David Guggenheim's script for
Safe House
sparked a bidding war among studios two years ago, and the resulting movie made $200 million for Universal earlier this year. The reason for Sony's excitement over Vanderbilt's story, we suspect, is because of its high-concept billing:
Die Hard
in the White House. And based on what we know about the script so far, that's more than just a glib sales pitch; there are numerous aspects of its central character and plot which immediately recall John McTiernan's 1988 classic.  If Channing Tatum accepts the lead role, he'll be playing John Cale, a veteran of the war in Afghanistan turned Secret Service agent at the White House. While taking his young daughter Emily on a tour of the Presidential building, a group of terrorists show up. Cale and Emily are separated, and the former finds himself faced with the task of rescuing not only the President, who's been taken hostage, but also his young daughter and all the other tourists trapped in the building.  We won't go into any more details of the plot here, but
Film Buff Online
points out several similarities between
Die Hard
and
White House Down
– not least Cale himself, whose one-liners and weary persona are markedly similar to that of John McClane.  Tatum's already proven his worth as a chap of action in such disparate movies as
G.I. Joe: The Rise Of The Cobra, Fighting
and his appearance in
Haywire
(in which he threw a coffee cup at Gina Carano and then got his backside kicked), and
21 Jump Street
proved that he's able to add plenty of charisma and comedy to his more physical performances. It's quite likely, then, that he'll be a decent choice to shoot bad guys and crack wise in a genre movie with its roots in the 80s.  And say what you will about Roland Emmerich's more recent films, he's a director well versed in organising action sequences, and it'll be intriguing to see how he handles a project that deals with lots of interiors rather than the panoramic scenes of destruction in his other films.  It's just possible, then, that if Emmerich's direction can match the reported tautness of Vanderbilt's script, we should be in for a worthy successor to 1988's
Die Hard.
The only cloud on the horizon, at least potentially, is a remarkably similar action project called
Olympus Has Fallen.
In it, Gerard Butler will play a Secret Service agent defending the White House from a terrorist attack. Sound familiar? At the moment, though, it looks as though Emmerich's film will beat
Olympus Has Fallen
to cinemas.
White House Down
is due to begin shooting this summer for a 2012 release, while
Olympus
isn't due out until 2014. Besides, history has proven that two films with almost identical premises can exist almost side by side – just look at
Dante's Peak
versus
Volcano
,
Deep Impact
versus
Armageddon
, and
Mirror Mirror
versus
Snow White And The Huntsman. 
  And with Antoine Fuqua currently named as the director for
Olympus Has Fallen,
we can safely say that, of the two films it'll be
White House Down
that'll have the biggest explosions.