News
Jumanji: Welcome to the Jungle Gets New Trailer
The new trailer for 2017's Jumanji reboot, with Dwayne Johnson, Karen Gillan, and Kevin Hart, is here...
Reboots are a difficult business. Hew to closely to the original, and you'll be called derivative; stray too far from what came before, you might enrage an otherwise loyal fanbase. However, the 2017 Jumanji looks like it could escape that stigma. Despite following up on a popular '90s film that Millennials enjoyed, with the late great Robin Williams and a pint-sized Kirsten Dunst no less, Jumanji is still a story about a dangerous board game seeping into our world, and as such has a lot of leeway for creative license. And by all accounts the new 2017 take on the story, which stars Dwayne "The Rock" Johnson, Kevin Hart, Karen Gillan, and Jack Black, will be a different animal all together… one that takes you inside the board game's world instead of vice versa.
To be clear, the film isn't a remake of the 1995 film, but rather a "spiritual sequel," one that will reportedly pay tribute to Robin Williams' character. With that in mind, it has plenty else to offer, so here is what we know:
Jumanji Trailer
Check out the newest trailer!
Check out the new poster, too…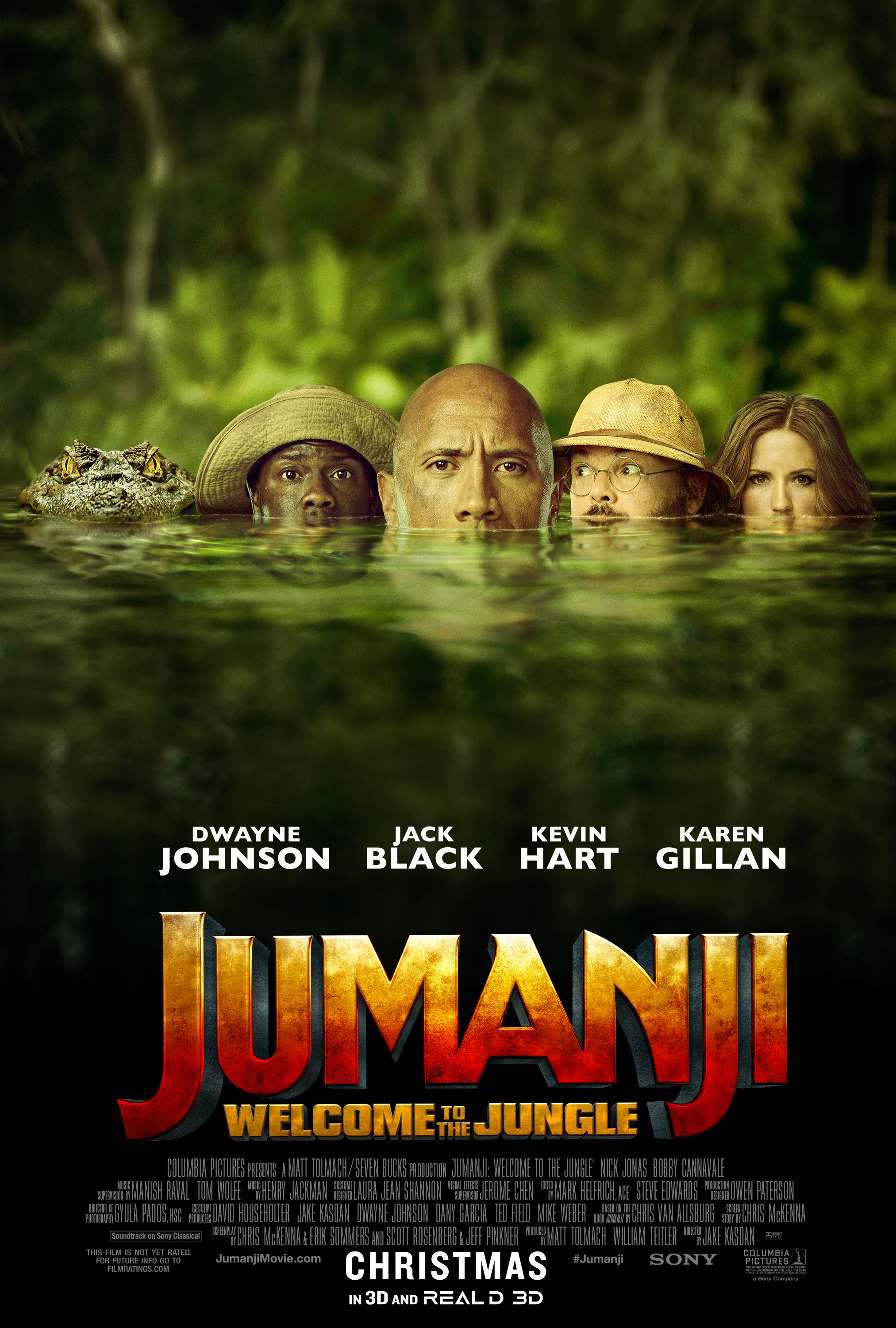 And here's the first, full-length trailer…
Jumanji Release Date
Jumanji fans can expect to enter the game on Dec. 20, 2017, just in time for next Christmas!
The storyline for the new Jumanji is an inverse of the classic Chris Van Allsburg children's story of the same name, as well as the '95 film. Rather than the board game escaping into our world, four teenagers are about to be trapped inside the game's land, much like what happened to Williams' charater in the original movie. Here is the synopsis:
In a brand new Jumanji adventure, the tables are turned as four teenagers are sucked into Jumanji's world – pitted against rhinos, black mambas and an endless variety of jungle traps and puzzles. To survive, they'll play as characters from the game: meek Spencer becomes a brave explorer (Dwayne Johnson); hulky jock Fridge becomes a tiny genius (Kevin Hart); It-girl Bethany becomes a bookworm professor (Jack Black); and unathletic Martha becomes an amazonian warrior (Karen Gillan). To beat the game and return to the real world with their lives, they'll have to start seeing things in an entirely different way.
Jumanji Cast and Crew
As aforementioned, the film will be about four young teens playing idealized versions of themselves (or others) inside the game. Hence, each actor will be really playing two characters. In that vein, Dwayne Johnson is Dr. Smolder Bravestone, a standard and heroic explorer whom will become the avatar for a timid and awkward boy named Spencer. Hulky Jock Fridge meanwhile is also going to be Moose Finbarr, a pint-sized genius played by Kevin Hart. Jack Black's Professor Shelly Oberon is technically a nerdy bookworm, but he is also the new body for an "it girl" named Bethany. Meanwhile, Karen Gillan's noticeably non-hiking attire will be due to the Doctor Who star playing Ruby Roundhouse, an amazonian warrior and fantasy for the unathletic child named Martha.
The picture is directed by Jake Kasdan, who helmed Orange County, Sex Tape, Bad Teacher, and Walk Hard: The Dewey Cox Story. The screenplay was g written by Scott Rosenberg, who wrote High Fidelity and Con Air. Chris McKinna (Community, Spider-Man: Homecoming) and Jeff Pinker (The Amazing Spider-Man 2, The Dark Tower) have also worked on the script.