News
Jumanji Author Has New Movie in Development: Harris Burdick
Chris Van Allsburg, author of Jumanji, will see his The Mystery of Harris Burdick adapted by Disney-Fox.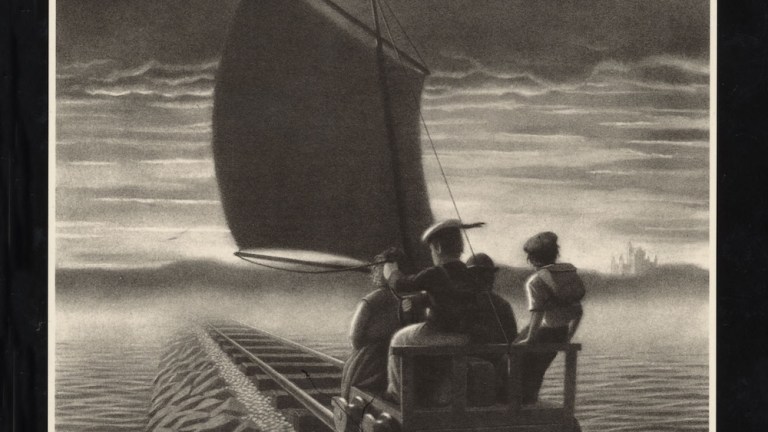 While Disney now owns 20th Century Fox, the former major studio is still producing some films on its own, hence it picking up the rights to a children's book by Chris Van Allsburg. As the popular author of Jumanji and The Polar Express, Van Allsburg's name provides immediate intrigue to the adaptation of The Mystery of Harris Burdick.
News of the project was announced via Deadline, who revealed that Rafe Judkins will be writing the adaptation and that it will be produced, among other people, by director Shawn Levy (Night at the Museum, Stranger Things). The book it's based on tells the story of an enigmatic author and illustrator named Harris Burdick, who visits a book publisher named Peter Wenders in the 1980s. He provides Wenders with 14 illustrations he has drawn, each with a caption, and promises that on the next day he will return with stories that accompany them. The problem is he never did return, and despite Wenders' best efforts, he could never find a trace of Harris Burdick whose images captivated him so. Van Allsburg thus claims he has published the images in the book in order to unearth the mystery of Burdick… he also encourages the young reader to come up with his own stories for each picture.
The book, for the record, has inspired other writers, including Stephen King, to offer their own interpretations of the images in the 2011 book The Chronicles of Harris Burdick: Fourteen Amazing Authors Tell the Tales.
Judkins has previously written for the series Chuck and is currently working on Amazon's The Wheel of Time TV series, as well as the unproduced Uncharted movie. It is unclear if Levy sees this as a potential directorial project, but he is producing alongside Dan Cohen, Bill Teitler, Mike Weber, and Ted Field. This is the latest Van Allsburg acquisition by Disney/Fox, who previously picked up the rights to The Garden of Abdul Gasazi.