News
Judge Dredd: Origins – a comic that should be a movie
Touted as the potential follow-up to the Dredd movie, here's why Rob thinks Dredd: Origins is prime for a big screen adaptation…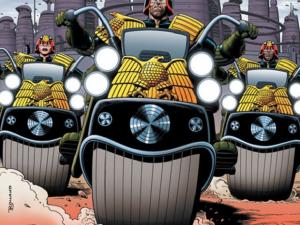 One of the most frequently posted comments on this website over the past year? It'd be something along the lines of "they can make [name of sequel that sounds not very good], but they can't make Dredd 2." The frustration is understandable. When the Karl Urban-headlined Dredd movie tanked at the US box office in particular, it seemed to take any hopes of a follow-up to what had been a raw, worthwhile film with it.
But the flame of hope still flickers, with a new web series the latest addition to the world of Dredd. However, should all concerned be looking for a future direction for Dredd 2, then Judge Dredd: Origins is surely prime material. It's a 2007 23-issue arc written and illustrated by Judge Dredd creators John Wagner and Carlos Ezquerra to mark the 30th anniversary of the outstandingly-chinned law enforcer's debut outing.
As you might have guessed, Origins clarified the – uh – origins of the character, and also established the whole history of Mega-City One and the wider world beyond. Here's why we reckon it should be a movie…
Why it would work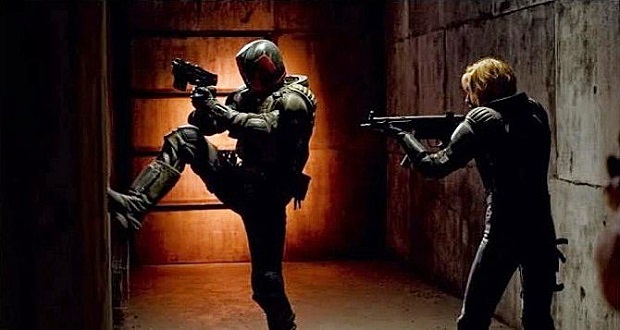 There are plenty of reasons why Origins could make the perfect next instalment for the big screen Dredd universe. In an age where action-packed films still make shedloads of cash, but comic book adaptation audiences are arguably looking for something a little different from your run-of-the-mill superhero story, Origins offers something to cover both.
Like the hugely-praised Captain America: The Winter Soldier, Origins expertly blends contemplative political statements with manifold opportunities for bombastically big action scenes and a twisty sense of mystery, albeit in a wackier, 2000AD-ier way.
The story here intertwines time periods like nobody's business, beginning with prequel story "The Connection" where an established Dredd (old and grizzly enough for Karl Urban to pull it off) chases down some mutants from outside the city who are attempting to sneak their way into town to deliver a mysterious box to the Grand Hall of Justice.
It's revealed in this pacey introduction that Dredd is also haunted by recurring dreams about his dead 'father' (Dredd is a clone of him), founder of the judging system Chief Judge Fargo, as well as his also-departed clone-brother Rico. We like to imagine the events of "The Connection" as a fast-paced pre-title sequence ending with the parcel (containing a ransom note and some DNA from Chief Judge Fargo!) arriving.
If pulled off with the same care as the Dredd film, this opening could gently introduce a wider non-comic-reading audience to such concepts as the existence of a world outside the walls of Mega City One, the type of people who live there, the existence of human cloning, and the importance of Chief Judge Fargo. Blending 2000AD's more fantastical elements with Dredd's more realistic tone is vital to a successful origin film, and arguably also integral to building a wider ongoing Dredd scren franchise.
After getting the audience on-side with a pacey sequence of Urban chasing mutants, the rest of the film would serve to offer action-packed fight scenes, further details about Dredd himself and a sprawling history of Mega City One. In the comics, Dredd gathers a team of judges to venture across the Cursed Earth outside the city to pay the ransom fee and retrieve Fargo's body. The scrapes they get into along the way include a falling-out with a whole town of mutated Fargo lookalikes and bust-ups with hordes of other mutants. Said scrapes would provide some action scenes to keep punters interested and fill the trailer with fun.
Meanwhile, Dredd regales his brothers-in-arms/helmets with the truth about how Chief Judge Fargo created the judge system and how the Mega Cities came to be, in light of the game-changing news that Fargo's body isn't where they all thought it was. Without wanting to spoil all the details, this history lesson (presumably told through flashbacks with narration for the film version) unfolds as a conspiracy thriller of faked deaths, political corruption, personal entanglements and government cover-ups.
There are surprises even for Judge Dredd as his team reach their destination, with more deception, danger and death coming to light. It's a tense finale on the page, which could translate to jaw-dropping twists in the cinema.
Basically, Origins as a film could spin a fascinating yarn about political dishonesty whilst also dropping in some action and broadening the cinematic 2000AD world. Some extra character development for Urban's Dredd would be a welcome bonus too.
What could go wrong?
Potential problems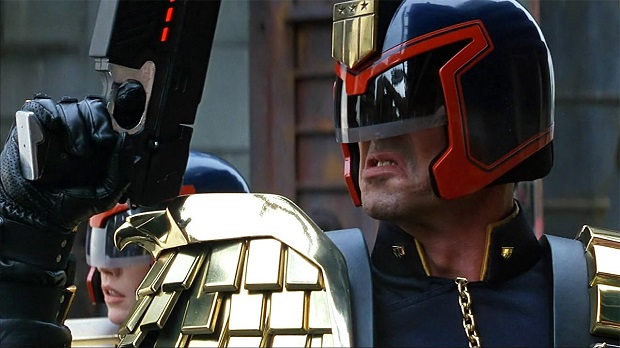 Of course, there are some elements that could go 'not to plan.' For example, introducing a world of mutants (ranging from tame mutations like oddly-colouredness to downright disturbing beings with extra heads) could be troublesome. If handled haphazardly, the contents of Origins could land the film into the far-too-far-out territory of famous potential-franchise-killers like Green Lantern. The last third of I Am Legend sticks in the mind for some reason too.
Making the next Judge Dredd movie too weird, could be a nail in the coffin of any further films. However, you've got to hope that Alex Garland (the writer behind 2012's Dredd) could find a way to balance the more supernatural elements with their established grit. If Neil Bloomkamp can have aliens and dirty dystopias in District 9, Garland could surely have a few mutants in Dredd: Origins.
Of course, there's a few casting question marks too. If the film were to keep the flashback-to-modern-scenes ratio from the comics, there would be no shortage of new characters to cast, as well as the small matter that Urban might end up sidelined in his own film.
However, there's a way to sidestep the worry of an Urban-lite narrative – cast him as young Chief Judge Fargo in the flashback narrative as well. Dredd is meant to be a clone of him, after all. When the narrative demands an older Fargo, how about – go with this – Sylvester Stallone? Not only because we think he could handle the role, but as a winning sly wink to the fans. We'd expect a return for Oliver Thirlby's Anderson in the present-day strand too.
Given the level of support for a Dredd sequel, we think a few other famous names could probably be tempted to join the flashback era too. Keeping the tradition of including a Game Of Thrones alumnus, wouldn't Charles Dance make an excellent President Booth? Heck, we'd even give Isaac Hempstead-Wright the role of young Dredd if it was up to us. Which it isn't, of course.
As much as we've been praising the action of Dredd: Origins, it's also worth noting in this problems section that a lot of it is left to the imagination in the comics. We know, for example, that a massive inner-city conflict occurs in the flashback strand, but we only see snippets of it from the young Dredd's point of view. Similarly, some of the big bust-ups in present-day Dredd's quest fly by very quickly. In the age we live in when the most valuable thing to have in a trailer is a big battle scene, a whopping explosion or something similar, the fleeting nature of Origins' action could pose a problem.
Despite this, and here comes the reason we included the action in our 'pro' section too, there is absolutely no reason a few of these conflicts could be expanded upon. You'd only need to introduce us to a couple of older soldier/Judge characters in young-Dredd's timeline to enable us to hang around a bit longer for the fighting, for example. If Peter Jackson can turn the mere mention of 'frost giants' into an epic set piece, we wouldn't wager on a lack of cinema-sized spectacle being a problem for Dredd's Origins.
After the problems with the last comic book movie with 'origin' in the title, we might wager that they might go for a different name here. Dredd: The Cursed Earth, maybe?
Will it ever happen?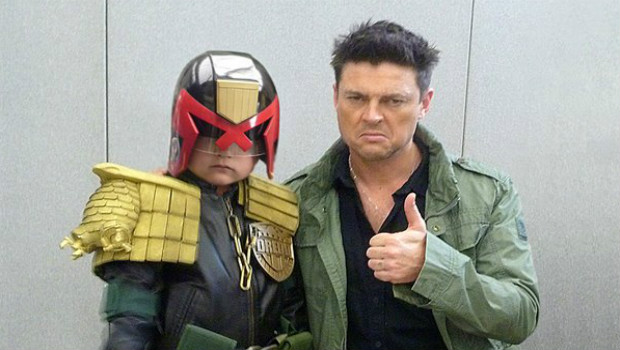 Naturally, the biggest elephant in the room here is the fact that Dredd didn't fare well enough at the box office to guarantee a sequel. Hollywood legend has it that Garland was told he'd have to make $50 million in the US to secure a second go-around. The film fell short at £35 million worldwide.
However, the Dredd sequel campaign stormed the web and got the film to the top of the DVD charts upon the anniversary of its release. Another 'day of action' was held in 2014, which, although not quite as effective, surely caused an attention-worthy spike in someone-important's bank account.Regardless of radio silence from Lionsgate, Garland and Urban have been talking up their ideas for Dredd sequels, with an adaptation of Origins being mentioned to Empire in September 2014. Themes surrounding the question 'is Judge Dredd a fascist?' have been touted for exploration too, which Origins would certainly allow.
A storyline involving Dark Judges has been teased as a potential third instalment (see that Empire link), should the franchise ever get a shot at revival. Dredd's executive producer Adi Shankar even went as far as producing his own unofficial Dark Judges spin-off in October 2014, presumably in a bid to generate another burst of interest in continuing the adventures of Judge Dredd on the big screen.
However, the fate of either of these proposed films is arguably in the hands of Lionsgate now, or whichever distributor wants to stump up for the film (Entertainment did so in the UK first time around, Lionsgate in the US). With Urban, Shankar and Garland all openly discussing their eagerness to return to their Dredd universe, all any sort of official follow-up on the big screen needs now is investment.
The likelihood of that happening? Well, that depends on your personal level of optimism, to be honest. Back in February 2014, Mr Urban told the world that discussions had begun with Lionsgate, but the lack of a follow-up confirmation from the studio has us all a bit sceptical at this stage. If there's a problem holding any studio up, we'd wager it's the fact that a sequel (Origins or something Dark Judges-based) would need a bigger budget than the one Dredd failed to recoup at the box office last time around.
With a pre-made fanbase gathered together by the sequel campaign (with an active mailing list and everything), as well as all the original talent (save for director Pete Travis, we assume) keen to return, and such a solid comic awaiting adaptation, somebody somewhere must surely be tempted. Our message to those with $40-50m burning a hole in their pockets? Go on, you know you want to. The sequel comic wasn't enough.