News
Joker: Movie Trailer, Review, Release Date, Cast, Plot, and News
Here's everything you need to know about the Joker movie starring Joaquin Phoenix.
Warner Bros. is bringing fans a Joker solo movie, devoted entirely to Batman's greatest villain. This shouldn't be too surprising given the Joker's stature as one of the best villains of fiction (as well as a box office draw considering what he and Harley Quinn did for the otherwise toxically received Suicide Squad). What is unexpected, however, is that this is a standalone movie–and a period piece no less–completely removed from WB's DC Extended Universe. The movie, titled simply Joker, will tell the origin story of the Clown Prince of Crime, set in a Gotham City that resembles the New York City of the 1970s and '80s.
Apparently, Warner Bros. plans to "expand the canon of DC properties and create unique storylines with different actors playing the iconic characters." This vague description makes it sound like the studio is pursuing a big screen version of DC Comics' "Elseworlds" line, which delivered classics like the Victorian-era Batman vs. Jack the Ripper story Gotham by Gaslight (which recently had an animated adaptation) and the communist Superman story, Red Son, which is getting an animated adaptation of its own. This kind of approach, rather than the strict, Marvel-esque "shared universe" would certainly allow the studio to both forge their own identity and carry on with their mission statement of allowing directors with strong cinematic identities to steer these movies. This could be their opportunity to experiment with an R-rating, too.
Here's everything we know so far about the Joker movie!
Joker Trailer
The new trailer has arrived! Watch it below and smile:
Watch the first trailer for Joker and "put on a happy face…"
And check out that poster…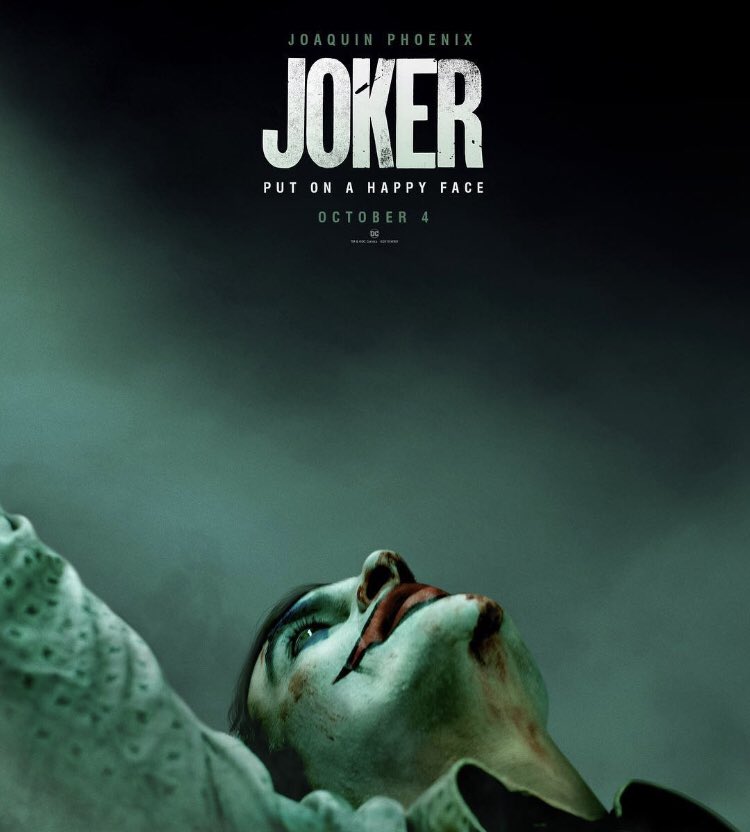 Joker Movie Review
The first reviews from Joker have arrived, and they are almost all overhwelmingly positive.
Jim Vejvoda at IGN gives the movie the rare 10/10. Mark Hughes of Forbes calls Joker  no less than one of the best films of 2019. And a friendly Den of Geek face calls it "disturbing and uncompromising."
Joker Rating
Director Todd Phillips posted a still from the Joker movie, and confirmed in a conversation with a fan in the comments that the movie will indeed be rated R. This makes Joker doubly historic. It's not only the first DC or Marvel movie to let the villain headline (Venom was sadly more anti-hero than pure villain), it will also be the first R-rated DC movie.
Joker has been rated R by the MPAA for "strong bloody violence, disturbing behavior, language, and brief sexual images." Oh, so just what you would expect, basically.
Joker Release Date
Warner Bros. and DC have slated an October 4, 2019 release date for the Joker origin flick. The full schedule of DC movies can be found here. 
Joker Cast
Joaquin Phoenix will play the Joker. Imagine for a moment Phoenix's Commodus from Gladiator speaking with the Joker's singsong voice, and then try not to smile. Phoenix joins a long line of brilliant actors who have played the Clown Prince of Crime. 
further reading: The Actors Who Have Played The Joker
You can get a few looks at Phoenix as the pre-Joker version of the Joker his name is apparently Arthur Fleck) right here.
Read more about Joaquin Phoenix's Joker origin look right here.
And as is appropriate for a movie that has Martin Scorsese as one of its producers, Rober De Niro will be in the movie as "a talk show host who is somehow instrumental in the Joker's origin," according to THR.
Marc Maron (who has been nothing but brilliant on GLOW) is in the movie as "an agent on Robert De Niro's talk show who plays a part in booking Phoenix's character, and eventually causing him to go mad and become the Clown Prince of Crime." (via Variety) 
Zazie Beetz will play "a single mother who catches the interest of the man who will become the clown prince of crime." (via THR)
The Wrap reported that Frances Conroy will play the Joker's mother, Penny. They also report that Zazie Beetz will play "a single mother who catches the attention of the Joker prior to his transformation into the nihilistic Gotham City villain," which might seem to offer some echoes of The Killing Joke by Alan Moore and Brian Bolland.
There had been plans for Alec Baldwin to play Batman's father, Thomas Wayne, but for whatever reason, they fell through. It might be for the best.
Joker Rating
The Joker movie hasn't been rated yet, although there have been rumors that this, along with Birds of Prey, could be the DC movie universe's first venture into the kind of freedom afforded by an R-rating. We'll update this as soon as there's any confirmation.
Joker Director
Todd Phillips (The Hangover, War Dogs) is directing and co-writing the script with Scott Silver (8 Mile, The Fighter). But what makes things really interesting is that Martin Scorsese is producing, and that the whole conceit is an origin story completely removed from the DCEU. In fact, the movie had previously been described as a crime thriller set in an early 1980s Gotham City, with the plan being to evoke Martin Scorsese's classic neo noir, Taxi Driver (1976), except, you know… with a lot more smiling. But a very different classic Scorsese movie might be one of the touchstones for this movie: The King of Comedy. You can see both of those influences pretty clearly in that first trailer.
Joker Plot Details
The official word on this movie (via THR) is that it's an "exploration of a man disregarded by society [that] is not only a gritty character study, but also a broader cautionary tale." 
The Wrap had reported that this version of the Joker is "a failed 1980s comedian who becomes the clown prince of crime after bombing with audiences." That also sounds an awful lot like what was depicted in The Killing Joke, the Alan Moore/Brian Bolland Joker story that details how a struggling comedian falls in with the criminal element…and ultimately falls into a vat of disfiguring chemicals.
Suddenly, DC Comics' recent announcement that the Joker's real name, long left deliberately unknown, is Jack Napier (a callback to the 1989 Tim Burton Batman movie) makes a lot more sense from a synergy perspective.
We'll update this with more information as it becomes available.
Read and download the Den of Geek SDCC 2019 Special Edition Magazine right here!