News
Jojo Rabbit: Trailer, Release Date, Cast, Story, and News
Taika Waititi's WWII-era film, Jojo Rabbit, is about a young boy in Nazi Germany and his imaginary friend, Hitler.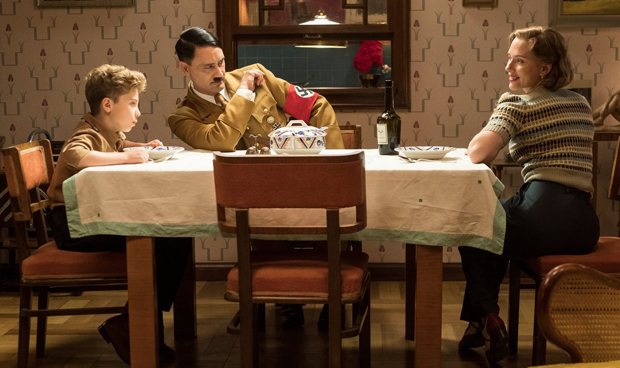 Of all the Taiki Waititi films co-starring Scarlett Johansson about a young boy who has Adolf Hitler as an imaginary friend, the upcoming Jojo Rabbit is, without a doubt, the most intriguing.
The Fox Searchlight film follows a lonely 10-year-old boy named Jojo (Roman Griffin Davis) living in Hitler's fascist regime who, unable to understand and deal with the realities of his situation, invents an imaginary friend based on the fanatical Führer himself (played by Waititi) to help him cope. Johansson plays the Jojo's mother. Jojo's loyalties are tested when he discovers that his mother is hiding a Jewish girl in their home.
The Thor: Ragnarok director also stepped behind the camera for this film, working off his own screenplay based on the 2008 novel Caging Skies by Christine Leunens. 
Here's everything else you need to know…
Jojo Rabbit Trailer
We have a full-length trailer for Jojo Rabbit that gives us a better idea of the diverse tones of the film. While the first trailer focused on the absurdist humor of the piece, this one also highlights the deep drama of the film. Check it out…
And here's the first trailer for Jojo Rabbit…
Jojo Rabbit Release Date
Jojo Rabbit is opening in limited release on Oct. 18. This will follow its world premiere at the Toronto International Film Festival in September.
Jojo Rabbit Cast
Along with Taika Waititi's Hitler, here is the cast:
Roman Griffin Davis plays Jojo Betzler, the boy who's imagining Hitler.
Scarlett Johansson plays Rosie Betzler, Jojo's mother.
Thomasin McKenzie plays Elsa Korr.
Rebel Wilson plays Fraulein Rahm.
Sam Rockwell plays Captain Klenzendorf, a Nazi youth camp captain.
Alfie Allen will continue his Game of Thrones and John Wick tradition of playing repugnant characters, this time a Nazi, named Finkel, who's the second-in-command to Sam Rockwell's youth camp captain.
Stephen Merchant plays Gestapo agent Captain Deertz.
Jojo Rabbit Story
Here's the official synopsis:
In JOJO RABBIT, writer director Taika Waititi (THOR: RAGNAROK, HUNT FOR THE WILDERPEOPLE), brings his signature style of humor and pathos to a World War II satire.  The story follows an awkward young German boy (Roman Griffin) raised by a single mother (Scarlett Johansson), and whose only ally is his imaginary friend Hitler (Waititi).  His naïve patriotism is tested when he meets a young girl (Thomasin McKenzie) who upends his world views, forcing him to face his biggest fears.