News
John Wick 3: Release Date, Trailer, Cast, Poster, and More News
Keanu Reeves is suiting up again for John Wick: Chapter 3 – Parabellum, which marks a deadly May release date.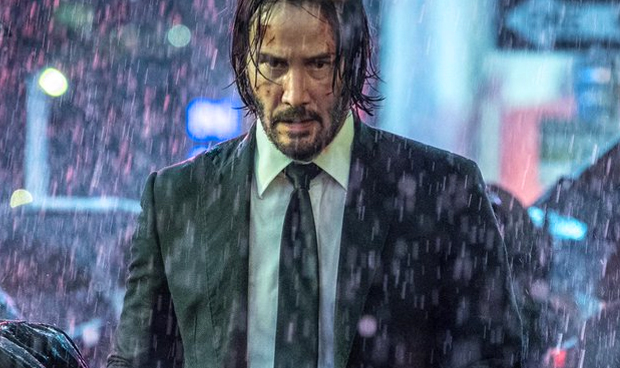 John Wick: Chapter 3 was about as inevitable of an action sequel as inevitable action sequels get (which is pretty gosh darn inevitable). Off the back of the success of the Keanu Reeves-headlined surprise 2014 hit, John Wick, and its equally crimson-soaked sequel, John Wick: Chapter 2, and even a mooted spinoff television project in The Continental, plans quickly moved forward to get cameras rolling for the third film in the series in time for a May 2019 arrival.
The threequel brandishes the nifty title, John Wick: Chapter 3 – Parabellum. For those of you who didn't take Latin, "parabellum" means "prepare for war." It's typically the second half of the saying, "Si vis pacem, para bellum," or "If you want peace, prepare for war." Fitting, no?
The film is directed by Chad Stahelski, who co-directed the first movie and helmed solo on the second, and written by Derek Kolstad, the mastermind behind the whole franchise.
John Wick 3 Release Date
John Wick: Chapter 3 – Parabellumwill hit theaters on May 17, 2019.
John Wick 3 Trailer
In this new clip, John lives up to his other famous attribute, that of a dog lover, when he realizes that his current Excommunicado status in the assassin underworld would all but guarantee harm to his new dog – who he never bothered to name. Thus, using some secret society mojo, John does the right thing and has his dog sent to a safe place (for the dog, not John), the Continental Hotel, where concierge Charon (Lance Reddick) enjoyed taking care of the pooch in the last film.
Check out the latest full trailer below.
You can also check out the first trailer just below!
John Wick 3 Cast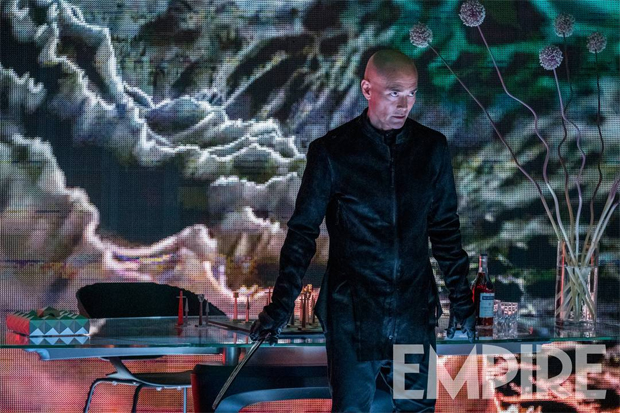 Mark Dacascos (Agents of SHIELD) will play the film's big-bad-apparent, Zero. You can catch an early glimpse of him in character in the above image from Empire. It seems that Zero will not only be John's biggest threat, but is also a fan of his (wet)work. Thusly, he will have no problem fanboying over John while trying to kill him. "He's a huge John Wick fan," Dacascos explains, "so you'll see an essence of, 'I have to kill you, but you know if I didn't have to do that, we'd be besties!'"
Halle Berry revealed last year that she will join Keanu Reeves to co-star in John Wick: Chapter 3 – Parabellum. The first image of Berry's character, Sofia, surfaced last June. As you can see, like John, she also appears to be a dog enthusiast… twice over. Sofia is an assassin with a complicated history with John, but she appears at least in the trailer to have his back.
Other major returning characters include Ian McShane as Winston, the proprietor of the Continental chain who was forced to reluctantly excommunicate John after he killed someone inside the grounds of a hallowed hotel.
Laurence Fishburne is also returning as the Bowery King, an assassin who has turned New York City's homeless population into a spying network, and whose complicated history with John might make him one interested in taking a new bounty on his head.
Newcomers include Game of Thrones' Jerome Flynn (Bronn if you watch the HBO series). He's playing a new character known as Berrada. 
Additionally, Angelica Huston has been cast in a likely showy cameo role as "the Director," which presumably is a head honcho position that will be gunning for John. 
Asia Kate Dillon (Orange is the New Black) will, meanwhile, be "the Abjudicator" and Robin Lord Taylor (Gotham) is "the Administrator." Methinks plenty of inner-workings of the Continental and "Board" will be explored in the new film.
Jason Mantzoukas (Brooklyn Nine-Nine) will play the "Tic-Toc" Man.
Chinese martial arts movie megastar Tiger Hu Chen has joined, along with alumni from The Raid in Yayan Ruhian and Cecep Arif Rahman. This group is likely set to tangle with Reeves' wayward John Wick in what will surely be impressive fashion.
John Wick 3 Story
Picking up where the last film left off, John Wick has gone from boogeyman to being the biggest bounty in town, making him the target of every elusive assassin. However, it seems that he has at least one person that he can trust in fellow dog-lover (and apparent former flame,) Sofia.
Industry event CinemaCon, in Las Vegas, can be a treasure trove of news, and that would prove to be no exception for John Wick: Chapter 3 – Parabellum. It's where we first saw the veil lifted on the film's plot:
John Wick (Keanu Reeves) is on the run for two reasons… he's being hunted for a global $14 million open contract on his life, and for breaking a central rule: taking a life on Continental Hotel grounds. The victim was a member of the High Table who ordered the open contract. John should have already been executed, except the Continental's manager, Winston, has given him a one-hour grace period before he's "Excommunicado" – membership revoked, banned from all services and cut off from other members. John uses the service industry to stay alive as he fights and kills his way out of New York City.
Of course, this won't exactly send shockwaves among those who saw John Wick: Chapter 2, which culminates in the bounty on John's head and the aforementioned exile, which (to elaborate,) Continental boss Winston (Ian McShane) instituted reluctantly after John broke a sacred rule by killing his relentless, manipulative, enemy Santino D'Antonio (Riccardo Scamarcio), within the designated safe walls of the hotel for assassins. – Nevertheless, there it is!
Chad Stahelski, who directed the second movie, returns to direct the third film, again working off a script by (franchise creator) Derek Kolstad.
John Wick 3 Poster
The first proper poster for John Wick: Chapter 3 – Parabellum has arrived, which also has a rainy motion poster version as well, appropriately showing John enduring hostile weather on the outside looking in at the safety of the hitman's haven, the Continental Hotel, from which he has been unceremoniously barred after his actions in the previous film.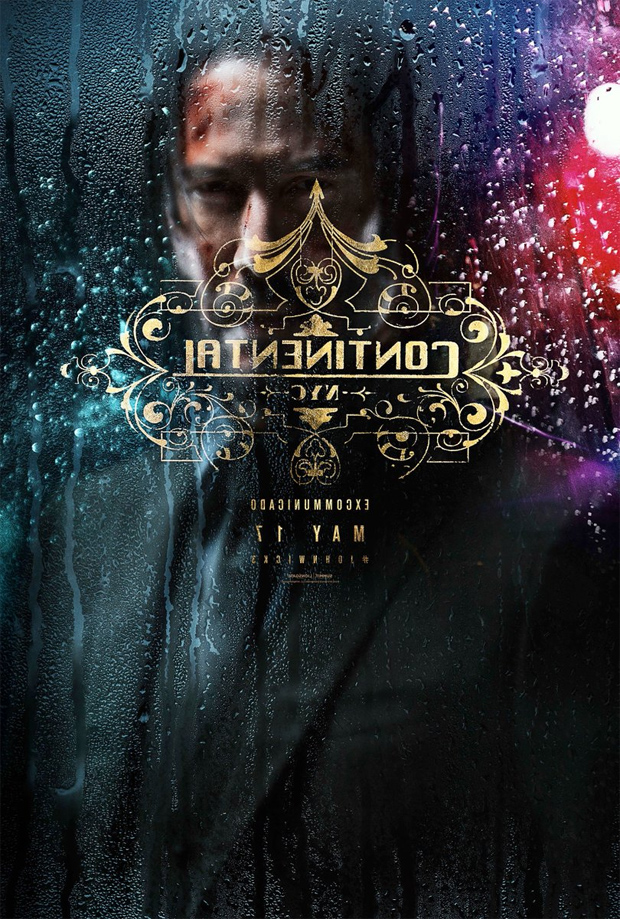 Joseph Baxter is a contributor for Den of Geek and Syfy Wire. You can find his work here. Follow him on Twitter @josbaxter.