News
Stan & Ollie Trailer: John C. Reilly and Steve Coogan are Laurel and Hardy
Stan & Ollie will tell the story of how great comedians don't need an audience when they have each other.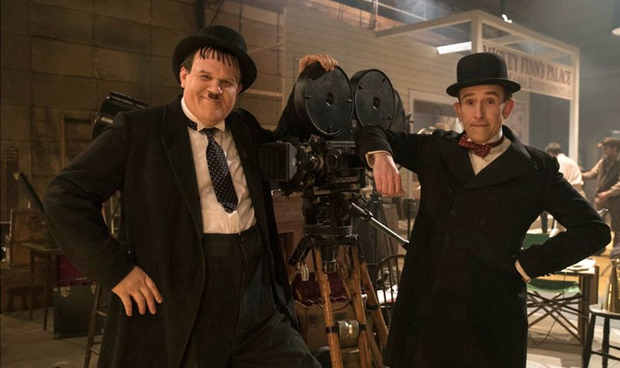 Stan & Ollie will tell the story of Stan Laurel and Oliver Hardy, showcasing the friendship that held together the entertainment industry's first truly great comedy duo. It will brandish the promising comedic duo of Steve Coogan (The Trip) as Laurel and John C. Reilly (Kong: Skull Island) as Hardy.
The film was directed by Jon S. Baird, who adapted Irvine Welsh novel Filth, starring James McAvoy, in 2013. The screenplay was written by Jeff Pope, who wrote the 2013 fact-based film, Philomena, in which Coogan co-starred with Dame Judi Dench.
Stan & Ollie Trailer
A new U.S. version of the Stan & Ollie trailer has arrived, showing a little more of this promising biopic. Just as with the previous trailer, we see John C. Reilly and Steve Coogan as the legendary comedic duo during the downslide of their domestic popularity. Consequently, they set out from Hollywood to London to mount a comeback with a series of stage shows. However, standing in the way of that endeavor are personal tensions between the duo and Hardy's declining health.
The previous trailer can be viewed below.
Stan & Ollie Release Date
Stan & Ollie is set for a limited U.S. theatrical release – in New York and Los Angeles – on December 28. A subsequent wide release is being teased; there's no word yet on when that will arrive.
The film is scheduled for a theatrical release in the U.K. on January 11, 2019.
An advance screening was held during the 62nd annual BFI London Film Festival back on October 21.
As director Jon S. Baird expresses in the premiere announcement:
"I'm really proud to be able to give the film its world premiere in London; a city that's so dear to myself and I know was to Stan Laurel and Oliver Hardy. Stan & Ollie, at its heart, is a love story between old friends, who just happen to be two of the most iconic comedic characters in Hollywood's history."
Here's the first poster for the film.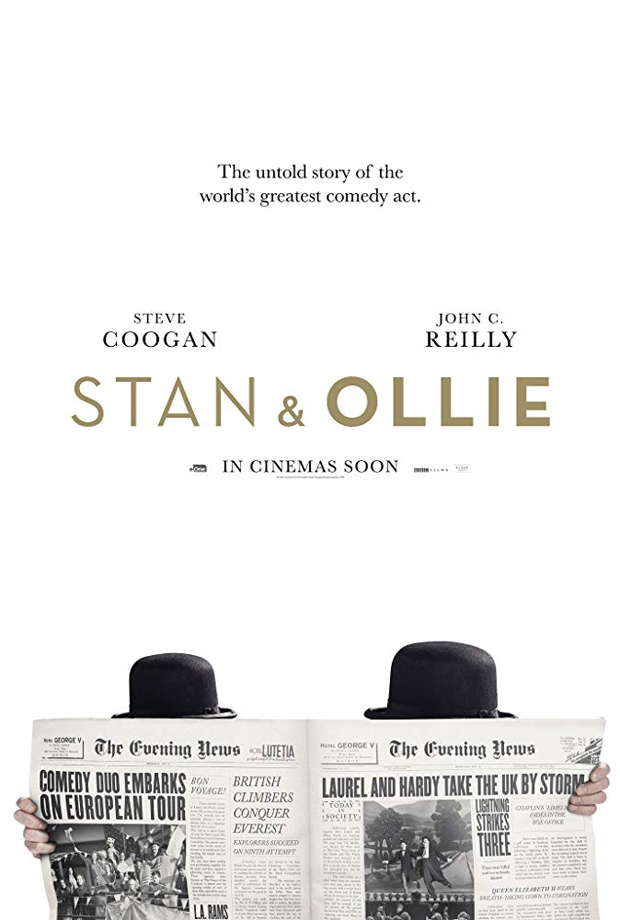 Stan & Ollie Details
Joining stars John C. Reilly and Steve Coogan in the Stan & Ollie cast are Danny Huston, Nina Arianda, Shirley Henderson.
Stan Laurel had come over from England with the master comedian Charlie Chaplin and Ollie played a variety of comic and heavy roles in silent movies, including a version of The Wizard of Oz. They were thrown together by Hal Roach (played by Danny Huston in the movie,) and became more than a comedy team, they were lifelong friends. It always makes me sad that Lou Costello and Bud Abbott were only associates in the business of show, but I giggle on the inside at the enduring friendship of Laurel and Hardy.
"Stan Laurel and Oliver Hardy are my heroes," Pope said in the 2016 statement that announced the project. "When I watch their movies, in my head it is forever a Saturday morning and I am six years old watching the TV at home utterly spellbound. I am aware of the huge responsibility of bringing their characters to life, but I have not treated the boys with kid gloves or looked at them through rose-colored specs. They are living and breathing characters, with flaws and shortcomings. The research into this story threw up so many details and facts that I had no idea about. But everything I have done has come from a place of love and more than anything else I hope this shines through."
The movie will focus on a British variety hall tour the aging duo booked in 1953. Attendance was low, so the two old friends spent their time onstage making each other laugh and it was so infectious word of mouth made it a hit. Sadly, it also corresponded with a growing illness that ultimately killed Hardy.
Culture Editor Tony Sokol cut his teeth on the wire services and also wrote and produced New York City's Vampyr Theatre and the rock opera AssassiNation: We Killed JFK. Read more of his work here or find him on Twitter @tsokol.
Joseph Baxter is a contributor for Den of Geek and Syfy Wire. You can find his work here. Follow him on Twitter @josbaxter.
main photo by Aimee Spinks.