News
Joan Jett Documentary Bad Reputation to See Light of Day
Bad Reputation, new Joan Jett documentary, will follow the punk rocker from Runaway to Blackheart.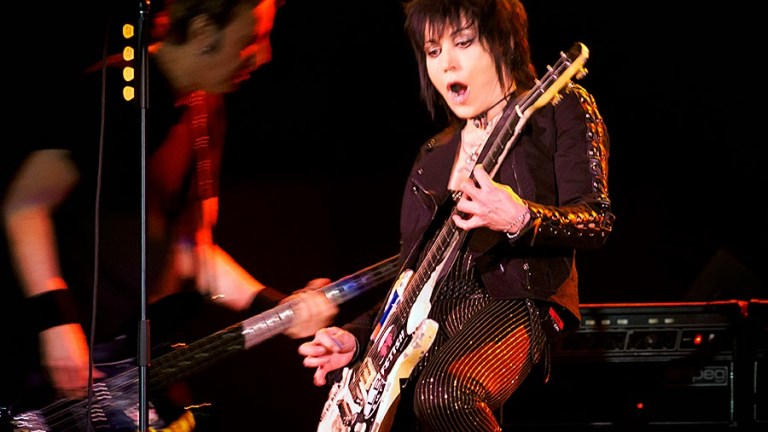 Why should Joan Jett worry about her Bad Reputation? The former Runaways singer has the most fun when she's required to please no one. But the Joan Jett documentary Bad Reputation is set to please rock and roll fans no matter what their station.
Bad Reputation premiered last month at the Sundance Film Festival. Magnolia Pictures plans a North American theatrical release for the film in 2018, according to Variety.
Bad Reputation was directed by Kevin Kerslake (As I AM: The Life and Times of DJ AM). The screenplay was written by Joel Marcus. According to the film's official synopsis, the documentary is "a look at the life of Joan Jett, from her early years as the founder of The Runaways and first meeting collaborator Kenny Laguna in 1980 to her enduring presence in pop culture as a rock 'n' roll pioneer."
"Joan Jett has a pure rock and roll heart and her influence, both musically and as a role model to a generation, has been profound," Magnolia president Eamonn Bowles told Variety.
Besides archival footage, the film interviews Iggy Pop, Green Day's Billie Joe Armstrong, Kathleen Hanna from Bikini Kill and Jett's longtime producer and collaborator Kenny Laguna.
Joan Jett formed the Runaways with drummer Sandy West in 1975. Managed by producer Kim Fowley, the all-female pop-punk band added guitarist Lita Ford, bassist Jackie Fox and singer Cherie Currie to become the Queens of Noise of the mid-seventies. The band was never as popular in America as they were in Europe. Joan Jett and the Blackhearts broke through to the mainstream, with hits like the now-perennial "I Love Rock 'n Roll" from 1982, "Do You Wanna Touch Me (Oh Yeah)," "Light of Day," and "I Hate Myself for Loving You."
Jett co-starred in the 1987 film Light of Day with Michael J. Fox. Jett's music has been featured in several soundtracks. She was inducted into the Rock & Roll Hall of Fame in 2015.