News
Jim & Andy Trailer: Netflix Documentary on Jim Carrey's Andy Kaufman Role
Netflix documentary Jim & Andy confirms the legends of Jim Carrey's set hijinks while playing Andy Kaufman in 1999's Man on the Moon.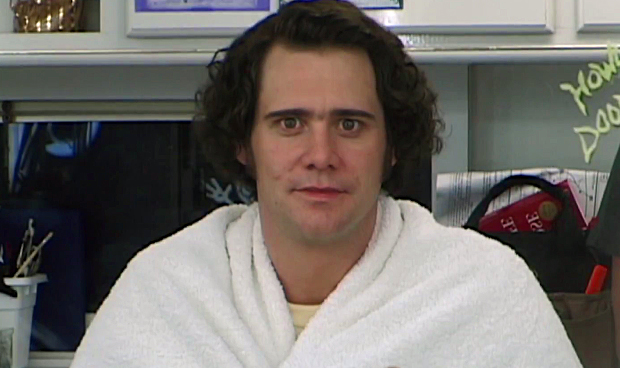 One of Jim Carrey's most unique film roles was his Golden Globe-winning portrayal of the late comedy legend, Andy Kaufman, in the Milos Forman-directed 1999 biopic Man on the Moon (named after R.E.M.'s 1992 Kaufman-inspired hit). However, the stories of Carrey's 24/7 eccentrically over-the-top on-set hijinks, which had been the stuff of legend, are about to be uncovered.
Now, Netflix confirms those stories with the documentary, Jim & Andy: The Great Beyond (a subtitle derived from R.E.M.'s song on the Man on the Moon soundtrack), finally revealing the behind-the-scenes footage of Carrey's seemingly supernatural channeling of Kaufman's personality.
Jim & Andy: The Great Beyond Trailer
The Jim & Andy: The Great Beyond trailer essentially brings to life what's already been known since the 1999 release of Man on the Moon: Jim Carrey went DEEP down the method acting rabbit hole for his Andy Kaufman role; so deep that it simultaneously amused, vexed and pissed-off everyone involved with the production. Indeed, Carrey's professed admiration for the Taxi television star, conceptual comedian, pro-wrestling heel and all-around original troll, manifested with an unprecedented acting endeavor to – for the extent of the production – actually become Kaufman… whether cameras were rolling or not.
Indeed, the footage shows director Milos Forman carefully corralling the in-character star and even people such as Danny DeVito, who worked with Kaufman (who succumbed to a rare form of lung cancer in 1984), be completely flummoxed by Carrey's freaky, Andy-esque behavior. The documentary also contains testimonial commentary from Carrey, who looks back on the experience, seemingly questioning himself.
Of course, Carrey's uniquely-immersive approach to the Man on the Moon role was made in the same spirit of Kaufman himself, whose comedy – typically involving multiple personalities – regularly broke the fourth wall in ways never-before conceived. His standup comedy persona of the feckless, accented "Foreign Man" (which evolved into his Taxi Latka Gravas character,) always fooled audiences before he pulled back the veil with a dead-on Elvis Presley impersonation. Plus, his involvement in professional wrestling (another industry that walks the fourth wall), notably as a pretentious instigator who's "from Hollywood," with a years-long feud with Memphis, TN favorite Jerry "The King" Lawler, which reached new media heights with a legendary 1982 confrontation between the two on Late Night with David Letterman, not only changed the way that comedy was approached, but how and where it could take place.
Jim & Andy: The Great Beyond Release Date
Jim & Andy: The Great Beyond will get ready to "rassle" Netflix viewers "Memphis style," when it arrives on the streaming service on November 17.
Read the full Den of Geek NYCC Special Edition Magazine right here!