News
Jessica Chastain's All-Female Spy Thriller, 355, Sells Out Global Distribution
Chastain has recruited Lupita Nyong'o, Marion Cotillard, Penelope Cruz, and Fan Bingbing in Simon Kinberg film.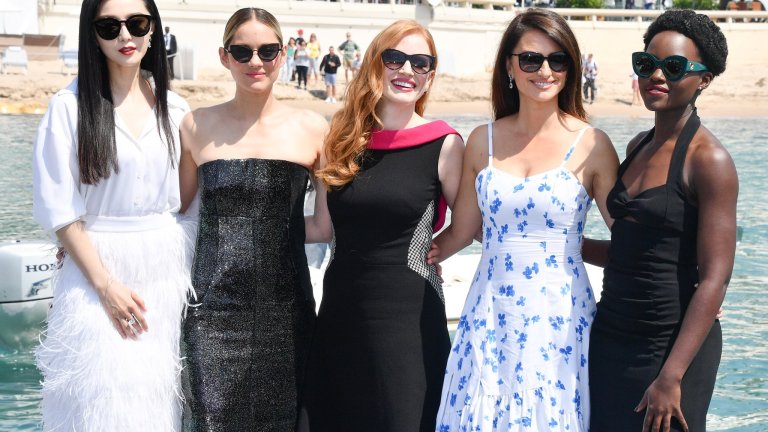 Audiences are hungry for more diverse films, and five of the world's most successful actresses are teaming up to bring it to us. Jessica Chastain, Marion Cotillard, Penelope Cruz, Fan Bingbing, and Lupita Nyong'o announced at the Cannes International Film Festival last week that they were starring in an all-female spy film called 355. And one from X-Men: Dark Phoenix director Simon Kinberg, no less. Now the film has quickly sold out international distribution rights around the world in one of the fastest, buzziest deals occurring in the South of France.
As per Deadline, FilmNation, who is the production company handling the international sales for distribution at Cannes, was able within several days to sell U.S. distribution rights for 355 to Universal Pictures. Today now comes word that Universal will also distribute the movie in the UK while, among the other buyers, Roadshow Films has bought the Australian film rights, Entertainment One will release it in Canada, Leone in Italy, Sun Distribution in Latin America, and Huayi Brothers in China.
The idea for 355 came from Chastain, who pitched a franchise-starting female ensemble spy thriller to Kinberg, who in addition to directing her in next year's X-Men: Dark Phoenix also developed an apparently happy working relationship with her on Ridley Scott's The Martian, which Kinberg produced.
"I had so much fun working on The Help that I always wanted to do another female ensemble film," Chastain told Deadline. "I love the Bourne movies, the Mission: Impossible films, and wondered why, except for Charlie's Angels, there hadn't been a true female ensemble action-thriller spy film."
From there, Chastain got commitments from Kinberg and her fellow actresses to sign onto an all-female thriller in the style of The Bourne Identity, Mission Impossible, or James Bond. No doubt the project will find international buyers in an instant—not only does the feature have an all-star cast, but Hollywood (and beyond) is currently looking to buy female-led spy films.
355 will feature Chastain, Nyong'o, Cotillard, Cruz, and Bingbing are international agents from organizations around the world who must come together to stop a global organization from acquiring a weapon that could plunge the world into true chaos. To do so, they must overcome their cultural and political differences and work togerher. The script is being written by Harriet the Spy screenwriter and playwright Theresa Rebeck.
The film involves these top agents from organizations around the world uniting to stop a global organization from acquiring a weapon that could plunge an already unstable world into total chaos. They have to overcome cultural and political differences to form a bond and work together.
Chastain wanted to make the cast truly international, reaching out to actresses who all origially hail from different countries.
"I called all the women, told them what I was envisioning and that I wanted it to be a collaborative process, and how we would all create this together," Chastain said. "The one thing that felt important is that we all show up at Cannes, because that would be the beginning of our journey together. Every single actress I called said yes, on the phone call. They committed to Cannes and to everything. So far it has been a very wonderfully easy process."
Chastain said that she hopes to make the thriller as grounded in reality as possible.
"It's a film and not a documentary, but our goal is to make this action spy thriller as authentic as we can, with as much trade craft as we can," said Chastain. "So when people in these organizations, in the CIA or MI6 around the world see the film, my goal is they will say, 'Wow, this is pretty authentic. They got it.' That was the thing I loved the most in making Zero Dark Thirty."
More news on 355 as we hear it.