News
Jessica Chastain's Woman Walks Ahead Finds Current Tragedies in the Old West
Woman Walks Ahead's Jessica Chastain and Michael Greyeyes reflect on how a deconstructionist Western is echoed in today's headlines.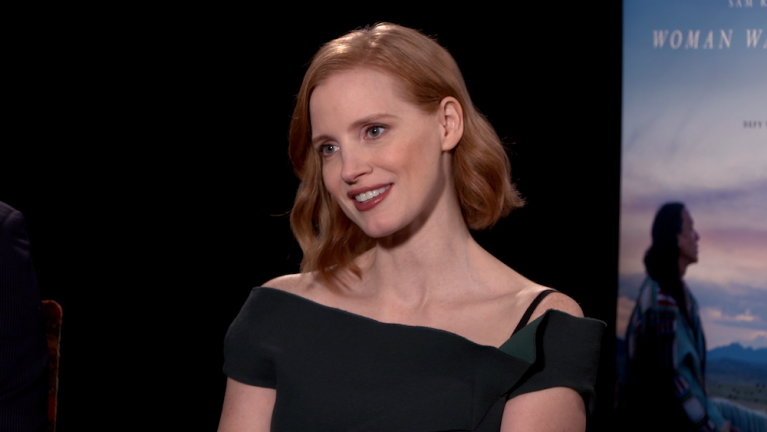 The opening moments of Woman Walks Ahead, Susanna White's thoughtful and elegiac Western, are striking. In a certain sense, it is evocative of its setting, with Jessica Chastain's Catherine Weldon, a real-life woman of some means from the more affluent parts of 1889 Brooklyn, finally allowed to begin figuring out who she is after her husband of many years has died. Her progressive epiphany is visualized by Weldon dryly narrating, "My period of mourning is over" as the heroine throws a painting of her late husband off a New York bridge and into the East River. He never did appreciate her work as an artist.
And yet, even in this moment of triumph, a very modern and contemporary form of patriarchal control is being placed over her… for the letter that is narrating this opening sequence is then immediately incinerated by men at a Dakota Territory fort; they're hell bent on not only thwarting Catherine from her stated objective of traveling West to paint a portrait of Sitting Bull, but to also erase her request. To erase her from their history. One doesn't need to go back to the 19th or even the 20th centuries to understand that insidiousness.
"Women of that time were either property of their fathers or properties of their husbands, and they weren't seen as having any independence," Chastain tells Den of Geek with more than hint of melancholy. "So even after her husband dies and she's widowed, there's still this chance of being controlled and being his wife, because society dictates she wears black. I'm not a fan of that whole thing, obviously. So I love that beginning. I remember when I was first reading the script, and the moment when it says 'she throws the painting into the water,' I remember thinking, 'What is this movie?! I'm very happy with it!'"
It is also the beginning of a film that, unlike so many Westerns, hopes to give a voice to often forgotten lives in American mythology. Female ones like Catherine Weldon, and Native American ones like Sitting Bull, who is played in the film by Michael Greyeyes. Indeed, we also spoke to Greyeyes about the film being such a rarity for an actor of native heritage in that his Sitting Bull is neither the vision of a fierce warrior who defeated Custer at Little Bighorn, nor a presence to help white characters discover their true selves. In fact, Greyeyes believes it is very much a movie about today, considering that it focuses on the final days of Sitting Bull and the Lakota People who are less than two years away from the massacre at Wounded Knee when the film begins. A massacre that was heralded, among other things, with the systematic taking of a minority people's children.
"When we were making the film, the Dakota Access Pipelines were being pushed through against fierce protests," Greyeyes recalls. "So that was in the newspapers as we came to the set, and today, as we sit here, we look at images of children torn from their families… And I said this government gutted our communities by taking our children, so I look at the news, and I think this is an America that's all too familiar to people like us. And I'm reminded in this moment that films like ours are more necessary than ever."
While no one making the film could predict the current humanitarian crisis at a border created by the American government, such horrors are part and parcel for a film that looks to American history and finds ourselves staring back. It's also what first drew Susanna White to the Woman Walks Ahead script, which was written by Steven Knight (Eastern Promises). She grew up watching Westerns and being inspired by the likes of John Ford to go into moviemaking.
Yet, as White also considers, "There was a level of disconnect for me, in which it was very much a man's world of ultra-violence and where women had marginal parts. Where Native Americans were these bad guys who attacked the stagecoach as it was going through hostile country. They weren't fully layered, realized characters."
Finding a voice in that disconnect is the reason Chastain wanted to do the movie. As she recalls with a laugh, "I mean, I wouldn't have done the movie if it wasn't this story. I'm really fascinated by Catherine Weldon, what she did. I was fascinated by this very deep love these two people had for each other… For me, recontextualizing the Western for underrepresented voices was the entire reason of doing the movie."
And none may have been more appropriately recontextualized than Greyeyes' Sitting Bull.
As Greyeyes surmises, "Sitting Bull is arguably the most famous Native person in history, perhaps across the world. And I was obliged, I had a responsibility, to open up the portrayal. He's been portrayed in many films, but again, he's a cipher or a foil against which 'more important' questions are asked. So it was essential to me, it was essential to Susann and Jessica as well, that we view him in his humanity. That we view him as a three-dimensional character."
This relates to how, as Greyeyes also precisely pinpoints, the movie looks like a classic Western, but is a complete reversal of expectation.
"The openness is familiar, but everything else is not," Greyeyes reflects. "The treatment of violence in the film, Westerns are bathed in blood, but this film is different. Violence is sporadic, unexpected, devastating in its impact. When you view the film, I think you'll realize the genre is being completely reworked."
That's fitting, as this is a movie just as much about the underrepresented voices of today as of 1890. Woman Walks Ahead is playing in select cities now and has premiered on DIRECTV.