News
Jennifer Lawrence Compares Her Movie Reviews to Wine
Find out how you can meet Jennifer Lawrence while she struggles in discerning differences between wine reviews and those for her movies.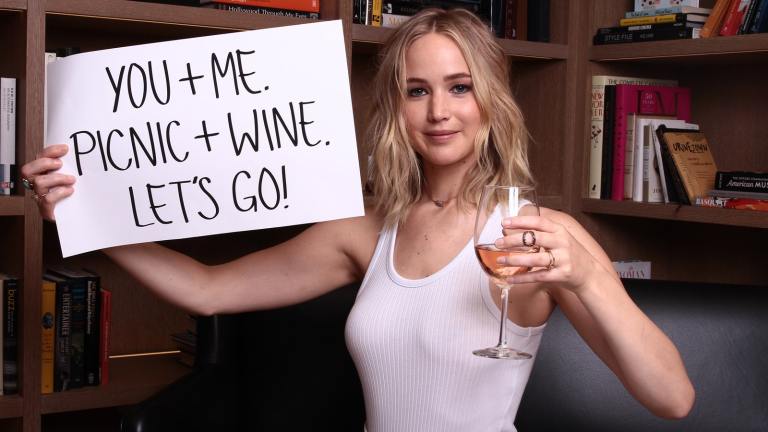 I can attest from personal experience that writing a movie review, much less hundreds of them over multiple years, can take a little more effort than some suspect. If you don't put in the effort to find new ways to analyze something, you might otherwise wind up being mocked for nothing more than a string of superlative adjectives by Jennifer Lawrence in a wine scented YouTube video. Like the critics utilized below!*
In the newest team-up between the fundraising platform Omaze and a celebrity seeking to aid a good cause, Jennifer Lawrence returns to internet media to have some good natured fun at her own expense (and perhaps a few less than imaginative film critics). In the below video, Lawrence reveals fans can enter for their chance to win and meet Ms. Lawrence while going wine tasting (or drinking other beverages of choice if you're under 21 years of age). Together with Omaze, Lawrence promises you the chance of joining her to play lawn games, hang out, and possibly torment any exes. Perhaps more importantly you'll be donating to Represent.us, an organization that is looking for bipartisan support to push for more equitable and fair elections by way of campaign finance reform and other anti-corruption platforms across the country.
To donate and enter for your chance to win, you can click here. In the meantime, watch Jennifer Lawrence struggle in discerning if reviews are for her own movies or wines. And with phrases like "full bodied" and "elegant" being thrown around, it can be hard to surmise. However, when things got super negative she instantly knows where that review is headed (Hint: It should be Passengers, but well, see for yourself…)
*No critic should be disrespected for applauding the wonderment that was Stanley Tucci's teeth in The Hunger Games films.