News
Jay and Silent Bob Reboot Trailer and Release Date
Kevin Smith is moving forward with Jay and Silent Bob Reboot and here is everything you need to know about it.
Kevin Smith spent the first day of 2019 starting "pre-pre-production" on a new (and long-awaited) Jay and Silent Bob movie. He had reportedly planned to start shooting the project back in 2018, but he almost died, so that may have kinda got in the way of things.
Jay and Silent Bob Reboot (as it's officially titled in self-deprecatory brevity,) is the seventh live-action film of Smith's to feature the iconic characters played by himself and Jason Mewes, who have also gone on to have their own comics, TV series and merch. They first appeared together in his low-budget 1994 comedy, Clerks, and the rest has been history. We last saw Jay And Silent Bob in 2006's Clerks 2.
Thirteen years is a long time to have been without these two – we've had a whole MCU since then!
Jay and Silent Bob Reboot Trailer
We've got a second look at Jay and Silent Bob Reboot, just as it is about to hit theaters. Check it out…
The first Jay and Silent Bob Reboot trailer arrived ahead of Kevin Smith's yearly San Diego Comic-Con appearance. See if you can count all the cameos.
Jay and Silent Bob Reboot Release Date
Jay and Silent Bob Reboot arrives in theaters on Tuesday, Oct. 15.
Smith just unveiled the first proper Jay and Silent Bob Reboot poster, showcasing the film's characters in an epic comic book splendor that one would come to expect.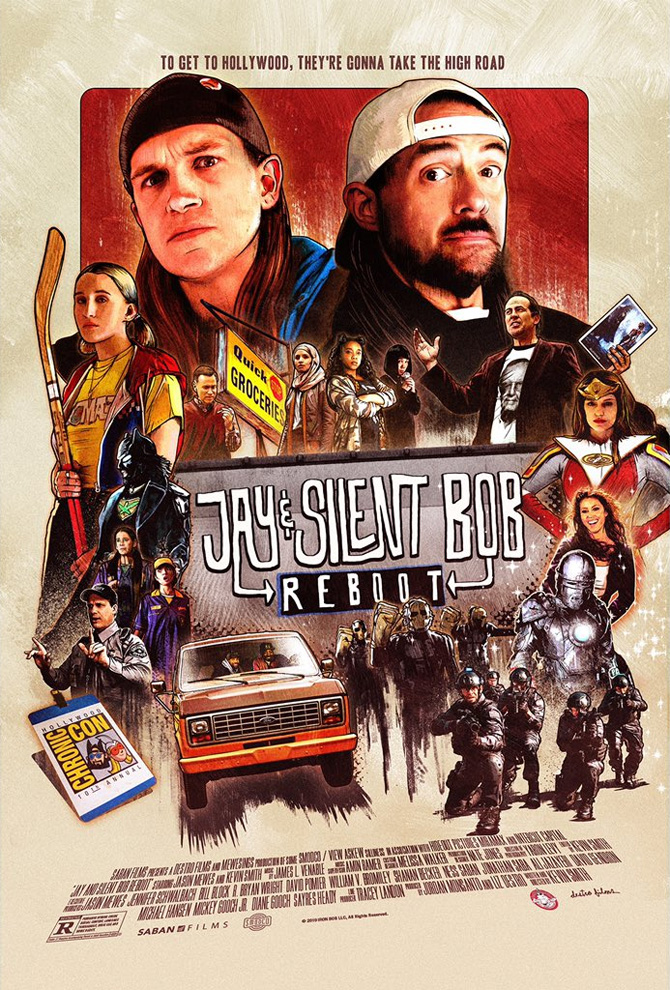 ..And here is another teaser poster.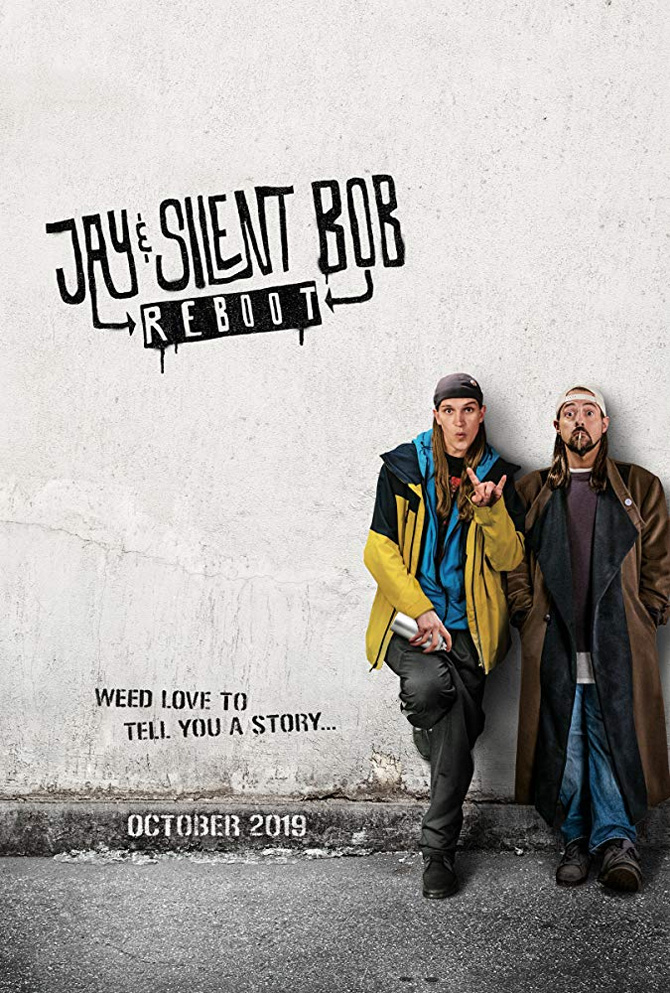 Jay and Silent Bob Reboot Cast
Just like 2001's Jay and Silent Bob Strike Back, expect this reboot to be chock full of celebrity cameos and characters from the wider View Askewniverse. Jason Mewes and Kevin Smith will star as the titular Jay and Silent Bob. Then there are the new actors portraying their Bluntman and Chronic characters in a reboot. Who could they be?
As revealed by the new trailer, the new Bluntman and Chronic appear to be one-time Batman Val Kilmer and current Supergirl Melissa Benoist. Bluntman v. Chronic really is Batman v. Superperson. Here is the full list of other cameos spotted in the trailer: Donnell Rawlings, Val Kilmer, Jason Lee, Joe Manganiello, Justin Long, Craig Robinson, Shannon Elizabeth, Harley Quinn Smith, Fred Armisen, Matt Damon and Ben Affleck!!!!, Chris Hemsworth (in hologram form), Rosario Dawson, Method Man and Red Man, Impractical Jokers' Brian Quinn, OG Bluntman and Chronic Jason Biggs and James Van Der Beek, and Cheech Marin.
read more: Why Kevin Smith's Superman Lives Was Ahead of Its Time
Jay and Silent Bob Reboot Details
Smith revealed the plot of the upcoming film at SDCC last summer:
"If you remember Jay And Silent Bob Strike Back, it was a movie in which Jay and Silent Bob found out Hollywood was making a movie about them so they went cross country to Hollywood to stop that from happening. Jay And Silent Bob Reboot is completely f—ing different. In Jay And Silent Bob Reboot, Jay and Silent Bob find out that Hollywood is making a reboot of that old movie that they had made about them, and they have to go cross the country to Hollywood to stop it all over again. it's literally the same f—ing movie all over again. It's a movie that makes fun of sequels and remakes and reboots while being all three at the same time."
Smith started 2019 healthy and happy, having declared it "the year of the Reboot"…
— KevinSmith (@ThatKevinSmith)
January 2, 2019
The director had posted a Tweet wishing everyone a happy new year earlier in the day wearing a familiar overcoat…
HAPPY NEW YEAR! May you accomplish all the things you dream of doing (unless you dream of hurting people)! 2018 was the year that almost killed me, but 2019 will be the year of the REBOOT! pic.twitter.com/IRlRcgmArY — KevinSmith (@ThatKevinSmith) January 1, 2019
Alec Bojalad is TV Editor at Den of Geek and TCA member. Read more of his stuff here. Follow him at his creatively-named Twitter handle @alecbojalad