News
Jason Statham: an action hero for our time?
Every so often, a new action hero emerges. A hero for a new generation; a role model, even. Er, but is Jason Statham really a man you'd want to look up to? One word: YES.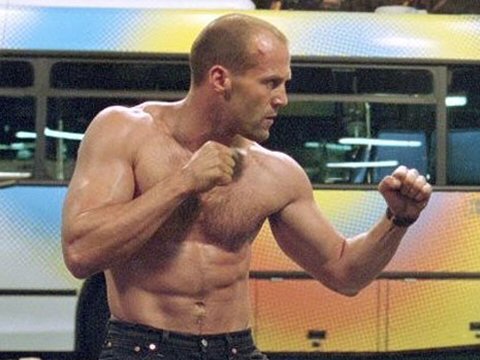 There is a checkered history when it comes to action films. The traditional mould for stars of what I like to call 'karate guy' films is to take a martial artist of some renown, stick him in front of a camera with actors and stuntmen, string together some sort of marginal plot (usually taking revenge on someone or protecting someone from revenge), and have him kick and punch his way through 90 minutes of fight scenes and a poorly-done romantic subplot.
There are literally hundreds of these guys and girls who have followed in the footsteps of kickboxing champion/actor/bearded wonder Chuck Norris: Jet Li, Jean-Claude Van Damme, Don 'the Dragon' Wilson, Billy Blanks, Cynthia Rothrock, Mark Dacascos and various others have turned marital arts prowess into movie success and acting careers.
Others have taken up the mantle of Bruce Lee, starting out as actors or stuntmen before becoming martial artists: Jackie Chan, Patrick Swayze, Michelle Yeoh, Michael Dudikoff, Sasha Mitchell, Stephen Chow, Tony Jaa, Steven Seagal, and Chow Yun Fat are just a few of the many actors (mostly in Hong Kong) who have taken up the study of martial arts, or taken their own interest in martial arts into their film careers. Of course, traditional actors with no martial arts background (Charlie's Angels) do their own fu, too, usually with the assistance of an army of stuntmen.
Enter Jason Statham. A male model and street-hustler turned actor, Statham has pretty much ripped the banner of action movie star from the hands of the martial arts practitioners and stuck it firmly into the hands of the acting camp. Not only is Statham an appealing actor and a good film-fighter, he's cool enough to impress the guys and good-looking enough to impress the girls. He does his own stunts AND his own acting scenes, and doesn't suck at either without looking like he's trying too hard.
In the Western world, that's practically impossible to find. Statham holds his own against the best of the East; in the West, there is no one quite like him in the movie industry right now. He can handle dialogue, has a wicked sense of comic timing, does his own stunt-driving (just like Steve McQueen, speaking of cool guys who kick ass), is a former world-class athlete, and makes even the most ludicrous movie into something watchable.
Take, for example, Crank. Insane premise, over-the-top action scenes, and a horrendously-named lead character. But it works and works well because Statham has just enough tongue in cheek to sell the role, and the charisma to make us forget just how implausible the whole scenario is and to just sit back and enjoy the kung-fu kicks and rapid-fire quips. Same with The Transporter and Transporter 2. These are all top-notch action/martial arts films.
Making things easier for Statham is his choice of scripts. Louis Leterrier, Cory Yuen, Luc Besson, pre-Madonna Guy Richie, John Carpenter, even James Wong… these aren't slouches, by any means. It doesn't take a genius to make a bad action picture, but when action/martial arts goes bad, it goes really bad.
Statham is not only a great character actor (and usually the best part about any movie he's in), he's also a face that sells tickets. He blends both the natural athleticism of the martial artists and the abilities of the actor in one bald-headedly awesome package. Gun-fu, martial arts, or car-fu, Jason Statham has become the action movie star of the 2000s and a karate guy without peer.
Just be on the look-out for Tony Jaa.