Reviews
Jason King: The Complete Series DVD boxset review
Forget modern action heroes like Daniel Craig or Hugh Jackman. Before they came along, there was Jason King...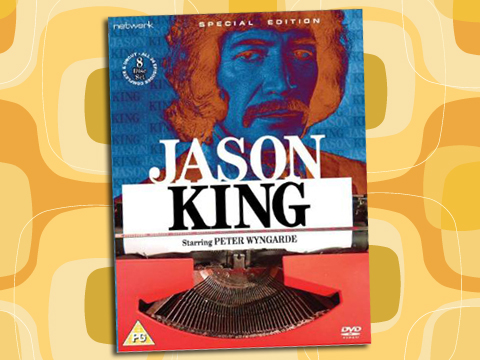 There are more people alive today than have ever lived on the Earth before. Yet somehow there are no more Leonard da Vincis, no more Beethovens, and most certainly no more Jason Kings. He is a flamboyant man of such panache and style that girls can't wait to be with him. And he's cool and very funny.
Jason King is a one-hour ITC adventure series created at the beginning of the seventies. It was a vehicle for Peter Wyngarde, the runaway star of the previous show Department S. That didn't get a second series, but when ITC came to think about ideas for new shows, Sir Lew, subsequently Lord, Grade, had to take notice of the appeal of the show's star. Not least because his wife was a massive fan.
Wyngarde's supporting cast are the usual suspects from ITC's dramatic repertory company, with the likes of Mike Pratt (Randall & Hopkirk (Deceased)) and Alexandra Bastedo (The Champions) making guest appearances. There is also an ample serving of comedy actors and actresses, including John le Mesurier (Dad's Army), Yootha Joyce (George & Mildred) and Liz Fraser (Carry On films). Whilst women can swoon over Wyngarde, a large armada of beautiful women also appear, including the wonderful Madeleine Smith.
The series veers away from the action adventure of Department S towards the amazing and larger than life. The move to this more Avengers-like feel is reflected in the music, which is by Avengers-maestro Laurie Johnson.
As Jason King is a writer of spy fiction, the episodes allow for several homages to classic spy themes. ITC also took the show on the road with Wyngarde filming in European locations. These aren't exactly seamlessly integrated into the rest of the action, as the wig that Wyngarde wears for studio shots is somewhat longer than his real hair in location appearances. Nevertheless it is fun to see him appear around Europe, and sets up some pilgrimage ideas for hardened fans.
This box set is a must for Jason King fans for one amazing extra: Peter Wyngarde on Russell Harty Plus. In case you don't know, the late Russell Harty was ITV/London Weekend Television's answer to Michael Parkinson in the seventies. In my memory the show had a lighter and brighter feel than Parkinson, and had its advert breaks to make sure it couldn't become too long and rambling.
In this appearance, Wyngarde is on TV to promote his starring role in The King & I along with co-star Sally Ann Howes. When introduced he glides on stage with a confidence that is breathtaking. He's wearing a blue suit with trousers that figure-hug at the waist but are wildly flared. He sports a broad confident smile that is very beguiling.
There follows an astounding interview. With the benefit of hindsight it is quite clear that a tetchy and sniping Russell Harty, who himself was gay, is trying to chip away at the public persona of ladies' man Wyngarde, and offering him the chance to reveal a hint of another sexuality. Whatever your view of the years when homosexuality had to be denied to preserve public careers, what is really impressive is how Wyngarde rises above the whole tone of Harty, and offers both humour and insight. He is perfectly polite and un-phased.
The whole episode reminded me of another interview between an arts reviewer and Syd Barrett (founder member of the Pink Floyd) that was shown at the Barbican as part of a celebration of his life. In that one the interviewer wanted to bewail about the volume that Pink Floyd played at, and obviously had a real chip on his shoulder. Instead of getting angry in response, Syd just gently pointed out that people liked to dance to the music and when it was loud it helped them enjoy that.
In both cases Wyngarde and Syd illustrated the star quality and inner charisma that sets them apart from the mundane.
Kate O'Mara suggests in the documentary that Wyngarde's 70s look dates the show. I would suggest that with his presence he makes the style 'live' and shows you why people wore it in the first place. People didn't think they looked silly. They wanted to be as magnificent as Wyngarde is here. It's not surprising that as Bert Kwouk, occasional guest star, points out, these sorts of fashion have come back in.
The other amazing extra, which in a way is completely oblique to all the Cult TV aspects, is the black and white Anglia TV drama The Crossfire. This dramatises Algeria, when the French colonists were facing terrorism from the Muslim natives. Eric Portman plays a doctor who treats Muslim victims of violence alongside non-Muslims. Doctor Who stalwart Roger Delgado (the original Master) plays a Muslim doctor. Wyngarde plays Portman's slightly scary businessman son-in-law.
This extra is worthy of release in its own right, as it addresses the moral dilemmas of terrorism and torture in a way that entirely resonates today despite being over forty years old. It's wonderfully acted and is extremely compelling viewing.
But whilst this box set comprises all the episodes, and wonderful extras, the real shock is that despite a documentary about the show, there is no word from the great man himself, and no explanation as to why not.
In the Australian box set of the same series, released several years ago by Umbrella, Wyngarde provided introductory comments for two episodes and then allowed himself to be interviewed, giving some very interesting answers about his take on the series.
This Network DVD edition version not only misses that, but also seems unaware of what he said for that edition. For instance, the documentary on these disks tells you how ITC were cutting corners, and as a result the show was filmed on 16mm rather than 35mm. What you don't get to hear was Wyngarde's take on this, that it was a good thing for enhancing the colours of the visuals, in the same way that seeing things in sepia gives them a special quality. Certainly there is definitely a less clinical feel to it.
That said, the show is a must-have joyful celebration of the charismatic Wyngarde at his finest, and anyone that thinks they know one-liners, will think again when they experience the hilarious genius of this Noel Coward amongst spy characters.
Show:
Extras: