News
Jared Leto Says He'd Definitely Play the Joker Again
While another Joker is set to arrive on the big screen, Jared Leto wants to reprise his Suicide Squad version of the Clown Prince of Crime.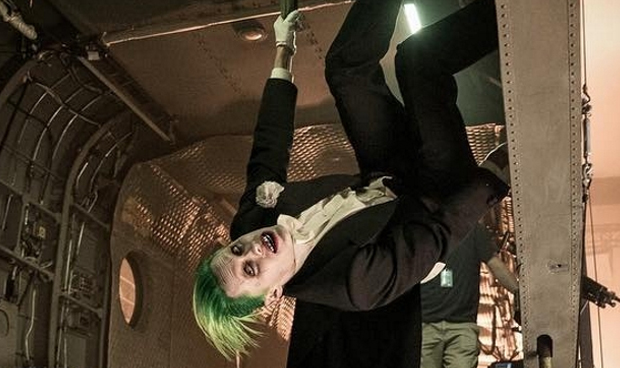 Jared Leto's big screen version of the Joker might not have let loose his last laugh just yet – at least, if the actor has anything to say about the matter.
Oscar-winner Leto, who came to the comic book movie table recently, in 2016, with an extremely different take on DC Comics' signature cackling clown Batman nemesis in Suicide Squad, wants another crack at the character, as he expresses in an interview with Variety. When pressed with the question about a possible role reprisal, Leto answers:
"I would definitely play the Joker again. It all depends on the script and the circumstances as it always does."
Of course, the elephant in the cinematic DC Extended Universe room happens to be the imminent arrival of another onscreen iteration of the character, as portrayed by Joaquin Phoenix, in in director Todd Phillips's October-scheduled origin tale, Joker. When asked if he'd seen the recently released trailer for the film, Leto flatly responded, "No, I haven't seen it."
However, the biggest thing that currently prevents Leto from returning to the role in a timely manner – like, say, for the 2021-scheduled Suicide Squad sequel – is his starring role in another comic book property, Marvel's Morbius, a Sony-produced Spider-Man spinoff centered on the "Living Vampire" villain-turned-anti-hero, which is – at least, tangentially – part of the Marvel Cinematic Universe, which just broke nearly every box office record with the phase-culminating epic, Avengers: Endgame. As Leto updates on the status of the July 31, 2020-scheduled Morbius:
"Right now, we're literally shooting. We flew over here [at New York City's Tribeca Film Festival] for a day. So, we're shooting in full Morbius mode, and it's been a lot of fun, surprisingly." He explains of the process, "This film, specifically, has had major challenges with the role and things like that, but we've had a lot of fun doing it." He adds, "It's been an adventure."
It's difficult to gauge if audiences would be receptive to a second helping of Leto's Joker, seeing as his iteration was hardly universally praised, even as spinoff prospects glistened last year. Of course, Leto had no small task with the role, directly following the legendary performance of the late Heath Ledger in 2008's The Dark Knight, for which the actor received a posthumous Oscar. Consequently, the necessity of differentiating Leto's version as a livelier, tattooed, grill-sporting madman – perhaps the most overtly comical onscreen iteration since Cesar Romero on the 1960s Batman TV series – may have overshadowed what Leto was bringing to the table as an actor. With the aesthetics toned down and, perhaps more traditional, it's possible that Leto could still get his mulligan run as the Joker.
However, his Joker's onscreen cohort, Margot Robbie's Harley Quinn, will be moving on without him, set to return in female-fronted team-up film, Birds of Prey, which is scheduled to arrive on February 7, 2020. After that, she'll return to the fold in the James Gunn-directed Suicide Squad 2 on August 6, 2021. Yet, as far as Leto's status on an appearance in the former, his answer to the question is "I don't think so. You'd have to ask them." However, when pressed about Internet rumors of his return, he cheekily adds, "Well, we'll see."
Joseph Baxter is a contributor for Den of Geek and Syfy Wire. You can find his work here. Follow him on Twitter @josbaxter.