News
Jamie Lee Curtis and David Gordon Green on a Lifetime of Halloween
Jamie Lee Curtis embraces Halloween as her greatest legacy while noting echoes between David Gordon Green and John Carpenter.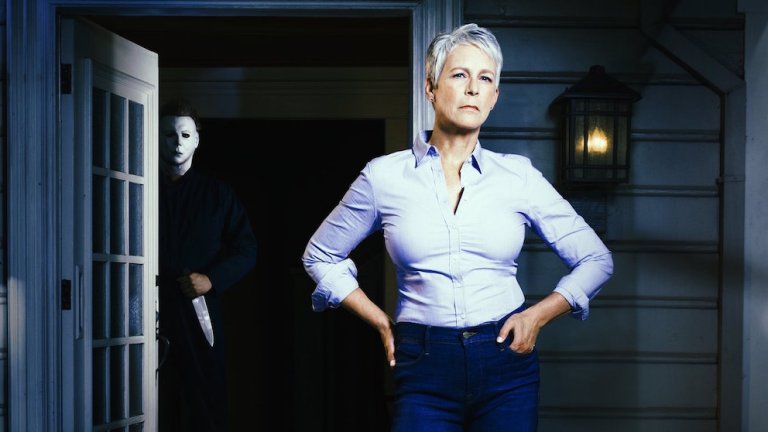 David Gordon Green was forbidden from watching John Carpenter's Halloween when he first sneaked a glimpse of the face of evil. Merely a child who'd been coaxed by a friend at a slumber party to essentially look underneath Michael Myers' mask, Green still vividly recalls viewing a VHS copy of the Jamie Lee Curtis-led film that kick-started (or at least mainstreamed) the slasher genre.
"I got so scared that I vomited and went home," Green muses when sitting down with us, Jamie Lee Curtis, and producers Malek Akkad and Jason Blum. "It was one of my favorite movies after I got over the shock of what the movie was." Indeed, considering the original Halloween from 1978 to be a childhood favorite, Green's opportunity to write and direct a stripped down reimagining of the classic 40 years later is a kind of exorcism of lifelong demons for the eclectic auteur, whose productions span the vast genre spectrum from tragedy (Snow Angels) to stoner farce (The Pineapple Express). But by entering the horror realm—and specifically the slasher franchise—Green is returning to one of his most primal movie-loving experiences, one that defined his passion way back during his film school days at the North Carolina School of the Arts. After all, it was there he met writer-actor Danny McBride, who co-wrote 2018's Halloween, as well as production designer Richard A. Wright and sound mixer Christof Geber. All of whom are helping return Michael Myers to his roots.
"We just have great affection for it," Green considers. "I would say every film I've made has some sort of reflection back to the film school days of enthusiasm of Danny and several of our friends who worked on this movie… It was a really passionate collective of film fans that liked everything from the classy to the trashy, and horror was a big part of our diet. We were not as critical as audiences seem to be today, we just loved movies." He likewise notes that in that environment, an adoration for cinema in all its forms came from a place of positivity, as opposed to what Green would suggest is an overly critical (or cynical) discourse that has overtaken the online cinephile community. Instead he came of filmmaking age in a place where a fluidity in genre was a source of kinship—just as a general anxiety about Michael Myers was universal.
This origin is also something Jamie Lee Curtis has seen before. As a woman who can rightfully enter any room at San Diego Comic-Con like an empress surveying her realm, Curtis is only too proud to embrace the Halloween films as her legacy. She accepts the good installments along with the bad, although none she holds more dear than the John Carpenter original. And without putting too fine of a point on it, the actress sees, perhaps for the first time after 40 years of sequels, reboots, and remakes, an echo of that original film in what she and Green have crafted in 2018.
"David's from the South and went to film school with all these guys, and John Carpenter is from the South-ish and he went to film school with Tommy Wallace and Nick Castle," Curtis says while drawing an intriguing comparison between Green's film and the one made by Carpenter and some of his college buddies (Wallace was production designer and an editor on the original movie, and Castle played Michael Myers). "It was this same kind of vibe. These were all film geeks coming together."
Read the Den of Geek SDCC 2018 Special Edition Magazine Here!
Praising producer Malek Akkad's father, Moustapha Akkad, who produced the first eight Halloween movies, Curtis suggests the reason the initial movie is so good is that Moustapha sought out young, hungry filmmakers like Carpenter and co-writer Debra Hill instead of B-movie journeymen. "It was clear they were film students who loved movies, so I think this sort of honor is that Moustapha Akkad went to a young filmmaker and basically said, 'Babysitter Murder Movie please.' And John and Debra then conceived the story, set in this small town, this very simple tale, but it's very similar."
From Curtis' perspective, both the 1978 and 2018 movies have attracted "film geeks" who love working on projects they're passionate about and with directors who their leading lady affectionately describe as "Southern boys." In this vein, she even amicably concedes "It wasn't a payday movie, believe me I've done them… The payday isn't a bad thing, [but] this was not that job. This was a group of people coming together to make something powerful, simple, classic, and elegant."
This is also par for the course for Curtis, who after so many years considers Laurie Strode, and the original Halloween in particular, her greatest work. When that movie came out in '78, she was thrilled to have the part after "fighting for two lines a week" on TV's Operation Petticoat, and 40 years on, she still speaks with admiration for her horror heroine. Says Curtis, "Here was an entire character fleshed out with fantasies and dreams, and repressions and vulnerabilities, I mean, it was gorgeous, the original movie."
After all this time, and after leaving the franchise for long expanses between 1981 and 1998, and then from 2002 to 2018, Curtis is more than at peace with her defining role. In fact, despite her career being filled with comedy, action, and dramatic classics, she happily claims she's most pleased to still be going to a pop culture mecca like San Diego Comic-Con at 59-years-old, and seeing a dude in her press room wearing a Michael Myers T-shirt.
"It is the total, it is my life," Curtis says. "This is the greatest job I will ever have in my life. And I know it. I knew it then, I tried to pretend it wasn't, and now I understand it is my absolute legacy, and I am thrilled."
Halloween carves the next line that life's work on Oct. 19.