Features
James Gandolfini, a retrospective
HBO made James Gandolfini and James Gandolfini made HBO. The Sopranos was more than the best written show in TV history, it fully legitimized cable as a premiere source of prestige entertainment, able to compete with film. Gandolfini was an artist who never stopped evolving.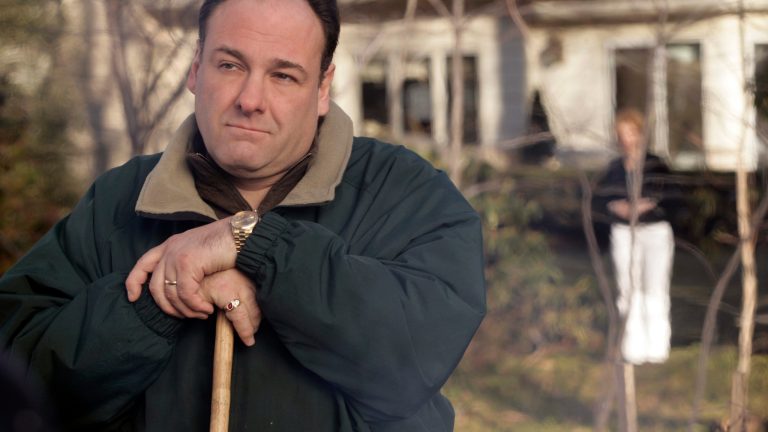 This isn't the kind of retrospective I really want to write. Given the choice, I'd prefer writing about artists who are still working, imagining that they might read it and think, glad you noticed. There's an assumption that there is always time. Every week for seven years, James Gandolfini brought his family to millions of people's homes like Sunday dinner after the antipasto. The Sopranos was always a good meal. They even mic'd up the wine when they poured it to make it sound delicious. Ever actor on the show was at the top of their game and, no matter what situation they might have been playing out on the screen, you could tell that they were a family. At the head of that family was James Gandolfini, an immensely talented actor who brought depth to an already complicated character and a grounding center to a complicated family of artists. The audience recognized that. When The Sopranos ended its run, it felt like a cousin moved to Florida.
Gandolfini's roles since the end of the run felt like family visits to me and I watched them all. When I was watching Where the Wild Things Are with my kids, I felt so sorry for Carol, the disappointed monster Gandolfini voiced. I felt the thrill of his anticipation in building a fort and the pride he felt when he showed young Max the model for his ideal island. Gandolfini's voice let that excitement come crashing down to the despair that comes from the pit of the stomach of a wounded child. No matter how big that monster might have been, it was a kid who learned it couldn't even trust the sun to rise every morning. Carol's tantrums were more than screams for attention, they held in them every toy, promise or home that got broken. For every kid. Everywhere. James Gandolfini did it all with his voice.
Gandolfini developed that voice on stage. He had a small part as the poker player Steve Hubbell in the 1992 revival of Tennessee Williams' A Streetcar Named Desire at the Ethel Barrymore Theatre, the same theater the play was first staged when Marlon Brando starred in it with Jessica Tandy and Kim Hunter. The revival starred Alec Baldwin as Stanley, Jessica Lange as Blanche, Amy Madigan as Stella and Timothy Carhart in the part of Mitch. Gandolfini was Carhart's understudy and actors said when he took the stage, they knew they were in the presence of something spectacular. Streetcar also was the first time Gandolfini acted with Aida Turturro, who would play his sister on The Sopranos. In 2009 Gandolfini joined Jeff Daniels, Hope Davis and Marcia Gay Harden in Yasmina Reza's play God of Carnage at the Bernard B. Jacobs Theatre. All four actors were nominated for Tony Awards. Gandolfini played Charlie Malloy, Terry's brother who should've looked out for him just a little bit, in a 1995 production of On the Waterfront at the Brooks Atkinson Theater. The playbill says he had just returned to New York after making Get Shorty and Crimson Tide.
Hell, why not just shoot her? Why not shoot everybody. Fuckin' shoot me. Shoot the fuckin' president? 
Gandolfini played the stuntman-turned-enforcer, Bear, in Get Shorty in a beard and a ponytail. He played it with amusement, even after he gets thrown down a flight of stairs just to see if he was "any good" as a stunt man. Bear made about 60 movies as a stuntman, he is a father who doesn't want mobsters cursing in front of his daughter. Gandolfini's Bear was a reasonable giant who was alert to what was going on in spite of whatever job he had to do. He knows you don't have to shoot someone when beating them up is enough, even if he doesn't know enough to grab Yayo before he topples off the railing. In Crimson Tide, Gandolfini plays Lieutenant Bobby Dougherty, who makes his men do pushups until they drop if they can't name the actor who played the submarine Commander in Enemy Below with Robert Mitchum.
James Gandolfini's first on-screen acting job, besides playing an orderly in Shock! Shock! Shock! in 1987, was also his first time playing an Italian guy named Tony. He played Tony Baldessari in A Stranger Among Us, which was made by one of my favorite directors Sidney Lumet, who was an original Dead End Kid, having played in the 1935 Broadway production. Gandolfini worked with Lumet again in 1997 when he played Joey Allegretto in the crime drama Night Falls on Manhattan that starred Andy Garcia. Dominic Chianese, who played Corrado "Junior" Soprano, also appeared as as Judge Dominick Impelliteri. Gandolfini played Billy Coyle in the 1993 longshoremen mob movie Money for Nothing before he really got the chance to shine as the brutal Virgil in True Romance. The way he rolls his eyes after he surprises Patricia Arquette with that first punch tells more about that character than five pages of dialogue could. He imbued his cruelest creations with softening nuance that always hid a hint of humor. Except maybe in 8MM. There he played a monster whose only redeeming characteristic was frightened self-preservation. Gandolfini's Eddie Poole let that fear almost want you to give him a pass on some of the most horrific home movie violence shown in a Hollywood film.
You can understand how a person might get Stockholm Sydrome because of Gandolfini's portrayal of the gay hitman Leroy in The Mexican from 2001. Julia Roberts spends the whole movie with her captor, knowing that she's always an inhale away from her last breath. She is never more than a bargaining chip, but Gandolfini never makes it that easy. You have to trust the man who ultimately has to cash you in. There is always an inner dialogue taking place. There are always layers to uncover as the two unravel each other's secrets more tenderly than if they were playing lovers. Certainly more tender than he did as Vinnie, who gets Geena Davis pregnant, but isn't good enough to keep around in Martha Coolidge's 1994 romantic Bensonhurst, Brooklyn, comedy-drama Angie, which also featured Aida Turturro, and Michael Rispoli (Jackie Aprile Sr.) from The Sopranos. Rispoli and Gandolfini teamed again when Gandolfini played the Mayor of New York City in the 2009 remake of  The Taking of Pelham 1 2 3, which starred Denzel Washington and Gandolfini's old pal Chilli Palmer, John Travolta.
Gandolfini pulled off a Christmas Carol turn-around-by-proxy, by letting an amateur production of the Charles Dickens redemption story save his marriage in Surviving Christmas, the 2004 holiday comedy that starred Ben Stiller as a man who pays Gandolfini a quarter of a million dollars to wear a stupid fucking Santa cap and trim a tree. Last year Gandolfini made magic when he was reteamed with his Tony Uncle Al cousin Steve Buscemi in The Incredible Burt Wonderstone, that also starred Steve Carrell and Jim Carrey. Gandolfini talked to Vegas magicians Criss Angel and Nathan Burton, as well as Mirage Casino president Felix Rapaport to better conjure his tricks as Bally Casino owner Doug Munny.
As Juror 12 in the 1997 film version of 12 Angry Men, Gandolfini merges his stage craft with his film craft. He doesn't take his vote lightly. He really is after the facts and not afraid to change his mind when the evidence becomes more clear. He's not on the fence and he's not particularly out for any justice or holding any personal baggage that will clog his mind. He's open to the persuasion of a good argument. He's very human. Gandolfini is always very human. Whether he's playing a guilt-ridden mid-level employee of a huge food conglomerate that's poisoning kids as he was in A Civil Action, or a store-owner who confides to his own blackmailer, like he did in 2001's The Man Who Wasn't There, Gandolfini is a person. He played irony like a musical instrument of which he was a skilled master.
In Fallen, the 1998 satanic cop movie starring Denzel Washington and John Goodman, Gandolfini played Lou, a detective who hated the sixties but can still belt out a devil-may-care version of the Rolling Stone's "Time Is On My Side." He carried that same ambiguity as Pat, the father of a rock and rolling garage band singer, in the David Chase-directed ode to sixties pop sounds Not Fade Away. Never one to give a one-note performance, Gandolfini's anger softens as he learns his dandruff flakes are an ominous death warrant. None of this is to say that James Gandolfini had a tin ear. He sang through his role as Angelo in the musical Romance and Cigarettes with all the sly reserve of a man caught in an affair he was enjoying.
Gandolfini apologized already for the ridiculous wig he wore as Leon Panetta, the director of the CIA, in Kathryn Bigelow's award winning film about the hunt for Osama Bin Laden, Zero Dark Thirty. He also played Lieutenant General Miller, the Senior Military Assistant to the U.S. Secretary of Defense in the 2009 British black comedy In the Loop.  It is miles away from his portrayal of an embittered military prison officer who's never seen the battlefield except through memorabilia in The Last Castle with Robert Redford.
In 2011, Gandolfini played the target in Geoffrey S. Fletcher's Violet & Daisy which starred Saoirse Ronan and The Gilmore Girl's Alexis Bledel as two teenage assassins who think they're doing an easy piece of work. Gandolfini recently finished filming another crime picture, Animal Rescue, which will is scheduled to be released in 2014. It was directed by Michaël R. Roskam, written by Dennis Lehane and stars Tom Hardy, Noomi Rapace, Matthias Schoenaerts, John Ortiz, and James Frecheville. In 2012, James Gandolfini played Mickey in the neo-noir film Killing Them Softly directed by Andrew Dominik and starring Brad Pitt, Ray Liotta and Sam Shepard. It premiered in competition for the Palme d'Or at the 2012 Cannes Film Festival.
Gandolfini is part of the HBO family. He was set to return in a new series next year. After The Sopranos, Gandolfini served as executive producer for the 2007 HBO documentary Alive Day Memories: Home From Iraq, which was the first thing Gandolfini made with his production company Attaboy Films. Gandolfini interviewed injured Iraq War veterans about their return home. It was nominated for an Emmy. In 2010, Gandolfini produced Wartorn: 1861–2010, another HBO documentary which looked at posttraumatic stress disorder throughout the history of the United States from the Civil War to the present. He also was executive producer on the 2012 HBO film Hemingway & Gellhorn, which told the story of Ernest Hemingway and Martha Gellhorn. The movie starred Nicole Kidman and Clive Owen. James Gandolfini played the first Reality TV director, Craig Gilbert, in HBO's 2011 drama Cinema Verite about the making of An American Family, the 1973 PBS documentary television series that followed the Loud family. It was directed by Shari Springer Berman and Robert Pulcini and starred Diane Lane, Tim Robbins and Kathleen Quinlan.
And then there was The Sopranos. In the late 90s I was still writing plays and every actor in New York was getting parts on the new mob show on HBO. My friend who was directing some of my plays said watching that show was like talking to me about gangster stories. I had witnessed guys swear they weren't Fredo from The Godfather, who would beat you up for even bringing it up.  I got HBO for The Sopranos, for the cunnilingus and therapy. I recognized all the characters; they were all like people I knew from the neighborhood. I always thought of The Sopranos as a comedy with dramatic elements, a mob satire that played to the everyday gangster. It was one of the most innovative and influential shows on TV.
At the time I acted in another writer's play along with Michele Santopietro who played the recurring character JoJo Palmice, the wife of Junior Soprano's right hand man, Mikey Palmice (Al Sapienza). Palmice was shot by Christopher Moltisante (Michael Imperioli) and Peter Paul "Paulie Walnuts" Gualtieri (Tony Sirico) after a chase through the woods that gave Paulie poison ivy. JoJo also cooked for Robert "Bobby Bacala" Baccalieri, Jr. (Steve Schirripa) after his wife died on the show in a car accident. I contacted Michele about Gandolfini, who was supportive of all the actors on the show and went to the premiere of her film Two Family House, for her thoughts on the shocking passing. She said that she was in touch with many of the actors from the series and that it was a sad day for all of them. She sent me the statement: "Jimmy was one of the most incredible people I've ever known–incredible talent, incredibly funny and incredibly humble. What a terrible loss for the world."
James Gandolfini was a bouncer at the New York City nightclub The Tunnel before he seriously turned to acting. I was once trapped in the bathroom there with what looked like the cast of Godspell waiting to review a Nina Hagen concert. Gandolfini was amused when he noticed the knob had pushed through and was even more amused at the throw-back platform shoes the guys were wearing.
By all accounts James Gandolfini was a soft-spoken and private person. He was born in Westwood, N.J., and grew up in Park Ridge. His mother was a high school lunch lady and his father a mason until he became the head custodian at the school my kids will be attending next year. He graduated Rutgers University. Gandolfini acted in school plays and was named class flirt in high school and ranked 28 on TV Guide's list of the "50 Sexiest Stars of All Time" in 2005. Although we will always see him side by side with Edie Falco, who played his onscreen wife and only true equal, Carmela Soprano, Gandolfini was married twice and had his own family. He was married in Hawaii to Deborah Lin, and they had a daughter, Liliana Ruth Gandolfini, in October 2012. Gandolfini also has a son, Michael, from his previous marriage to Marcy Wudarski. He was an artist as an actor and I really was looking forward to watching him continue to work at it.
Like us on Facebook and follow us on Twitter for all news updates related to the world of geek. And Google+, if that's your thing!