Reviews
It's a Wonderful Life Collector's Edition DVD review
The 1946 Capra Christmas classic arrives in time for the season. But is this Collector's Edition the treatment the timeless favourite deserves?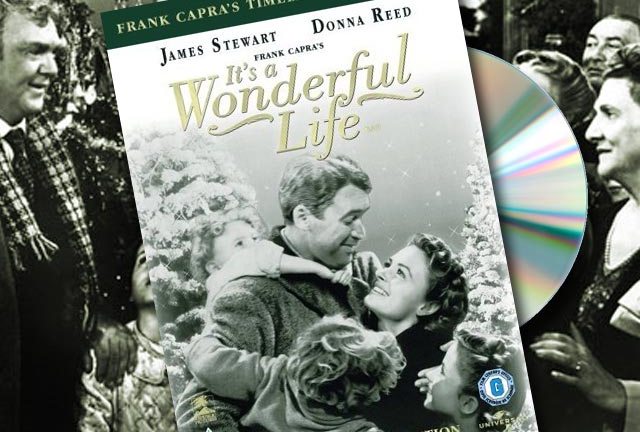 The Earth's spinning swiftly into the season to be jolly, and sometimes, for many of us, that joyful spirit doesn't materialise so easily. The cure, in disc form, may be at hand.
It's A Wonderful Life is a 1946 black-and-white film in 4:3 fullscreen and slightly crackly mono sound. And you know what? You may not mind that. Because what is in those old-fashioned 4:3 squeaky frames is some of the most impeccable casting and exquisite story-telling ever captured on film.
Jimmy Stewart plays George Bailey, an intelligent, hard-working man who yearns to the see the world and all it has to offer. But the world has other plans for him and every time he tries to break free of family and small town life, circumstances conspire to keep him bound to Bedford Falls.
The death of George's father forces George to abandon a long-postponed trip to exotic lands to instead helm the Building and Loan company his father and uncle ran together. Years later, a run on the bank preempts a honeymoon, with great personal and financial sacrifice.
Time after time, responsibility and commitment anchor George to the town he'd dreamed of leaving since he was a boy. (These tethering events also serve to chronicle a good bit of the first half of the twentieth century.)
In a few seconds of distraction, George's bumbling but loveable uncle makes a crucial mistake, losing the Building and Loan customers' money to the evil, greedy banker, Henry F. Potter (Lionel Barrymore). In a final heroic act of selflessness, George plans to take the blame and the consequences. But it's all too much weight on one man's already weary shoulders and George considers throwing himself from a bridge.
George's story then takes an otherworldly turn as Clarence (Henry Travers), a portly, child-like angel, is sent down to stop George and impart the message that his life is not the meaningless mess it seems. Clarence is hoping this assignment will win him the wings he's gone without for centuries and advance him beyond his angel second class status. It's Clarence who comes up with the ingenious way to show George the true worth of his existence.
Those familiar with the film will know, and no doubt, love, what happens from that point. In a still older tale, it isn't until the ghost of Christmas yet to come arrives in Dickens' A Christmas Carol that Scrooge really gets his eyes, and heart, opened, and the device of It's A Wonderful Life is as effective and illuminating for George. Newer viewers may draw parallels with more modern films, notably, Marty McFly's trip to a future Hill Valley that's undergone a similar transformation to the George-less Bedford Falls.
The movie is, as director, Frank Capra, intended – heart-warming and inspiring, the perfect pre-Christmas feast and it's easy to defy all but the hardest-hearted to be moved by it. Far beyond any religious or spiritual message, (which is never force fed, but necessary to the plot), it's a story of friendship, family, the frailty of man and forgiveness.
Surpassing its own 'feel good' message, it also happens to be a film containing some of the best character acting you're ever likely to see. And exemplary writing and directing skill as well. Every performance is perfection.
Call to mind, or watch first time for a small, seemingly insignificant scene with a shared phone call and an attempted denial of attraction. If that's not one of the most romantic moments in film history, I'll cancel my cable contract.
Jimmy Stewart is at his faltering, stammering best here. He's the epitome of the Every Man that made him so well loved in every role.
In America, this film is shown every Christmas season, on numerous channels, thanks to a downright goof-up with the copyright. But even if it were aired weekly, it's worth owning and viewing uninterrupted and commercial-free. It deserves no less. And neither do its fans.
If, come New Years, you find yourself once more running down your list of life accomplishments, or perceived lack of them, watch It's A Wonderful Life again. Easily and highly recommended to watch when you want – or need – it most.
Extras There are only two inclusions with the film, all on one disc, and it's a matter of very liberal labelling with everything. In fact, I wouldn't call this a 'Collector's Edition' at all. It'd be more appropriate to call it an 'Above Average Viewer Interest Edition'.
The 'Interview' (13:54, 1991) isn't any such thing, but the director's son, Frank Capra Jr, as presenter and the 'Documentary' (22:43, 1990) is far from that, with Tom Bosley serving up piecemeal facts and trivia. Both contain extremely brief recorded words and video of Frank Capra and a couple of cast members, mostly Jimmy Stewart and a few fleeting sentences from Sheldon Leonard (who played Nick, the bartender). Those abridged scraps of conversation occur amid clips of the film, some before restoration efforts, it appears.
Misnomers out of the way, what does exist in the extras are some very interesting tidbits of information about the movie, its creation (a convoluted evolution from a 'failed' writer's homemade Christmas card), cast member selection and history. It's certainly worth the shared space on the disc, but it is the sort of thing I'm sure I've seen on TV before, in the States, in an expanded form. If there are more lengthy reels of interviews on shelves somewhere, I hope someone will rescue and restore them. But as most of the people involved are no longer with us, even these thin slices, saved for posterity, are a gift.
Film:
Disc:
---