News
It Chapter Two: Adrian Mellon and Derry Hate Crimes
It Chapter Two director Andy Muschietti talks about one of the most infamous scene from the Stephen King book... and what it will mean now.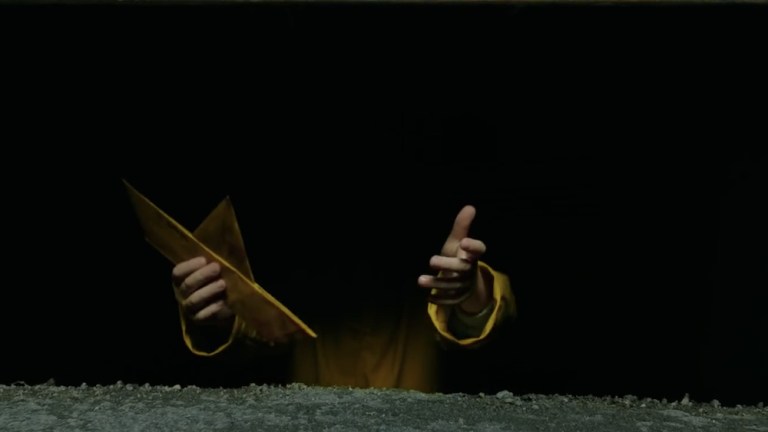 This It Chapter Two article includes a discussion of a scene some might consider a spoiler (and that's hinted at in the trailer).
For those who have read Stephen King's It, the events surrounding the last night of Derry's Canal Days Festival are as haunting as anything that happened to poor little Georgie Denbrough and his paper sailboat. It is an event so grisly—with its real world implications about murders that have nothing to do with supernatural clowns—that it was left out of the 1990 miniseries adaptation. Yet given the image of a bridge with balloons in the It Chapter Two trailer, and the casting of Xavier Dolan as Adrian Melon, it seems as though the sequel to 2017's monster hit is going there.
We asked director Andy Muschietti about that scene and whether It Chapter Two will open with a crime so foul it would reveal new layers of Derry's complicity. (In the novel, the sequence in question is the second chapter and the beginning of the "modern day" events, just as the first chapter about Georgie Denbrough's murder introduces us to the past.)
"You only need to hit them hard at the beginning to basically set the tone and start the spark in their minds," Muschietti says about beginning horror movies in our pre-SDCC interview. "I think if you hit [the audience] hard enough at the beginning there, they can imagine things. Again, it's like a game of imagination and belief, and if you strike hard, they will believe that Pennywise is able to do anything or appear at any moment and be unpredictable."
He continues, "Pennywise appears and there is a scene with Adrian Mellon. I can't tell you if it's the first scene or the fifth. It's a very, very devastating event. Not only because of the outcome, but also it has the implications of the social undertone. It's a hate crime, basically, which is something that resonates in the times that we're living in and at the time that we lived before. It's a sequence that will have impact on a couple of different levels, I think."
When asked if the event will reveal a new level of cruelty and culpability among the adult citizens of Derry, Muschietti adds, "You could say that because we didn't really see a hate crime in the first one, and this is another layer of perversion. I think Pennywise, on his first appearance, has a deeper level of manipulation… I think it's clear that Derry came back with a deeper sense of malice."
For those who don't want to be spoiled outright about the murder in question, we suggest stopping here…
read more: Andy Muschietti Interested in Pennywise Prequel
Still with us? Good. In the book, Adrian Mellon is introduced as a new resident to Derry, Maine who internalizes the town's provincial beauty a little too readily. A proudly out gay man, Adrian's public display of affection with a local named Don Hagarty (who is wearier of his hometown) attracts the disgusted attention of three teenage rednecks in the scene's 1984 setting. During the last night of the Canal Days Carnival, they target Adrian for wearing an "I ♥ Derry" hat.
They corner the couple on the Kissing Bridge, pushing Don away while taking turns attacking and brutalizing Adrian before throwing him off the bridge… by that point a clown with balloons had "consoled" Don about what was happening, and once Adrian went over the rails, both Don and one of his attackers tried to save him from drowning… only to see a clown with thousands of balloons under the bridge murder Adrian. Their accounts of the final attack differ, but in the second chapter of the book, Don sums up the thesis of what Pennywise is for readers.
"The clown took Ade under there. I could see its suit brushing through those strings. Ade was making awful choking sounds. I started after him, and the clown looked back. I saw its eyes, and all at once I understood who it was… It was Derry," Don Hagarty said. "It was this town."
It is a grotesquely truthful parable of hate turning homicidal in the heartland. And what might be most disturbing is that it will play as believably in 2019 as it did in 1984.
It Chapter Two opens on Sept. 6.
David Crow is the Film Section Editor at Den of Geek. He's also a member of the Online Film Critics Society. Read more of his work here. You can follow him on Twitter @DCrowsNest.