News
It: Chapter 2 Footage Description
Horror fans at SDCC got their first glimpse of the Losers Club all grown-up in It: Chapter Two. So of course Richie runs his mouth.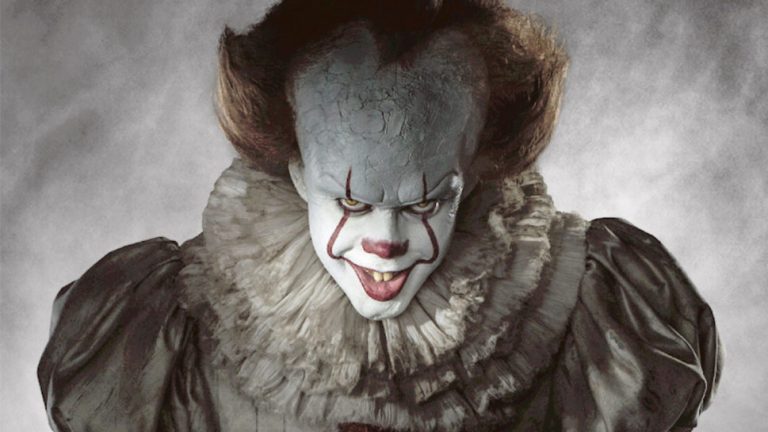 Hey losers, we're getting a sequel to the movie that turned Pennywise the Dancing Clown into 2017's most hypnotic meme. So perhaps we're the winners, after all? Yep, It: Chapter Two is on its way, and no fan of Stephen King or the previous movie is as excited as Andy Muschietti, the director of both It films. Sadly, Muschietti couldn't appear in-person at Scare Diego, New Line Cinema's San Diego Comic-Con eve event for horror fans, as the filmmaker had a very understandable obligation: he is currently shooting It: Chapter Two in Toronto with an all-star cast that includes Jessica Chastain, James McAvoy, Bill Hader, and more… such as the returning Bill Skarsgård as Pennywise. But be that as it may, he did appear by video to reveal some enticing new footage.
There were plenty of quick cuts to scenes from the feel-good ending of 2017's It, as well as Muschietti acknowledging he takes an enjoyment out of fans being as obsessed with casting the Losers Club in their late 30s as he was while making the sequel. However, there were a few major tidbits gleaned in the It: Chapter Two sizzle reel, including the first footage of a film that only began production a few weeks ago.
Read the Den of Geek SDCC 2018 Special Edition Magazine Here!
After a tantalizing montage of the adult cast's first table read, as well as what looked like a script read for child actors Sophia Lillis and Jaeden Lieberher, who play teenaged Beverly and Bill, our first actual footage from It: Chapter Two unveiled itself. So it of course was Richie Tozier cracking wise.
In a sequence that is sure to raise an eyebrow of anyone who's read Stephen King's magnum opus in prose form (or saw the dippy 1990 miniseries), we are able to quickly glean the adult cast of It: Chapter Two has gathered in a sequence set in a Chinese restaurant. It is the moment where the Losers Club is all reunited for the first time since their summer pact in 1989, now adults who can barely recall childhood or each other. James McAvoy stands tall as Bill Denbrough, sporting a full luscious mane of hair for those wondering if McAvoy was shaving his head again (Bill goes bald in the book). He is staring incredulously at all his childhood friends gathered in one place, including Chastain as an adult Beverly, and most deliciously Bill Hader as adult Richie.
Banging a tacky ceremonial gong behind him (it is set in suburban Maine), Hader's Richie shouts out, "What's up losers?! So what do y'all want to talk about?" At least the way it is edited, James Ransone's adult Eddie Kaspbrak mutters "holy shit" in disbelief. The sequence is part of a sizzle reel that also includes Chastain's adult Bev being phased by something and checking her smartphone, in a departure from the 1985-set novel.
For those uninitiated to the importance of Chinese restaurants and It, Stephen King based a pivotal sequence in the novel on a favorite local restaurant in Bangor, Maine. In that Chinese themed establishment, the Losers Club has its first meeting wherein at least six of the seven losers attend a makeshift reunion. It is a crucial moment in all of their lives, even before Pennywise makes an unannounced entrance during dessert. Obviously seeing a hint of that sequence sent horror fans into an uproar in San Diego.
It will be of course well over a year before we see the full scene play out, as It: Chapter Two will not be released until Sept. 6, 2019. In the meantime, however, just seeing Bill Hader greet his fellow losers is a meal unto itself. Hence why we'll probably skip opening those fortune cookies…