News
Isle of Dogs: Wes Anderson Says Animation is Like Making Movies Out of Rehearsals
Wes Anderson and the cast of Isle of Dogs reveal his animated movies are like putting together a film out of quick rehearsals.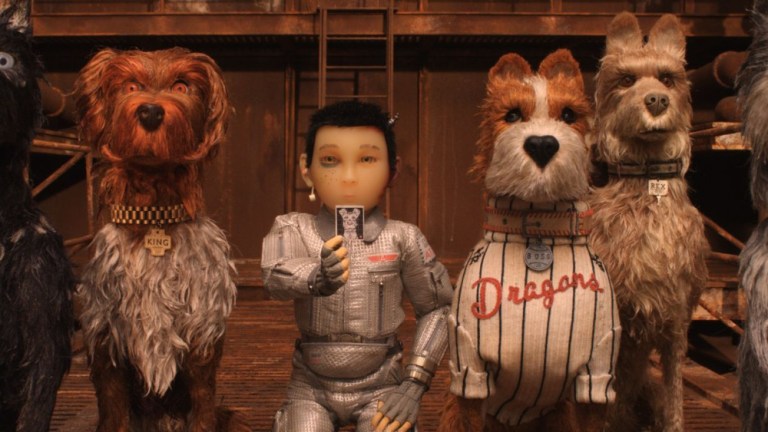 It was during a particularly snowy day in New York—at least by March standards—that Wes Anderson and a healthy majority of his acting repertoire filed into a midtown ballroom to discuss Isle of Dogs. The charming and wildly creative stop-motion animated film includes voices from all the actors who were present, be they Anderson veterans like Bill Murray, Jason Schwartzman, Jeff Goldblum, Tilda Swinton, and Bob Balaban, or newcomers in the lineup like Liev Schreiber, Courtney B. Vance, Kunichi Nomura, and Koyu Rankin.
Yet during the festivities, all of the acting talent fielded questions about the creative process of preparing to do this film, which seemed to leave several bemused, perhaps none more so than Mr. Schreiber. After all, Isle of Dogs marks his first time participating in a Wes Anderson film, and an animated one at that, so the process went by all-too-quickly.
"I feel so guilty for being up here, I feel like I didn't do anything," Schreiber sheepishly told the press. "I was in a recording session with Wes for about two hours, about a year and a half ago, and it was fun." He even added how unique the process of an animated film with Anderson is, as the director aims to capture the essence of an actor for these characters, as opposed to looking for a "dog voice."
Said Schreiber, "It all went really quickly, because I felt like he mostly wanted me to do me, either quicker or slower, and that's what we did."
Anderson used this as a moment to note an interesting aspect of the creative process for his animated films: while they are meticulously designed with intricate puppeteering over several years, for him and his actors, it is like a cordial rehearsal that ends up being the heart of the movie.
"Everybody's process in an animated movie like this happens very quickly," Anderson said. "And the part of the movie, where for me where I'm working with actors and we're having the chance for them to make these performances, it's really more like a rehearsal. It's like a few days of rehearsals; it's a few hours of rehearsals that we record, and we put together the movie from the rehearsal. And they can try anything."
Anderson even relayed an intriguing story of his time making Fantastic Mr. Fox, in which Schwartzman plays another doggish character named Ash, a fidgety fox with a short temper.
"In fact, when we did The Fantastic Mr. Fox many years ago, Jason played a very big role in the movie, [and] the first recording session we did, we were delayed, we arrived at the studio, and we had a very important dinner we didn't want to miss. It was just us, but we didn't want to miss it. And we recorded the whole role in about one hour, and I remember Jason was just throwing the pages up, but we did lines over and over again very, very quickly. But it had so much energy, and we went back to the recording studio at later dates and things, but so much of your performance came from that first hour because it had so much life and spontaneity in it." He then added with a dramatic pause, "And then we went to dinner."
In this vein, he only had the cast for the five main dogs in the picture, who include Bryan Cranston, Ed Norton, Goldblum, Murray, and Balaban, were all together in the same recording studio once for two hours, which also made up a large portion of their performances.
For Schreiber, it was an illuminating experience, especially when he first saw a cut of the movie with his children earlier this year.
"I was actually terrified when I left. I thought, 'Boy I messed that up, I didn't do anything,'" Schreiber recalled. So he told his kids, "'By the way, I'm probably in this for 20 seconds at best, so don't get your hopes up or anything.' And sure enough you see the film, he's like hero dog… I don't remember saying those things."
The novelty of this approach also means that Isle of Dogs is among the few Anderson films where he got everyone he wanted to be in the film. While the director says he is always thrilled with his casts, there is is often a give-and-take about who is available, but when he is asking for at most an afternoon of your time, then there is no schedule too tight that cannot be accommodated.
"With this one, everyone said yes, because it's an hour sometime in the next two years," Anderson laughed. "So the only way to pass is to say I don't wish to be in your film and I don't like dogs." At this point Courtney B. Vance helped Anderson amend exactly what a no to this film would mean: "I don't like you and I don't like dogs."
Apparently, the movie's existence is proof there is no such person in this world. And you can find out why when Isle of Dogs opens on March 23.