News
Isao Takahata's contribution to Studio Ghibli
As The Tale Of The Princess Kaguya arrives in UK cinemas, Ryan pays tribute to director Isao Takahata's vital contribution to Studio Ghibli.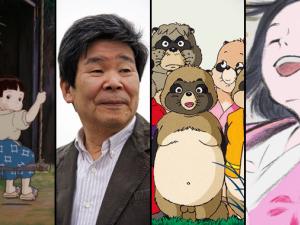 When My Neighbor Totoro appeared in Japanese cinemas in 1988, its impact was huge. The rotund, furry creature of its title was – and is – adored by children in Japan and elsewhere, and it's little surprise that Totoro is now Studio Ghibli's official mascot.
As well as summing up the universal appeal of Studio Ghibli's animated films, Totoro also symbolises one of the most prominent themes in the output of the studio's founders, Hayao Miyazaki and Isao Takahata. Born six years apart, both filmmakers lived through the turbulence of World War II, and witnessed the huge transformation Japan underwent in its aftermath.
As a result, the founders' films are informed by Japan's post-war reinvention; with Japanese citizens increasingly crammed into cities, My Neighbor Totoro is Miyazaki's heartfelt love letter to a Japanese countryside threatened by relentless expansion, where its young protagonists discover magical creatures in a leafy paradise – including Totoro, the keeper of the woods.
Takahata's Grave Of The Fireflies, released on the same bill as My Neighbor Totoro in 1988, is a heartbreaking, unflinching account of war told from the perspective of two youngsters. It could be seen as the mirror image of My Neighbor Totoro: bleak where the other is buoyant.
Unsurprisingly, My Neighbor Totoro was the greater financial success of those two films. Indeed, the popularity of Totoro and Miyazaki's other movies – most notably Spirited Away, Howl's Moving Castle, and Ponyo – sometimes means that the work of his colleague and mentor Takahata is overlooked.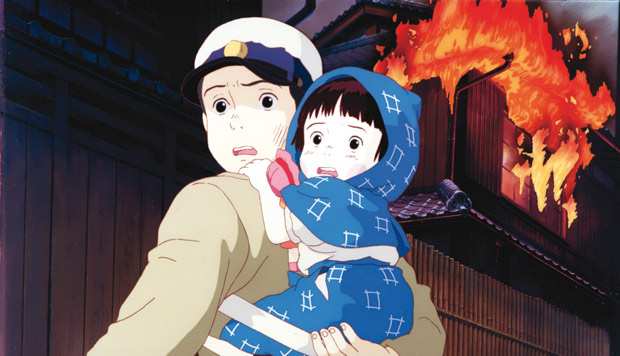 Yet it's important to remember that, not only was Takahata instrumental in Miyazaki's own development as a director – you can read about his path to the formation of Studio Ghibli here – but in the 80s and 90s, Takahata was almost  as prolific a filmmaker as his more commonly celebrated co-founder.
Between Studio Ghibli's creation in the mid-80s to the turn of the millennium, Miyazaki directed five feature films (Castle In The Sky, My Neighbor Totoro, Kiki's Delivery Service, Porco Rosso, and Princess Mononoke), while Takahata wasn't far behind with four: Grave Of The Fireflies, Only Yesterday, Pom Poko, and My Neighbors The Yamadas.
Looking at that period as a complete body of work, it's easy to see how Takahata's films contrast with Miyazaki's: where Kiki's Delivery Service (1989) is a gentle coming-of-age fantasy about a young witch, the following year's Only Yesterday is a realist drama about a 27-year-old woman thinking back to her childhood in the '60s. Where Porco Rosso is a soaring adventure about a flying ace who happened to be a pig, Pom Poko is an ecological story which at first delights before concluding with an emotional punch on a par with Miyazaki's later Princess Mononoke.
Behind Studio Ghibli is the story of two talents, united by a passion for animation but divided by very different temperaments and philosophies. Miyazaki was fastidious, relentlessly hard-working and disciplined; Takahata was, by his own admission, prone to wandering off on tangents, and sometimes had to be coerced into starting a new project by his producers. Once a film was started, Takahata had a tendency to then go over schedule; during the making of his most recent film, The Tale Of The Princess Kaguya, one producer joked, with more than a hint of gallow's humor, that Takahata didn't really want to finish it.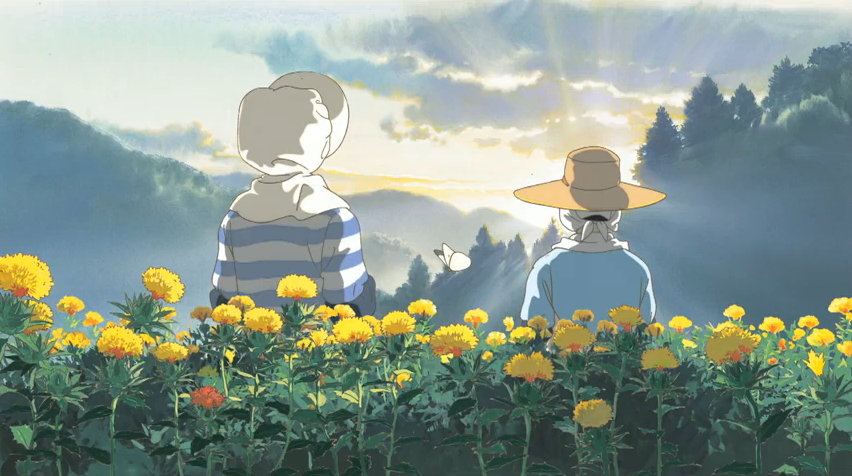 Takahata's emergence as a filmmaker was itself very different from Miyazaki's. Takahata studied French literature at the University of Tokyo, and it was this education which seems to have informed his style as a storyteller. He was influenced by the French animator Paul Grimault, most specifically by the 1952 film The King And The Mockingbird, and also by such French New Wave filmmakers as Jean-Luc Godard.
After leaving university, Takahata joined Toei Animation, and worked on the studio's first television series Wolf Boy Ken. That series, which ran for 86 episodes between 1963 and 1965, served as Takahata's directorial debut, and also served as a proving ground for such future talents as artist Yoichi Kotabe and, most fatefully, Hayao Miyazaki.
When Takahata made his feature debut as director in 1968 with Horus, Prince Of The Sun (sometimes known as The Little Norse Prince), Hayao Miyazaki came aboard as key animator. It marked the start of a collaboration which would last for many years, from an ill-fated attempt to make an anime based on Pippi Longstocking in the early '70s to the hugely popular shows Lupin III, Heidi, Girl Of The Alps, the short Panda Go Panda films, and on to the formation of Studio Ghibli.
Horus was, like many of Takahata's films, subjected to repeated delays. As Miyazaki later wrote in his book Starting Point, "A production that was supposed to take one year was delayed once, then again, then delayed again – by the time my it was finally completed I had gotten married, had my first son, and my son had already celebrated his first birthday…"
Even in his early, pre-Ghibli work, Takahata's style as a director is clearly apparent. In the midst of a fantastical adventure like Horus, there's a certain grounding in reality, a harshness and lack of sentimentality. This might be due in part to Takahata's interest in European cinema, but also because, unusually, he isn't an artist himself. Unlike Miyazaki and most of his peers, Takahata doesn't draw or paint his own storyboards, backgrounds and cels; instead, he largely relies on other artists to bring his ideas to life.
As a result, Takahata's films are often experimental both visually and in terms of their storytelling. He's unafraid to cut back and forth between fantasy and reality, often to jarring and powerful effect; in Pom Poko, he relates the plight of a tribe of tanuki (Japanese raccoon dogs), and beguiles us with their recognisably human behaviour – their romances, mischief and love of junk food. But then he'll abruptly pull the narrative rug from under us, and show the tanuki as they really are: living, breathing animals foraging for food in an environment increasingly ransacked by humans. The way Takahata moves between light and dark in Pom Poko is a seemingly effortless slight of hand.
More than just about any director in Japan, Takahata seems unafraid to probe at the boundaries of what animation can do. Putting dozens of artists to work on the creation of a grounded drama like Only Yesterday might sound like a strange use of the medium, but in Takahata's hands, it suddenly makes sense: animation allows him to show the magic within mundane, day-to-day reality; a scene as inconsequential as a family tucking into slices of fresh pineapple is made utterly captivating.
In the case of Takahata's masterpiece Grave Of The Fireflies, animation acts as a kind of merciful filter; as other writers have already pointed out, the harrowing fate of its young protagonists would almost certainly be unbearable to watch without the use of drawings to soften the blow. Even as it is, the film carries a stark, haunting quality that can linger for days.
My Neighbors The Yamadas, released in 1999, sees Takahata exploring an entirely new visual style, where the sharp lines and bold colours of previous Studio Ghibli films are exchanged for soft pencil marks and splashes of watercolour. It revolves around the daily lives of an average Japanese family, and unfolds as a series of gentle vignettes that, at first glance, seem just as inconsequential as the pineapple-eating scene in Only Yesterday. But there's a richly observed comedy in My Neighbors The Yamadas, and Takahata once again finds moments of humanity in the everyday, from the inner monologues of a downtrodden father to the expressions of their surly dog. Like Pom Poko, My Neighbors The Yamadas feels almost documentary-like in its intimacy.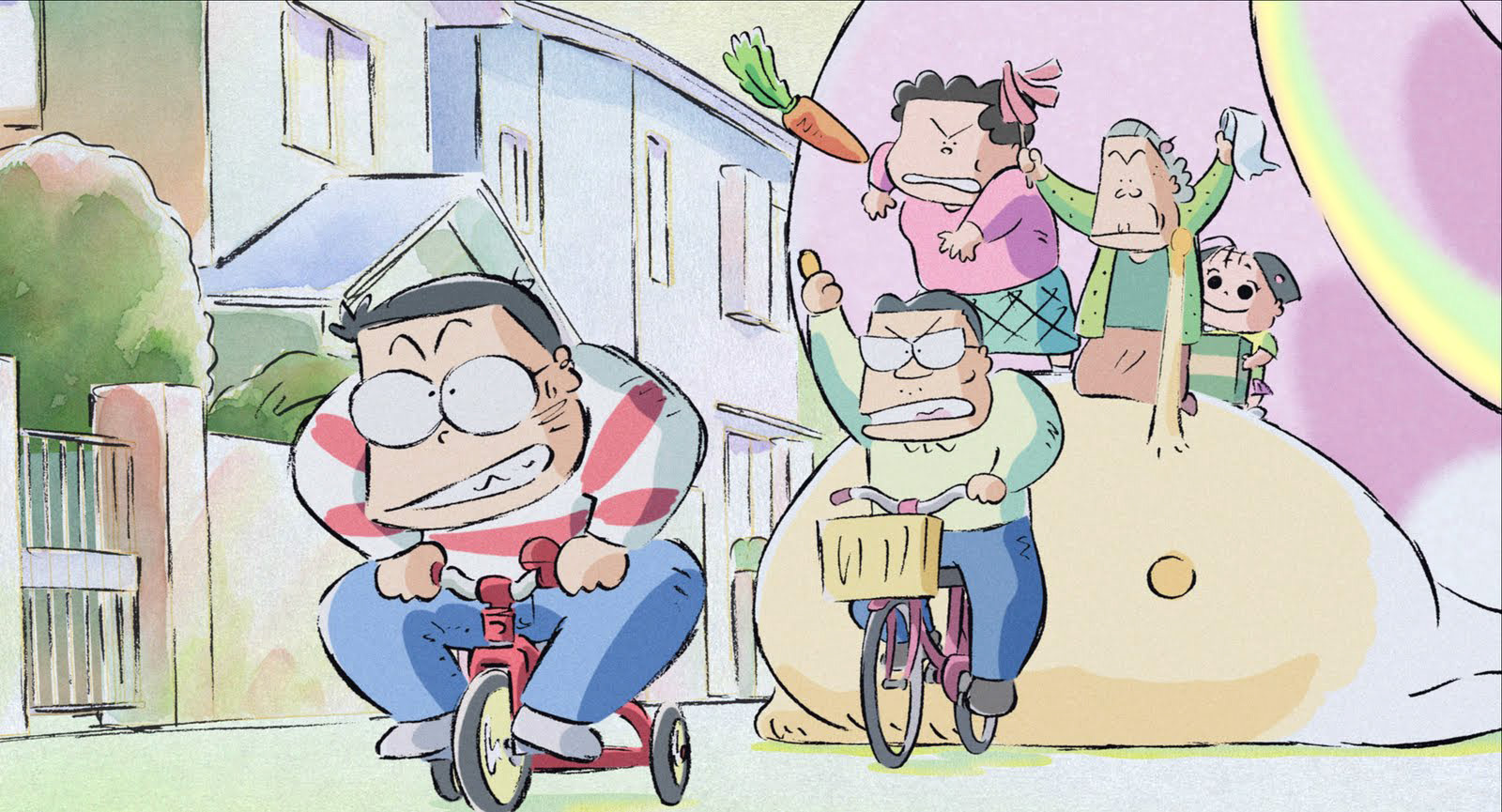 Takahata seldom embarks on the same flights of fancy as Miyazaki, yet his films are also creatively unfettered in their own way. His films are unafraid to deal frankly with subjects like death and the loss of innocence. Stories flit fluidly between past and present, comedy and tragedy, fantasy and realism. Grave Of The Fireflies begins, startlingly, with its protagonist Seita staring straight back at us down the lens. Pom Poko concludes with one of its furry character breaking the fourth wall and directly addressing the audience.
It's this creative daring that distinguishes Takahata's work. Of course, this also means they're less broad and crowd-pleasing than Miyazaki's films, or the output of Studio Ghibli's other directors; even the relatively mainstream, jolly Pom Poko has its characters' bulbous testicles proudly on display, which might make some, more conservative parents blush.
Takahata's most recent – and more than likely last – feature film is The Tale Of The Princess Kaguya. Based on a Japanese folktale, it could be seen as the perfect summation of the director's career. It pushes the fluent style of My Neighbors The Yamadas further than ever, creating an immersive world with a handful of brushstrokes. Its ethereal story seems to teeter constantly between the realms of dream and the everyday; in one of its most celebrated sequences, the titular princess flees from her cage-like mansion and rushes through the benighted countryside. Sketch marks shudder around the princess, as though the artist is trying to keep pace with her as she runs; by the sequence's end, we're momentarily unsure whether what we've seen has actually happened or is all a nightmare. As a piece of art, it's stunning; few other animators have managed to place us in the headspace of their character as powerfully.
Then again, all that beauty didn't come easily. True to form, Takahata had to be cajoled into making Princess Kaguya by producer Yoshiaki Nishimura. "I said there should be a Princess Kaguya movie," Takahata responded to Nishimura's repeated pleas; "I didn't say I wanted to make it."
If you were wondering why Takahata didn't release another movie a couple of years afterMy Neighbors The Yamadas, Princess Kaguya is the reason. The script alone took 18 months to complete, and all told, writing, preparing and animating Princess Kaguya took Takahata and his staff increasingly weary team eight years. Its costs overran wildly.
Fortunately, the film had a patron who was more than willing to pay the millions of yen it would cost to makePrincess Kaguya. "I like Mr Takahata's movies," said Seiichiro Ujiie, who'd produced several Studio Ghibli films. "I want to see a movie by Mr Takahata. I'll pay for it." Ujiie sadly died before Princess Kaguyawas finally completed in 2013.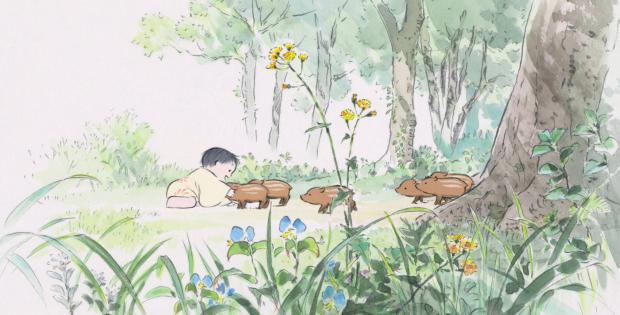 If Takahata had only made this one film for Studio Ghibli, Princess Kaguya would still count as an invaluable addition to its body of work. Visually astonishing, featuring some career-best work from composer Joe Hisaishi, and somehow managing to tell a story that is both contemporary and timeless all at once, it is, for this writer, among the very best films in the studio's near 30-year history.
But in each of his films, Takahata has contributed something new to Studio Ghibli's output. Whether it's a war film, an eco fable, family drama or folk story, Takahata has used the creative freedom afforded by the studio to push animation into surprising, often astonishing new arenas.
As we've seen, Miyazaki and Takahata clearly had their creative differences; Takahata once wrote that "According to [Miyazaki], I am 'descended from a giant sloth', while Miyazaki complained that Takahata leaves his studio areas in terrible disarray after he's been making his films. But Miyazaki also seemed to be inspired by Takahata; the former's 2013 swansong, The Wind Rises, is a deeply personal period drama that is decidedly Takahata-like in its storytelling and its allusions to European literature (its title comes from a poem by Paul Valery).
Totoro will always remain Studio Ghibli's mascot, and rightly so, but its filmmaking history – and that of animation as a whole – simply wouldn't have been the same without Takahata's unique storytelling voice.