Features
Is Studio Ghibli planning its first live-action feature?
Appearing briefly online last week, a short monster film may be the proving ground for Studio Ghibli's first live-action feature...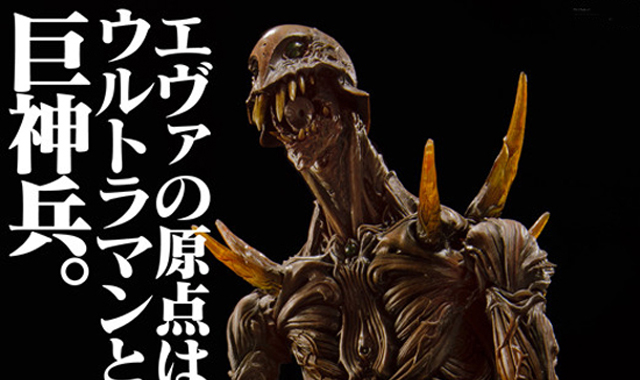 Since its inception in 1985, Studio Ghibli has established itself as Japan's foremost animation studio. This year sees the 25th anniversary of two key films, My Neighbor Totoro and Grave Of The Fireflies, which were released as a double-bill in Japanese cinemas in 1988. To mark the occasion, founder members Hayao Miyazaki and Isao Takahata both have films due for release this year – The Wind Is Rising and The Tale Of Princess Kaguya.
Although Ghibli's name will always be associated with its own brand of lyrical animation, we've also seen the studio branch out into new territory of late. A collaboration with videogame developer Level-5 resulted in the spectacular RPG, Ni No Kuni. Ghibli may have dipped its toe in interactive waters in 2002 with the rather obscure Magic Pengel: The Quest For Color, but Ni No Kuni looks and feels like a true Ghibli game, from its adorable character designs to its child's-eye view of a mystical second world.
Then there's something called A Giant God Warrior Appears In Tokyo (Kyōshinhei Tokyo ni Arawaru), an eight-minute short that marks the studio's first foray into live-action filmmaking. The film was created to publicise a 2012 exhibition at the Tokyo Museum of Contemporary Art, called Hideaki Anno's Special Effects. As the name implies, the exhibition served as celebration of Japanese miniature effects in the nation's kaiju and tokusatsu movies and TV shows, with exhibits ranging from prototype Ultraman figures to miniature helicopters from Godzilla.
Hideaki Anno is a popular figure in Japan, and best known for his series Neon Genesis Evangelion. But before that, he worked as an animator on Hayao Miyazaki's proto-Ghibli film, Nausicaa Of The Valley Of The Wind. An adaptation of Miyazaki's own manga of the same name, Nausicaa was a breathtakingly realised sci-fi fantasy that helped form the foundations of Studio Ghibli.
Anno teamed up with Miyazaki again for A Giant God Warrior, which uses painstakingly realised miniatures and practical effects to show a colossal monster wrecking havoc on Japan's capital. Although it's clearly meant to resemble a classic kaiju moive, it also has its roots in Miyazaki's animated work; the film is a prequel to Nausicaa, showing the destruction which led to the post-apocalyptic world seen in the 1984 feature.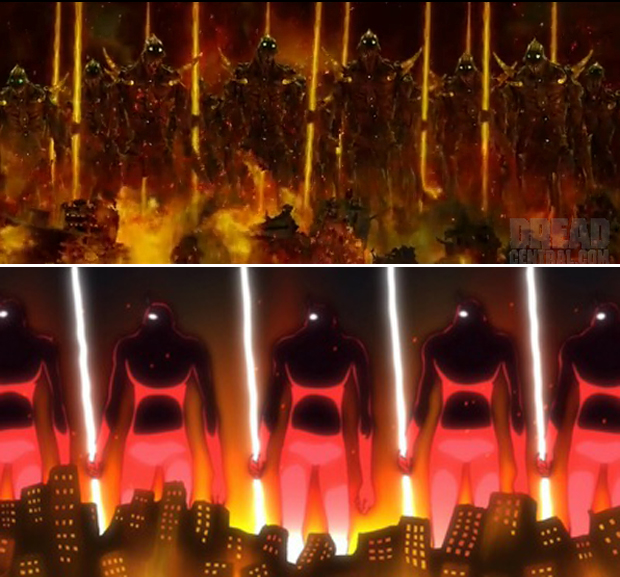 The Giant God is based on a Miyazaki design, and it's easy to see the similarity when you compare a shot from the live-action short (above) and an opening scene from Nausicaa (below). Unfortunately, Studio Ghibli have been quick to pull any instance of the short from YouTube, though you may be able to catch a look at it over on Dread Central's site. Failing that, there's the video below, which gives an impression of the effort that went into the scale recreation of Tokyo:
The leaked version is a shade under nine minutes long, and according to a 2012 story over on the Anime News Network, a longer, 10-minute version was shown in front of Evangelion: 3.0 in Japanese cinemas last year.
Sadly, there are no signs of Giant God getting a release in the UK, but it's just possible that it might appear alongside Evangelion 3.0 when it eventually reaches these shores – we already know that the short will appear on the Evangelion 3.0 Blu-ray disc in Japan.
Giant God Warrior also raises an intriguing question: might it be the start of a new strand of live-action filmmaking for Studio Ghibli? The film's voiceover and scale suggests a much larger story condensed down into what feels like an extended trailer; could Anno and director Shinji Higuchi have a full-length version of the movie in mind? Or alternatively, could the studio have another non-animated feature in the pipeline?
Certainly, with Guillermo del Toro's Pacific Rim out this summer and Gareth Edwards' Godzilla out next year, the time might be right for a kaiju prequel to the classic Nausicaa. But failing all that, and assuming this is purely a one-off for Ghibli, we hope we'll see a proper release of A Giant God Appears In Tokyo – with HD visuals and English subtitles – appear in the west very soon.
Follow our Twitter feed for faster news and bad jokes right here. And be our Facebook chum here.