News
Is Shuri Alive in Avengers: Endgame?
Shuri was unaccounted for come the end of Infinity War. Here's what we think her status will be in Avengers: Endgame...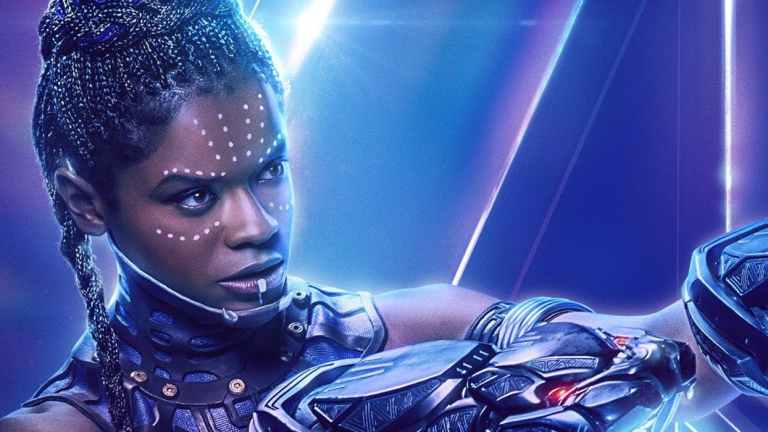 While most Marvel Cinematic Universe characters were confirmed dead or alive  either by the end of the devastating Avengers: Infinity War or in the first trailer for Avengers: Endgame, there is one whose post-snap fate is still (mostly) unconfirmed: Black Panther's Shuri (Letitia Wright).
At the end of Infinity War, we were forced to watch T'Challa disappear in front of Okoye, but T'Challa's little sister was unaccounted for either way. She's not mentioned in the first Avengers: Endgame trailer, though her face does show up on Bruce Banner's "Missing" graphic. For the record, this does not confirm her snap status as Ant-Man's face is also up there and we know from the trailer that he is still alive and quippy. Similarly, it's not clear if Banner and friends even know if Peter Parker is alive or dead (we know, of course).
further reading – Which Avengers: Infinity War Deaths Are Permanent?
It would make a lot of sense if Shuri made an appearance in Avengers: Endgame. From a logistical perspective, the Avengers desperately need someone with Shuri's intelligence to help come up with a plan and execute it properly—especially with Tony off floating in space. Shuri has proven herself the smartest one of the bunch (even with Tony around) and will no doubt be itching to prove herself following the failed attempt to separate Vision from the Mind Stone in Infinity War. (Note: This was totally not his fault. The Avengers gave her like five minutes to do this super complicated procedure during a massive battle.)
Past that, Shuri will serve as an important character, alongside Okoye, to hammer home the personal cost of T'Challa's disappearance, as well as a host of other Wakandans… not to mention White Wolf, aka Bucky Barnes. It was implied that Bucky and Shuri became friends during his time healing in Wakanda; While T'Challa would obviously be at the forefront of Shuri's mind, it would be lovely to see a scene between Steve and Shuri addressing their shared missing friend, Bucky, as pretty much everyone other than Steve is still afraid of Bucky.
further reading – Complete Guide to Marvel Easter Eggs in Avengers: Infinity War
What are the odds of Shuri popping up in Avengers: Endgame? High. Infinity War milked that scene of beloved characters disappearing into nothingness as much as possible. If they were planning on leaving Shuri out of the fun (and misery) for Endgame, then I think they would have found a devastating way to use that erasure. Black Panther is a huge property for the MCU moving forward, and they're going to want to include at least a few characters from that world in the bulk of this all-important movie. 
If backup white dudes Ant-Man and Hawkeye make the cut, and young badass woman of color Shuri doesn't, fisticuffs will ensue.
Avengers: Endgame will arrive in April. Probably April 26. The full schedule of upcoming Marvel movies can be found here.
Kayti Burt is a staff editor covering books, TV, movies, and fan culture at Den of Geek. Read more of her work here or follow her on Twitter @kaytiburt.