Features
Is it really all about Pain & Gain?
Inspired by the physiques in Michael Bay's Pain & Gain, Jamie-Lee attempts an aggressive fitness regime of her own...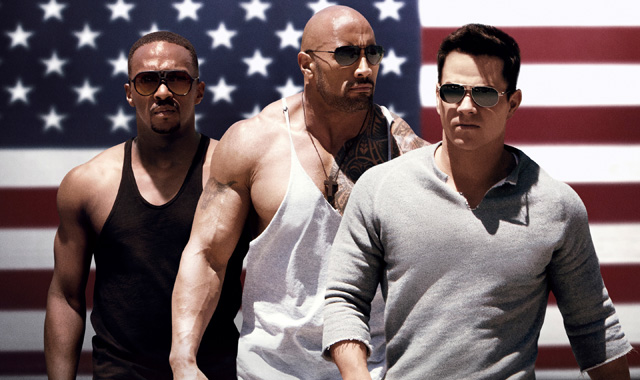 I am focused. I am hardcore. I am pumped. I am living the dream, on the edge. What keeps me going? Amusing Michael Bay parodies and montages on YouTube, 80s power tunes, Miami neon, spandex and loads of strippers and cocaine.
Hang on, wait – didn't I actually watch two episodes of Angel last night and fall asleep by 10.00pm? And don't I actually work in publishing, not a gym full of scantily clad strippers who get free membership because of their tight bootays? And don't I tend to hang out with poorly paid writers, rather than indulge in all-night parties with the muscle mafia and a tub of baby oil?
Okay, admittedly Michael Bay's latest film is not a cinematic orgasm, but Pain & Gain is a real ball-breaker with twists so mind-boggling they couldn't be made up. Based on an absurd yet true story, it follows, like, actual real life people and what. Sorry, that's the pink lycra that's affecting my communication and IQ.  Three gym bods get into hot, greedy, bloody water and kill people. Add in some fast cars, boats, plastic tits and urban music, alongside go-to white street gangsta Mark Wahlberg and Dwayne 'The Rock' Johnson, you got yourself some ass-whoopin pie.
Clearly, the name of the game here is bigger is better. Muscles, money, cars, the lot. So when Mark and co decide to kidnap a morally dubious client they want the lot. Obviously, things don't go to plan as the hapless trio, including their friend with a big steroid problem and a small man problem, end up with a pile of dead bodies and the cops on their tails. Cue severed hands on the BBQ, The Rock playing an uber cokehead – brilliantly – and some dark comedy to make you laugh and wince simultaneously. I knew this was just a film, but you could even see that the actors were pumped. Pain and gain baby, that's what they say. I was ready to feel some pain.
My first attempt at 'getting pumped' lead to what felt like a mild heart attack, with significant nausea and sweating. Unaided by a professional sports bra, I felt as though I had done permanent damage to the ligaments in my boobs. Did I wrestle a bear or start cagefighting in Mexico? No, I went for a casual jog along the river for 15 minutes. No pain, no gain. Especially in a heatwave.
The second attempt involved less clothing. However, this was in no way kinky. There was no lace, gentle breeze and perfect blow-dry, but a public swimming pool divided into three lanes. The question was, which lane did I belong to: slow, medium, or super frickin' fast? Obviously, not realising there was a system, I went in the empty lane. This soon became busy and I realised it was the fast lane.
Like Goldilocks and the three bears, I had to move my derriere. This gym bunny was feeling defluffed and frazzled. I was not feeling pumped, but slightly insecure as I made my way over to the super slow lane. Not one to blow my own horn, I quickly realised that I was wiping the floor in the granny lane. My heart was racing and I was dreaming of me starring in rap videos and platform heels, with inappropriate men shoving dollar bills in my 'panties'. God I hate that word. I found my pace in the middle lane – I was juiced. Ugh.
My third and final spin on the get-sexy bike involved dressing as one should a la Bay-style. In order to do this I needed several items including an entire can of hairspray, fake tan, redonkulous heels, a push up bra, makeup suitable for a transvestite in a cabaret show and swagger. I have to say that sadly, this was where I really lost my cool and failed in my Pain & Gain task.
I love a good push up bra (I may need this forever after my 15-minute jog), red lipstick and heels, although this is the same chick who broke her ankle crossing the road at Christmas on her lunch break. Sober. Perhaps I'll be the Dwayne Johnson character, who takes loads of coke and grills people's hands on a BBQ? I mean, I do own a BBQ at least…
Sadly, I haven't ended up with a contract to appear in the next Pharrell video, nor have I heard from Michael Bay. But I had a combined 'pumpin' session (insert joke) of around an hour and it just wasn't for me. I'm going to return to the sofa with a bottle of wine and pop in a nice DVD.