Reviews
Ironside season 1 DVD review
The iconic Sixties cop show returns with a useful DVD release, but has it stood the test of time?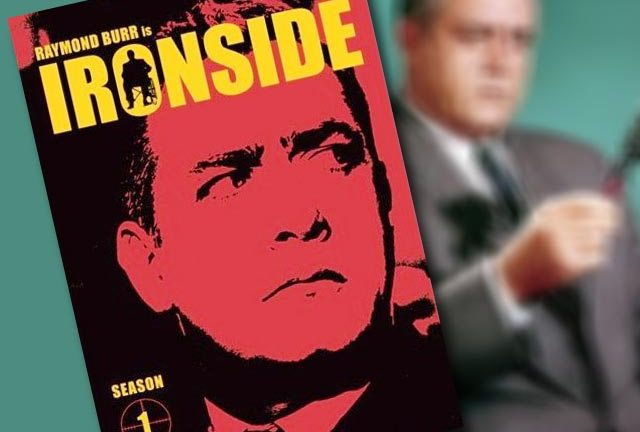 Actors are terrified of being typecast. Who can blame them? It could limit their careers to animation voice-overs and end-of-pier pantomimes for years. Look how long it took before Tom Baker and William Shatner got decent parts after Doctor Who and James T Kirk respectively; and what has Mark Hamill done since Star Wars?
It takes a special talent to leave behind a well-loved persona and still retain credibility in other roles, but Raymond Burr is very talented indeed. After playing Perry Mason in 'television's most successful and longest-running lawyer series' from 1957 to 1966, he became Robert T. Ironside and created another much-loved and widely-admired show. Running for eight seasons and 199 episodes in total from 1967 to 1975, what we have here is Season One in its entirety.
San Francisco Chief of Detectives Robert T Ironside (Burr) is forced to retire after being crippled by a sniper's bullet, confining him to a wheelchair for the rest of his life. But Ironside isn't the type of man to go quietly. He rejoins the force as a 'special consultant to the department', his first job being to find out who shot him…
Ironside is an intelligently-written show, where the cops catch the bad guys through honest-to-goodness detective work. That's not to say shoot-outs and fist-fights never happen, but the heart of the show is in police procedurals rather than action sequences. Think JonathanCreek without the conjuring tricks, or CSI without the technology and gore.
As each plot unfolds, you really feel Ironside's team is working for its clues rather than waiting for the scriptwriters to hand them over on a plate, as happens in far too many lesser cop shows. Also, unlike (say) Columbo, the storylines never become formulaic and predictable. Each episode has its own theme and message, and there's frequently a twist in the tale. A real, credible twist, not a plot hiccup thrown in for the sake of ticking another box in the writer's must-do list. You can watch several episodes of Ironside back to back without getting bored.
The characters seem a little clichéd at first, but they develop well as the show progresses. Ironside is the traditional, no-nonsense cop who's seen it all before, but he has a sensitive, philosophical side which he usually keeps in check. Plainclothes police officer Eve Whitfield (Barbara Anderson) is smart, educated and keen to make it in a man's world, and black ex-con Mark Sanger (Don Mitchell) is arrogant and frequently clashes with Ironside, but his vulnerabilities often surface as he struggles to shake off his misspent past. Ex-marine turned cop Detective Sgt Ed Brown (Don Galloway) is less interesting, but he's good looking enough to keep the ladies tuning in.
The show is never afraid to tackle the social issues of the day too, and usually – though not always – does so in a thought-provoking and intelligent way. Ironside himself is arguably TV's first disabled central character, and the difficulties he faces – both emotional and practical – are sensitively covered without taking centre stage and getting in the way of the drama. Issues such as racism and civil rights are tackled too. Unfortunately, the burgeoning Sixties San Francisco counter-culture is less well treated, with several episodes poking fun at hippies in an uncharacteristically crass and shallow way.
With 28 shows plus the pilot film spread across eight discs for a total of 23 hours viewing, you're certainly getting a lot for your money here. There are no extras on offer, but do you really need them? With an official asking price of £49.99 it's still great value for money, and you can already get it for south of £35 on Amazon. Roll on, Series Two…
Show:
Extras: None.Episode Guide
Disc OneIronside (the pilot film) – March 28, 1966Message From Beyond – September 14, 1967The Leaf in the Forest– September 21, 1967
Disc TwoDead Mans Tale – September 18, 1967Eat, Drink And Be Buried – October 5, 1967The Taker – October 12, 1967An Inside Job – October 19, 1967
Disc ThreeTagged For Murder – October 26, 1967Let My Brother Go – November 2, 1967Light at the End of the Journey – November 9, 1967The Monster of ComusTowers – November 16, 1967
Disc FourThe Man Who Believed – November 23, 1967A Very Cool Hot Car – November 30, 1967The Past Is Prologue – December 7, 1967Girl in the Night – December 21, 1967
Disc FiveThe Fourteenth Runner – December 28, 1967Force of Arms – January 4, 1968Memory of an Ice Cream Stick – January 11, 1968To Kill A Cop – January 25, 1968
Disc SixThe Lonely Hostage – February 1, 1968The Challenge – February 8, 1968All in A Days Work – February 15, 1968Something for Nothing – February 22, 1968
Disc SevenBarbara Who – February 29, 1968Perfect Crime – March 7, 1968Officer Bobby – March 14, 1968
Disc EightTrip to Hashbury – March 21, 1968Due Process of the Law – March 28, 1968Return Of the Hero – April 4, 1968