News
IO Trailer: Anthony Mackie Apocalyptic Netflix Sci-Fi Film
Netflix apocalypse epic IO sees Captain America cohort Anthony Mackie co-star with Margaret Qualley and Danny Huston.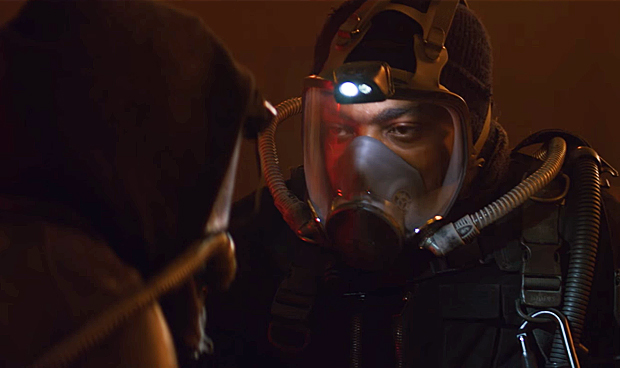 The film industry has no shortage of dark, dystopian dramas – especially of the YA (young adult) variety. However, Netflix film IO, similarly sporting apocalyptic tropes, is bypassing theaters to head directly to your streaming delivery device on Netflix, thanks to an exclusive distribution deal with Mandalay Pictures. It will be boosted by an interesting cast, with Marvel's Falcon himself, Anthony Mackie, co-starring up-and-coming ingénue Margaret Qualley, joined by Danny Huston.
IO is a coming-of-age story, something that would seemingly designate it as a member of the YA category from the outset. However, this isn't a piece of dystopic fiction in which hunky monsters woo doting debutante protagonists who make puzzling life choices. Rather, it's about the fate of Earth in a far future in the aftermath of a global catastrophe that has left the planet a poisonous floating ball of death.
IO Trailer
The first trailer for IO has arrived.
Teenager Sam Walden (Qualley), one of the last people left alive on the mostly-abandoned planet, attempts to find a cure for the planetary ailment. However, in a dilemma people who rely on public transportation can understand, Sam must find said cure before the last shuttle evacuating people to a distant planet housing a human space colony departs for its one-way trip. However, during her quest, Sam encounters a mysterious drifter with a complex story, named Micah (Mackie), who also happens to be headed to that last shuttle off the planet's septic surface. As the trailer makes clear, the duo will combine their efforts against seemingly insurmountable odds to save Earth.
IO Release Date
IO makes its apocalyptic arrival on Netflix on January 18.
IO Cast
The film is yet another project in star Anthony Mackie's relationship with Netflix, since he is set to star in the upcoming second season of Altered Carbon as the new body for Takeshi Kovacs (played by Joel Kinnaman in Season 1). However, the status of his prospective return as Sam Wilson/Falcon in April's Avengers: Endgame remains (understandably, due to a particular plot development,) unconfirmed, but quite likely.
Margaret Qualley, known from HBO's The Leftovers and the film, The Nice Guys, will next be seen in the comedy film, Adam, and on the FX series, Fosse/Verdon. Danny Huston, known to genre fans from his run on American Horror Story and his villain roles in Wonder Woman and X-Men Origins: Wolverine, has been fielding a TV run on Paramount's Yellowstone, and was just seen in the film, Stan & Ollie.
IO, a product of the Sundance Institute's Writers Lab and the Sundance Institute Catalyst Forum, will see helmer Jonathan Helpert occupy the director's chair. Helpert's feature directorial debut came about with the 2015 French sci-fi/comedy film House of Time in which a group of friends find themselves transported back in time to 1944 during the Nazi occupation. Helpert works off a script by Clay Jeter (Chef's Table), Charles Spano (Embers) and Will Basanta (Jess + Moss).
Joseph Baxter is a contributor for Den of Geek and Syfy Wire. You can find his work here. Follow him on Twitter @josbaxter.