News
The Invisible Man: Release Date and Trailer
Blumhouse's remake of The Invisible Man arrives in February. Here's what we know about the studio's latest monster movie!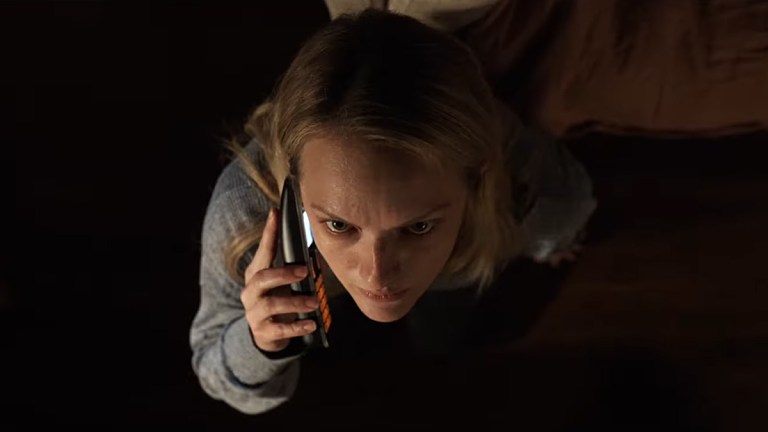 The Invisible Man, the classic Universal monster movie based on H.G. Wells's novel, lives again in a new reboot from Universal and Blumhouse.
This reboot stars Oliver Jackson-Cohen, the London-born actor best known as Luke Crain on Netflix's The Haunting of Hill House, which – in its depiction of the character's struggles with addiction and past trauma – impressed the film's creative team enough to clinch the lead role, for which he brings an applicable skill set to the Invisible Man's gradual emotional descent into villainy and murder. His character will (dis)appear opposite Elisabeth Moss, who co-stars as the focus of the title character's ire.
Leigh Whannell (Insidious: Chapter 3, Upgrade) directed the film, having worked off her own adaptation script of the Wells story.
The Invisible Man Trailer
The new terrifying trailer for Blumhouse's version of The Invisible Man has arrived.
Just below is the film's Super Bowl spot.
You can also check out the teaser trailer right here.
The Invisible Man Release Date
The Invisible Man will open on Feb. 28, 2020.
The Invisible Man Details
Blumhouse's iteration of The Invisible Man brings a new context to the traditional story that ties into the non-genre-but-very-real concept of domestic abuse. As the official synopsis reads:
Trapped in a violent, controlling relationship with a wealthy and brilliant scientist, Cecilia Kass (Elisabeth Moss) escapes in the dead of night and disappears into hiding, aided by her sister (Harriet Dyer, NBC's The InBetween), their childhood friend (Aldis Hodge, Straight Outta Compton) and his teenage daughter (Storm Reid, HBO's Euphoria). But when Cecilia's abusive ex (Oliver Jackson-Cohen, Netflix's The Haunting of Hill House) commits suicide and leaves her a generous portion of his vast fortune, Cecilia suspects his death was a hoax. As a series of eerie coincidences turns lethal, threatening the lives of those she loves, Cecilia's sanity begins to unravel as she desperately tries to prove that she is being hunted by someone nobody can see.
Blumhouse's Invisible Man was written as a modern adaptation of the Wells story, directed by Leigh Whannell, who previously directed Insidious: Chapter 3, Upgrade, and is attached to the gestating Escape from New York remake. The reboot also represents an intriguing cross-studio collaboration with the horror maestros, which helped Universal make a quick restart to a wider reboot effort on the part of the latter to create a cinematic universe around its classic monster movie properties. Indeed, Universal's recent attempt at a "Dark Universe" of monster movies fell flat at the box office (and creatively imploded) after a summer 2017 box office boondoggle in the Tom Cruise-headlined The Mummy. It was preceded by 2014's Dracula Untold, which, starring Luke Evans, had also hoped to relaunch the studio's classic monster movies.
The Invisible Man Cast
The Invisible Man is the biggest break yet for star Oliver Jackson-Cohen, who, before his head-turning Hill House performance, appeared on NBC miniseries Emerald City (an adaptation of The Wizard of Oz) and ITV's Mr. Selfridge, along with films like The Secret River, The Raven, and Dwayne Johnson actioner Faster. Interestingly, Jackson-Cohen already has some Universal monster-movie-adjacent ties, having fielded the role of Jonathan Harker on NBC's short-lived (2013-2014) Dracula series.
Elisabeth Moss (The Handmaid's Tale), Storm Reid (A Wrinkle in Time), Harriet Dyer (The InBetween) and Aldis Hodge (City on a Hill) also fill the main cast.
Joseph Baxter is a contributor for Den of Geek and Syfy Wire. You can find his work here. Follow him on Twitter @josbaxter.
John Saavedra is an associate editor at Den of Geek. Read more of his work here. Follow him on Twitter @johnsjr9 and make sure to check him out on Twitch.