Features
Introducing the movie neighbours from hell
Curtain-twitching and loud music would be the least of your worries if you lived next to these movie neighbours from hell...
They say that, after organising a wedding and filing for divorce, moving house is the most stressful activity you can undertake. It's a situation I currently find myself in, as solicitors wrangle back and forth over whose responsibility it is to fix the drains on our new home.
There are several factors that are crucially important when choosing a new place to live. Price is always the top one, but then there are transport links, the number of bedrooms and school catchment areas to consider before the nerve-wracking process of actually making an offer on your new chosen abode.
One thing less frequently considered is just who you're going to be moving next door to. Your dream house can quickly turn into a property on Elm Street if your new neighbours are all night Samba enthusiasts. Even if they seem nice at first, that doesn't mean they aren't secretly harbouring sociopathic tendencies, as we discovered during a door step shouting match with our current neighbours over the erection of a garden fence a couple of years ago.
In an ideal world, we'd all end up living next to Giles from Buffy The Vampire Slayer and embarking on a flirtatious friendship over a mutual love of brand coffee. Whoever you may end up living next door to, though, they're probably going to be a bit better than those on this list.
If they're not, then it might be time to think about putting that For Sale sign back up and hoping the suckers who buy your place don't ask too many questions…
The 'Burbs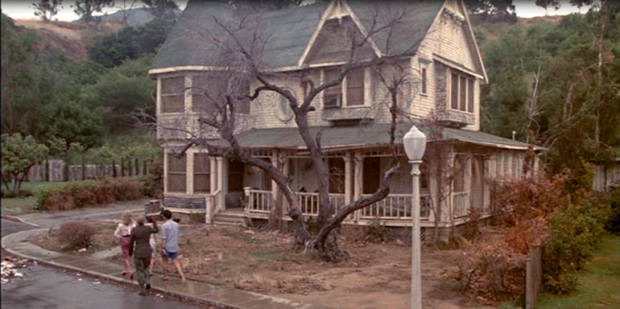 Hey neighbour!
The Klopeks: Dr Werner, Uncle Reuben and Hans. An odd trio who take up residence next to Tom Hanks in Joe Dante's darkly comic tale of suburban paranoia. They like to keep themselves to themselves, but are fond of standing scarily at windows during storms, driving their garbage the ten feet from the garage to the dustbin, and a spot of nocturnal gardening.
Would they lend you a cup of sugar?
Yes, though it might inadvisable to ask. For a start, you're likely to get a face full of angry bees just from knocking on the front door, while the interior of their house would make only Norman Bates feel at home. Werner Klopek makes for pleasant company though, making up for Reuben's hostility towards his fellow residents, and that's just red paint on his hands, right? Right?
What they'll do for your property value?
Given that their previous home burnt to the ground and there's something that sounds not unlike a dragon in their basement, The Klopeks aren't exactly prime next door material. Their dead lawn certainly isn't making those surrounding white pickets look any nicer. On the plus side, they don't seem to spend too long in any one location before moving on to a new home. Just pray they haven't got their eye on yours.
Consenting Adults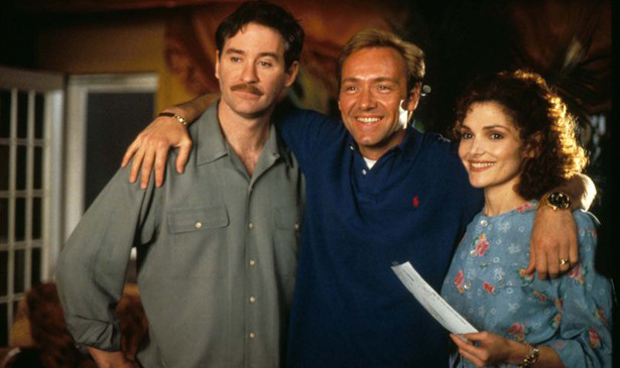 Hey neighbour!
Eddy Otis, the new neighbour of Richard (Kevin Kline) and Priscilla Parker (Mary Elizabeth Mastrantonio), is a bleach blonde Kevin Spacey. An exciting financial advisor (?), he's married to the drop dead gorgeous Rebecca Miller, and not afraid to throw his car keys into bowl, if you know what I mean.
Would they lend you a cup of sugar?
The sugar that Otis has on his mind isn't the kind you'd put in your coffee. His proposal, which doesn't really sound like it could ever work, is a one night wife swap but without the ladies of the houses ever realising. If this wasn't enough of a bad idea, the consequences for Parker are even worse than he could imagine when Rebecca Miller turns up dead and Otis is happy to reveal all to your loving wife. Should have stayed in bed with a cup of Horlicks.
What they'll do for your property value?
It's your sanity that you'll have to worry more about here. As if being framed for murder wasn't bad enough, you'd be even more peeved when you discover it wasn't the woman next door you've been eyeing up that you had your little indiscretion with. To top it all off, the psycho next door suddenly seems like Mr Perfect to your own wife. The moral of the story here is don't get to know the neighbours too well, especially if they have terrible blonde hair dye jobs.
Disturbia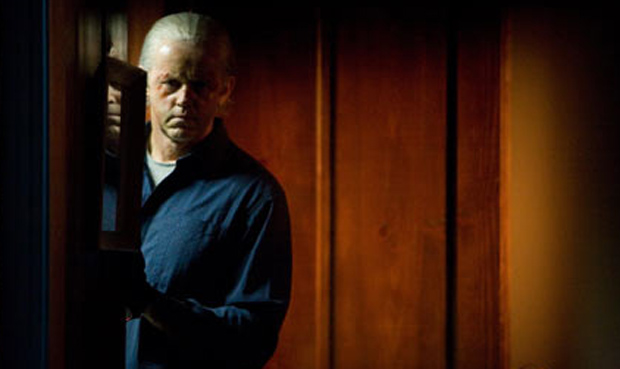 Hey neighbour!
Mr Turner comes in the frightening form of David Morse. A quiet and unassuming fellow who wears plaid shirts, he might also be a serial killer in this MTV update of Alfred Hitchcock's Rear Window. Then again, having to live in such close proximity to the smugness of Shia LaBeouf might be enough to drive anyone to murder…
Would they lend you a cup of sugar?
Unlikely. Turner isn't the most personable guy, though he must be able to turn on the charm when required in order to lure his alleged victims back to his place.
What they'll do for your property value?
A guy like Mr Turner will send it plummeting. When what he's got in the basement of that house is discovered, it's going to tarnish the whole street. You might be able to take comfort in running a tour of murder sites for tourists and charging them to take photos while standing on your lawn.
Fright Night
Hey neighbour!
Jerry Dandridge, now there's a rock star name if ever there was one. And he acts like one too – hanging out at night, having intimate encounters at his window with semi-naked women. Charlie Brewster ought to think he has a pretty cool neighbour in director Tom Holland's debut feature. Except he thinks he might be a vampire.
Would they lend you a cup of sugar?
It is debateable as to whether or not Dandridge would even keep sugar in his house. Also you better take over your own cup as he won't be able to easily return it. Oh, wait – he's charmed the socks off your mum, and now he's sitting in the lounge and eyeing up your girlfriend. Not only that, but you're likely to find him hiding in your closet at night, or maybe trashing your car. Naturally, no one will believe you, though.
What they'll do for your property value?
In 1985, you'd get away scot-free. As no one really believed you and you have vanquished the evil from your street, then the Dandridge residence might well remain vacant and the whole thing forgotten about. However, if you happen to be encountering Jerry Dandridge in the 2011 form of Colin Farrell, chances are your house will get blown up, which is considerably worse.
Lakeview Terrace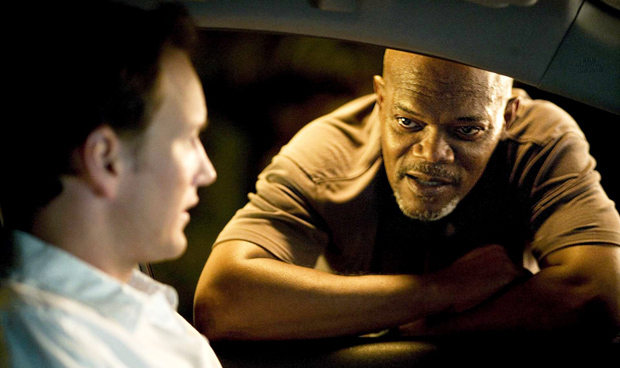 Hey neighbour!
Samuel L Jackson. He'd be an intimidating neighbour at the best of times, but when he's an angry cop who takes exception to Patrick Wilson and Kerry Washington's inter-racial marriage, then you might have a problem.
Would they lend you a cup of sugar?
Hell no! Jackson introduces himself to Wilson by putting a gun to his head in some sort of misguided safety warning. The guy won't even turn off his brighter-than-the-sun security light that shines in your bedroom all night long, and if he catches you skinny dipping, he'll sabotage your air conditioning. That's all before he persuades a small time crook to ransack your house. This is one bad man.
What they'll do for your property value?
Jackson's character's issue is with race, so provided you can sell your home to non-mixed race buyers, then he'll probably leave them alone. You might want to install some blinds for that security light, though.
The Lovely Bones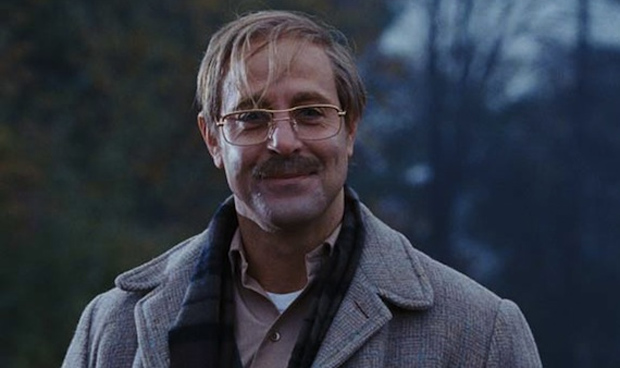 Hey neighbour!
George Harvey, played masterfully by the excellent Stanley Tucci. The comb-over is a sure sign of a wrong 'un. Harvey is that weird man your mother warned you about: seemingly harmless, but with an air of shiftiness.
Would they lend you a cup of sugar?
He might, but he'll probably make you wait on the porch while he goes to get it. You could admire his well-kept garden rather than being terrified at the collection of dolls and houses that he builds and keeps inside. At least you haven't met him out in the back field, though, where he's been building something altogether more sinister.
What they'll do for your property value?
While the stigma of a young girl's disappearance will certainly do no favours for a neighbourhood, Harvey is cunning enough to evade being discovered for many years. But as so often happens when spirits have unfinished business, he can only run for so long.
National Lampoon's Christmas Vacation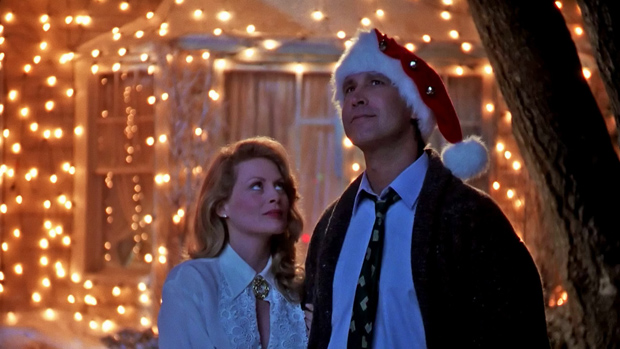 Hey neighbour!
The Griswold family. Chevy Chase and his long suffering wife, Beverly D'Angelo, along with their two offspring who seem to change in age and appearance with alarming regularity. Here they take the shape of Audrey and Russ, played by Juliette Lewis and Johnny Galecki.
Would they lend you a cup of sugar?
They'd probably be only too willing to. In fact, given half the chance, Clark Griswold would probably come around and make the tea for you, the man is so eager to please. He'd probably let you come by and use the swimming pool his Christmas bonus is surely going to pay for too.
What they'll do for your property value?
For all their good intentions, the Griswolds are likely to drive you insane. Their gigantic Christmas light display will no doubt blow the power to the whole street every year, and where do you think they're going to dump that enormous Christmas tree once the yuletide season is over? Still, you'll at least get two weeks' peace and quiet when they head off on their ill-fated holidays once a year.
Rosemary's Baby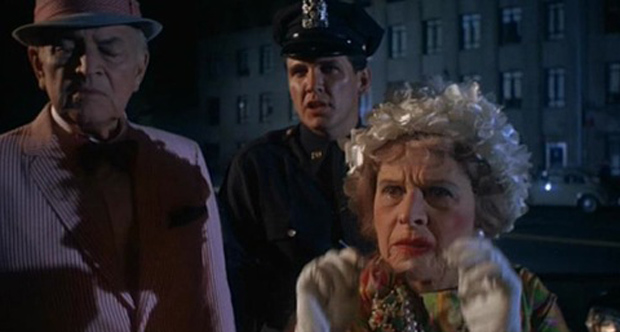 Hey neighbour!
Roman and Minnie Castevet seem like such a sweet, eccentric old couple to Guy and Rosemary Woodhouse. They're helping a young woman overcome her drug problems by taking her in off the street. It's hardly their fault she chose to throw herself out of the window, and even though their apartment used to be a part of Guy and Rosemary's, it's all nicely partitioned off now. No one could possibly get through there.
Would they lend you a cup of sugar?
They'd be delighted to. Not only that, but for a small favour, they'll be able to advance your acting career immensely by rendering your main rival for a part completely blind, as Guy finds out. If you're in the mood for love too, Minnie will drop by with a lovely chocolate mousse to act as a handy aphrodisiac. In return, all they ask is that you harbour the spawn of the devil inside you, but that's not too much hope for between neighbours, is it?
What they'll do for your property value?
Period properties are always going be desirable in Manhattan, and if the stories of your building being the previous home of Satanists and cannibals didn't scare you off, then it might not put off a potential buyer either. If you can also manage to find a buyer who is looking to take part in maternal rituals of unspeakable evil, then you'll be quids in.
What Lies Beneath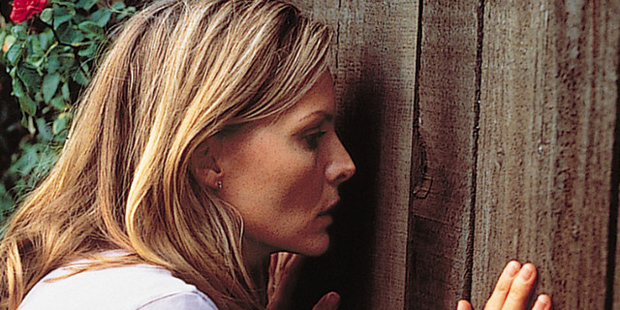 Hey neighbour!
Warren and Mary Feur, an argumentative couple whose rowing might well have led to her untimely death as Michelle Pfeiffer observes Warren dragging a body sized package from the house.
Would they lend you a cup of sugar?
Curiosity can be a dangerous thing, though I've never heard of any cats actually dying from it. Going over to borrow some sugar, or take over some flowers on the pretence of seeing if everything is okay might lead you to an awkward encounter and the discovery of bloody footwear. Did you also really think that using a Ouija board was going to be a good thing?
What they'll do for your property value?