News
Introducing the George Lucas In Need appeal
Den Of Geek is proud to launch its brand new fundraising initiative, to help George Lucas out with the Star Wars Blu-rays. It's our Lucas In Need appeal…
Friends, we come together in a time of crisis. And it's one that we must all shoulder our share of the burden in resolving. For in America right now, there's a man who was once a pioneer of cinema, someone who gave us films that we cherish, a man whose influence over film will be felt for all time.
And that man, we learn, is in poverty. He's on the breadline, and unable to fund the very basic things in life.
That man is George Lucas.
George's tale is a heartbreaking one. Born in 1944, George spent his early years experimenting and making little films, scrimping and saving to invest in his hobby. Eventually, George would get the chance to make some of the most acclaimed movies of our time. American Graffiti and THX 1138 are too often forgotten as the terrific movies that they are, while Star Wars has resonated with many of us over the years. It was a moving tale of rags to riches.
Yet, like many artistic geniuses, George has fallen upon tough times.
And it came to a head last weekend, when it was confirmed that George would be releasing his Star Wars films onto the Blu-ray format in 2011. This should have been good news, a high point in his career, something for us all to cherish.
And yet, he also revealed a dark secret. For he said that it'd only be the special edition versions of the original trilogy that would be coming to Blu-ray. "It's a very, very expensive process to do it," he said of the idea of bringing the original cuts to high definition.
In short, George can't afford to put the original cuts out.
Let's not forget, friends, that George has been facing fiscal issues for some time. The DVD releases of the original Star Wars cuts only came in non-anamorphic widescreen, and with a 2.0 surround sound audio track. They had to be sourced from old laserdisc transfers. Back then, it was too expensive to do anything else too.
There's only one logical conclusion we can draw from all of this. George has run out of money.
Den Of Geek, therefore, has no intention of crossing the road and ignoring a friend in need. And thus, we're launching our George Lucas In Need appeal. Because it's not fair that George should suffer, wondering where his next meal is coming from. It's not fair that he shouldn't be able to afford to fund the Blu-ray release of the original versions of his films. George deserves better than that.
In a world where Psycho can look strong in high definition, and many films from the 1960s onwards have enjoyed a quality Blu-ray upgrade, it's simply not fair that George is left out. Something has to be done.
Back in 2006, George was reported to be worth $3.5bn by Forbes. Clearly, this report must have been wildly inaccurate, as if he had that amount of money available, he would be able to afford to get the work on the Star Wars movies done. Heck, if he had that much money, he'd be able to afford the restoration work himself, and wouldn't need us to help! The fools. Forbes must feel very silly, and we trust it will correct its woefully inaccurate story now that the tale of George's plight has come to light.
From talking to a few people in the industry, assuming that George had access to the necessary equipment to master a Blu-ray release (if it's not been repossessed by the finance company, because he fell behind on the repayments), he could be facing a bill of as much as £1m – if not more – to restore the original cuts of the Star Wars movies, and put them out in high definition. It's simply not fair that George should have to fund that himself. What if people don't buy the discs once he's done all that hard work too? People just don't think about that, and they really should.
Bluntly, we all need to do our bit. And it's with that in mind that Den Of Geek is proud to launch its new fundraising campaign. Entitled George Lucas In Need, we're hoping that many of you will do your bit for this very worthy cause. Individually, there may not be much we can do to right this wrong, but collectively, we just might be able to. It has to be worth a try. We simply can't let George suffer.
If you're wondering how you can do your bit to raise money for our George Lucas In Need appeal, then why not consider some of the following ideas?
Hold a casual dress day in your office. For added fun, why not have some people dress up as characters from Star Wars, like these convincing people here? Just collect £1 off everyone, and we'll already be on the way to reaching our target. Just imagine the fun you could have!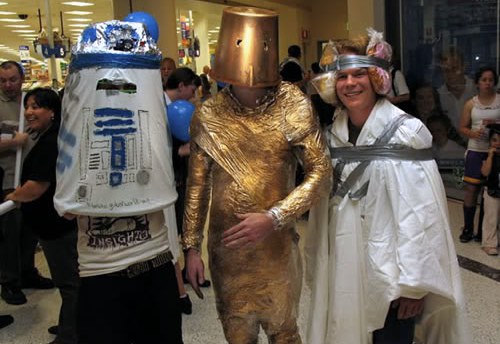 How about holding a charity auction? That could be such fun. You could dig out all of your old Star Wars toys from the 80s and sell them. Some of them might even raise as much as £5! But don't worry: your money really does count. Every penny really matters.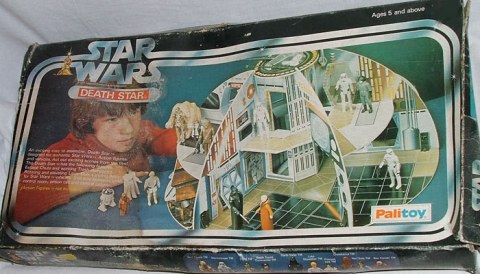 Collect bottle tops. By our calculations, we need around 100 million to get all three films restored. We must be able to do that between us. Perhaps we should all have an extra bottle of pop today, too. It's not too much to ask, is it?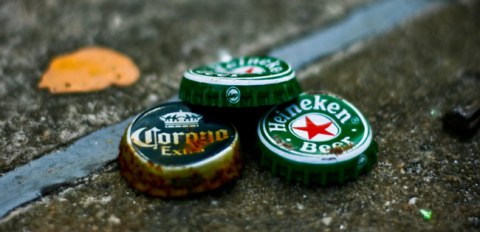 And here's some great fundraising news already. It's terrific, friends, to see that we're not alone in our quest. We've got word that some in the music world are busy putting together a special fundraising concert for George, which we're promised will include singing celebrities as varied as The Jonas Brothers, Paris Hilton and Margarita Pracatan.

Ticket details are set to be released shortly, and we're proud to be the first to bring you a look at the cover of the eventual CD release. It'll be an ideal Christmas present for your family and friends, and it's all for a great cause.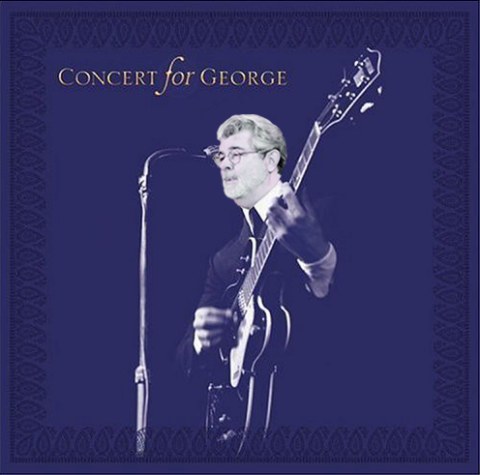 The important thing is that we all do our bit. George has never asked anything of us, and he isn't asking now. But it's our duty to help him. And if you have any fundraising ideas, please add them in the comments. Every little really does help.
As you can see from our totaliser in the top right of the page, we've got a long way to go. But every journey starts somewhere.
George, we're here for you. We hear your pain, and feel your financial suffering.
We will help you, George. Always.