News
Insidious: Chapter 3 To Be Directed By Leigh Whannell
Leigh Whannell signs on to direct Insidious: Chapter 3 after writing and co-starring in the last two installments.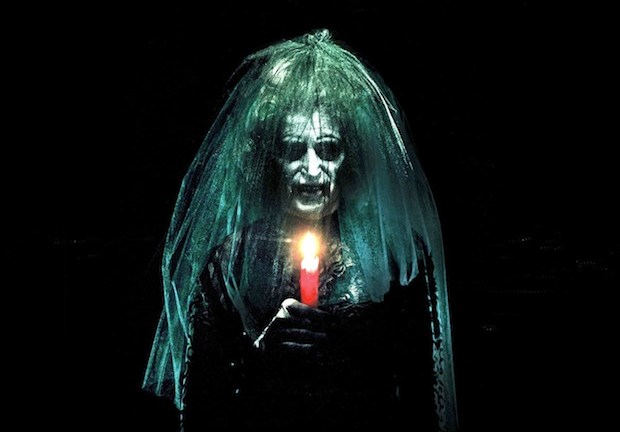 Focus Features, Entertainment One (eOne), Sony Pictures Worldwide Acquisitions, and Blumhouse Productions announced today that Leigh Whannell will direct and write the third chapter of the Insidious franchise, Insidious: Chapter 3.
The news comes as a boon for Whannell who has carefully turned the Insidious franchise, with its unique combination of haunted house thrills and melodramatic quirks, into a personal project after he and director James Wan had seen their previous horror creation, the original 2004 film Saw, morph into a different type of series. Whannell wrote both previous installments in the Insidious series and appears in the supporting role of "ghostbuster" Specs in the movie.
Focus Features, which acquired the rights to release Insidious: Chapter 3 from FilmDistrict, plans to bring the film to U.S. theaters on April 3, 2015. eOne will distribute the picture in Canada, U.K. and Spain. Sony will distribute the picture in the rest of the world. Jason Blum and his Blumhouse Productions, which produced both Insidious and Insidious: Chapter 2, is producing the next installment along with Oren Peli and James Wan.
"It's with great pleasure that we turn the Insidious franchise over to the co-creator Leigh Whannell," said Focus Features CEO Peter Schlessel. We are all excited to see in what direction Leigh takes the next installment and we are also glad to welcome James Wan to his new role as producer.
Jason Blum, founder and CEO of Blumhouse said, "We are all excited to bring a third film to audiences and know James and Leigh have great things in store for our fans."
We talked with Leigh Whannell at length about what Insidious 3 could be about when we interviewed him last year, and his answers did intrigue us. He had his eye on making a third movie, and it is now coming to fruition after the last film grossed $161 million worldwide. Wan meanwhile has moved on to the Fast and Furious franchise and is directing Fast & Furious 7 for an April 2015 release.
Like us on Facebook and follow us on Twitter for all news updates related to the world of geek. And Google+, if that's your thing!