News
Inside the Ant-Man and the Wasp Ending and Mid-Credits Scene
Director Peyton Reed reveals the thinking behind Ant-Man and the Wasp's ending and shocking mid-credits scene.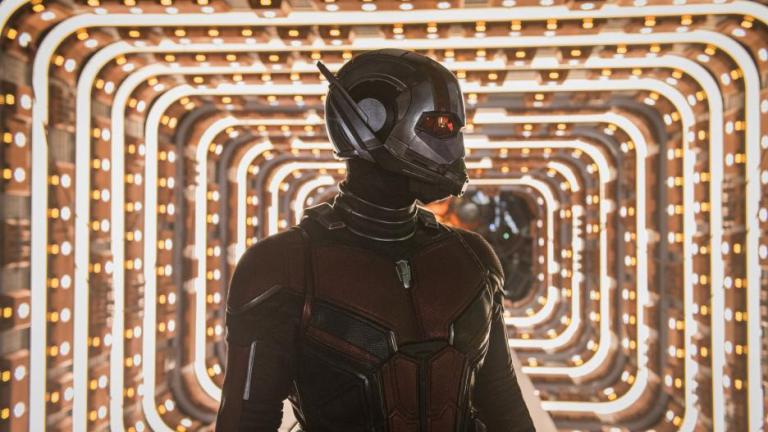 Warning – this article contains massive Ant-Man and the Wasp spoilers.
Essentially, the last act of Ant-Man and the Wasp is a race: both Ghost (Hannah John-Kamen) and black market tech dealer Sonny Burch (Walton Goggins) are attempting to steal Hank Pym's (Michael Douglas) lab from Pym, his daughter Hope Van Dyne/The Wasp (Evangeline Lilly) and their reluctant partner Scott Lang/Ant-Man (Paul Rudd). It helps that the lab has been shrunk down to the size of a small suitcase and can be easily snatched — along with its valuable quantum technology.
Meanwhile, in the lab itself, Hank journeys in a special craft into the Quantum Realm, where a signal sent via Scott has led him to believe he can retrieve his wife Janet Van Dyne (Michelle Pfeiffer), who has been lost for 30 years in that mysterious subatomic universe. Happily, the film ends with Janet retrieved, the lab safely returned, Sonny Burch under arrest and Scott avoiding being caught out of his home during the last few hours of his house arrest — thus becoming a free man.
Most interestingly, Ghost's phase-shifting, which was caused by an accident in her father's lab and is slowly killing her, is reversed by Janet, who has come back from the Quantum Realm with certain…powers. This is perhaps the most intriguing aspect of the ending because we only glimpse Janet's new abilities — referred to as Quantum Healing Energy — at the end of the film, but it seems as if they could play a significant role in the MCU.
"In developing the movie, we talked about what our version of the Quantum Realm was going to be," says director Peyton Reed. "How much Quantum Realm our particular story can contain, and then also many discussions about Janet van Dyne and her relationship to the Quantum Realm. Part of it, really early on, was has she aged down there? Is she young? Is she the age that she would be? And then also, what has she done there? How has that environment affected her? In terms of this story, we knew that the environment affects her, and she not only survived but maybe evolved, in terms of who she is."
"One of Michelle Pfeiffer's big questions early on was, 'Okay, so Evangeline Lilly is the Wasp. Who am I? Am I Mama Wasp?'" continues Reed. "And I was like 'You are Mama Wasp, but there's a lot more in store for you. You've changed down there, in the Quantum Realm.' And part of that is how she's sort of able to harness Quantum Energy and these powers."
Exactly what Janet Van Dyne has become, and how her newfound powers will manifest themselves, remains to be seen, although Reed is not saying whether that's something that could show up in Avengers 4 or a third Ant-Man movie. "I have no idea if we're going to do another one," he says. "I'm not just being coy. I know that there are things that we talk about constantly and plan for these characters, but it's really about all I can say right now."
Meanwhile, in that much-talked-about mid-credits sequence, Scott dons his Ant-Man suit and heads back into the Quantum Realm, under the careful supervision of Hank, Janet and Hope, to collect more quantum energy to help with Ghost/Ava's recovery. But halfway around the world in Wakanda, while Scott is down there, Thanos performs "the snap," resulting in Janet, Hope and Hank being dusted away along with half the population of the Earth and universe, leaving Scott trapped in the Quantum Realm.
"We always knew we were following Avengers: Infinity War, and we always knew how Infinity War  ended," says Reed about the stunning coda. "What we didn't necessarily know was how we were going to deal with it. Do we glimpse TV monitors and TV reports of stuff going on in other parts of the world? That stuff seemed kind of lame and obvious. We've seen that in other movies. It didn't feel particularly inspired."
Reed says that Infinity War screenwriters Christopher Markus and Stephen McFeely got involved at that point. "I think that Markus and McFeely did the first crack at that scene, just conceptually," he recalls. "They set up these elements, and we refined it with our writers' room…It felt like our movie's very particular way of dealing with that scene."
How Scott gets out of the Quantum Realm and whether there is something down there that may play a crucial role in Avengers 4 are mysteries that we're going to have to wait until next May to learn the answer to. Can you stand it?
Ant-Man and the Wasp is in theaters now.