News
Inside No. 9 series 3: "We're not sadists!"
Ace anthology series Inside No. 9 returns next week for its third run. Here's what its creators had to say at the press launch…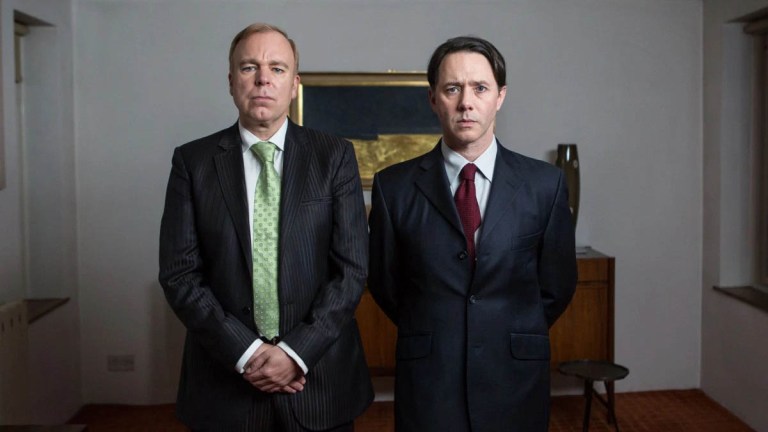 This article comes from Den of Geek UK.
Having made audiences wince at characters put through all manner of horrors—murder, suicide, demonic possession—sadism would seem a fair accusation to level at Inside No. 9's creators. It doesn't stand of course, because the show's so good that it's all pleasure and no pain.
Steve Pemberton and Reece Shearsmith don't seek to make people suffer in writing Inside No. 9. "I wouldn't say that's what we enjoy, we're not sadists!" Pemberton laughs at the series three press launch. "For us, it's all about the narrative and taking that half-hour we have for each episode and weaving the story that takes you on the biggest journey."
The biggest story inside a single location, the one constant in Inside No. 9's jewellery box variety. The confinement, says Shearsmith, has its basis in theatre. "We were both doing plays in the West End when the gestation of No. 9 came about and I think it was the claustrophobia of Pinteresque, Alan Ayckbourn-type hark backs to Play For Today driving [it]."
Inside No. 9's episodes have all maintained a sense of claustrophobia, Shearsmith continues. "They're often in real-time and barely ever leave the room or house that we set them in. That's its own problem and challenge, to keep the narrative moving on when you can't leave it."
"They're like writing exercises," agrees Pemberton. "It's using different narrative devices on each episode to really draw you into a story, draw you into these characters' lives. Then something big has to be at stake, because they're one-off episodes so something has to happen at the end which sort of turns everything on its head."
"It always needs something else" says Shearsmith. "As an experiment, we tried to write something that was just purely BBC One, and it was fine—the notion of writing just a funny thing—but it just feels like it's lacking. Not that it's easy to write something 'just for BBC One', but surface comedy without something turning on its head, not necessarily a twist but just something that's a little bit deeper…"
The show's "little bit deeper" template was coined in Inside No. 9's first episode Sardines, set around a family game in which one-by-one, a crowd of partygoers ends up hiding inside a wardrobe, Shearsmith explains. "The wardrobe was fine as an idea of just that, a game of Sardines and various characters joining in over half an hour, and the funny filling of the wardrobe is the thing of it. We did that version and then it just felt lacking in any dramatic, deeper resonance, so that's why we went back in and put in this dread of something that had happened in the past and suddenly it felt like that's what we do now."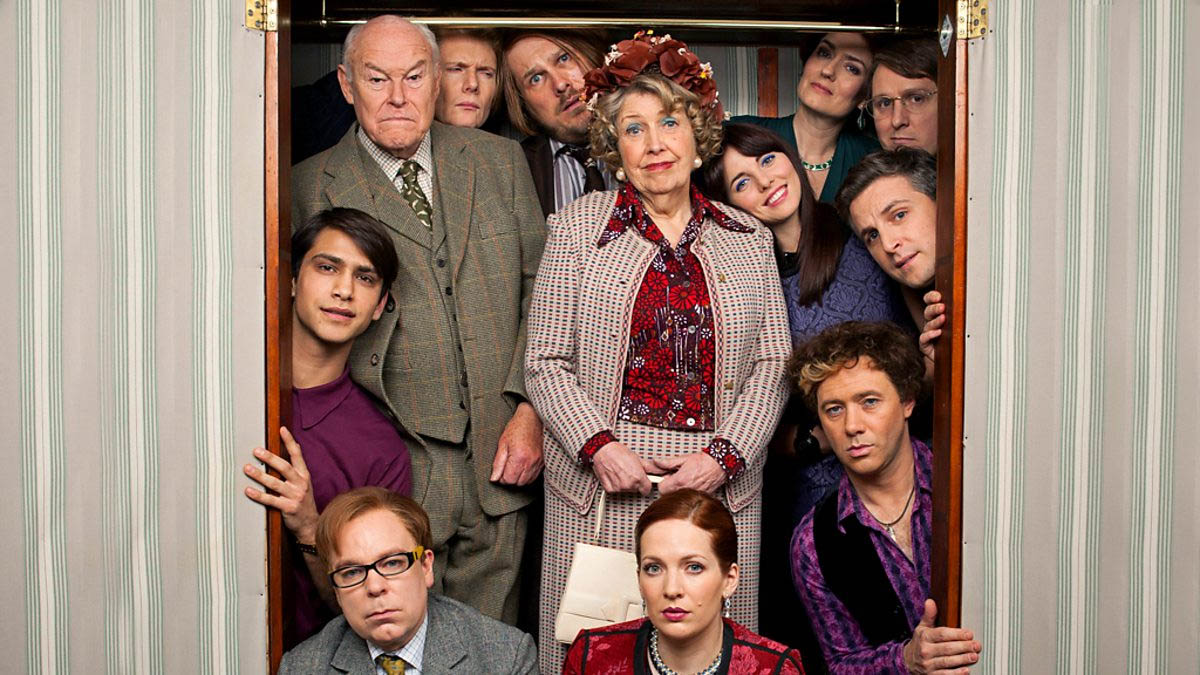 Pemberton adds "What we're trying to do really is do things which are surprising." The need to keep episodes fresh and surprising comes up again and again during the Q&A. Once the writers start repeating themselves, says Pemberton, "that's the time to get out."
Shearsmith agrees, "By the end of the fourth series, we've written twenty-four pilots. That's essentially what they are. It's a prolific amount of ideas to try to keep being fresh".
One method they've found of maintaining the freshness of new stories is not to plan where each plot is going before starting to write, says Pemberton. "Once we've made a start, we find ways within the story that will surprise us as we're going on. We never quite work out what's going to happen until the very end. We just start writing and halfway through say 'this could happen now, or this twist'."
In order to make a start on a new episode of Inside No. 9, Pemberton says, "You just need a spark that interests you," Odd though it may seem for a series that contains such a wild variety of heightened scenarios, those sparks are often inspired by real life. Sardines was prompted by a wardrobe in the pair's office, The Last Gasp by a girl with a collection of jars of air.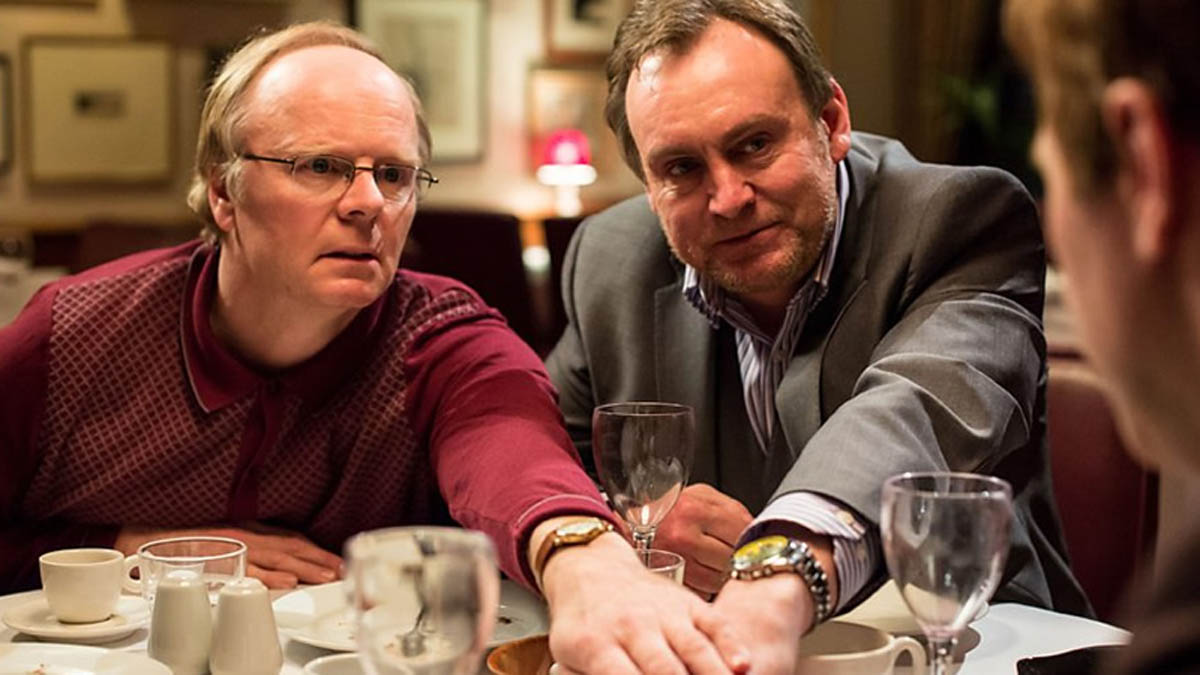 Several of series three's episodes, Pemberton explains, had similarly quotidian starts in life: "We have lunch every day in the same restaurant and we saw these people arguing about the bill, but they were arguing about wanting to pay it. We just came out and thought 'could that be a Number Nine?'." It could be and now is in the form of series three opener The Bill feat. Jason Watkins, Philip Glenister and Ellie White. Another new episode Diddle Diddle Dumpling, chosen by producer Adam Tandy as his personal pick of series three ["it's quite extraordinary"] was kick-started by Pemberton's simple discovery of an single shoe left on the street on his walk to work.
"Similarly with [episode two The Riddle Of The Sphinx], I'm a big fan of cryptic crosswords and I just started thinking—having read this excellent book by Alan Connor called Two Girls, One On Each Knee that inspired me to think 'could you dramatize doing a crossword, which is so un-dramatic?'"
Pemberton and Shearsmith can, is the answer to that question. The Riddle Of The Sphinx is a beautifully nasty bit of complex Gothic storytelling likely to attract an equal number of life-long devotees as complaints from casual viewers. The writers are closely tuned in to the disconnect between the often macabre elements in their work and what comedy audiences sitting down in front of the telly for a laugh may be expecting. "When we were doing the first series there was a series of trails on BBC Two that said 'Thursdays are funny on BBC Two!'" says Pemberton, "so when we write something like The Riddle Of The Sphinx, at the end we turn to each other and go 'Thursdays are funny!'
The third run of episodes is, Pemberton laughs, "quite a dark series", but in the spirit of keeping the surprises coming, the same can't be said for series four. "The fourth series," says Shearsmith, "which is written and we start filming it in a few weeks, is much lighter again. It's the silliest." It will include, we learn, an episode written in iambic pentameter ["We just thought, what a stupid idea! Let's do it"] and one told in reverse chronology.
There are also lighter episodes to come in series three. Pemberton's favourite is karaoke bar tale Empty Orchestra, which he describes as "very different to everything else that we've done up to that point. I hope people really enjoy it and don't go 'Ugh, I wanted them all to blow up at the end!' We've got enough darkness, so it was nice to do something that was a bit lighter and a bit fun."
After 2016's festive special The Devil Of Christmas, you could well understand why a bit of brightness might be an attractive idea. That 1970s-set episode is a work of dark genius and one of Shearsmith's favourites from the new run. "Because it was born out of the heritage of this show coming from that era and us saying 'shall we just do one?'"
"The Devil Of Christmas was simultaneously the most fun to make but also the most nerve-wracking because it involved so many elements that could go wrong" says producer Tandy, who describes the episode as "probably a grand folly" when it came to budget thanks to his decision to film it on vintage 1970s cameras. Q&A moderator Julia Raeside describes the episode's recreation of the period as "forensic" and that's certainly how it looked. "Even the scripts were printed on yellow paper like they used to be" enthuses Shearsmith.
Forensic recreation achieved, what other genres or styles are currently on the Inside No. 9 wish-list? "A proper La La Land-style musical" episode is Pemberton's suggestion, one that's has been on the cards for a while says Tandy, an itch somewhat scratched by series three's karaoke booth story.
Tandy suggests a story set in zero-gravity? "Yeah, a science-fiction one," agrees Shearsmith, "though we might be wading into [Black Mirror creator] Charlie Brooker's world…"
"We're cheaper than Brooker!" flings back Tandy, to a round of laughter.
Overall, it's agreed the team wouldn't rule anything out, as long as audiences are still surprised by what they do. "They're all a joy," concludes Pemberton. "They're all a treat to do and long may they continue."
Hear hear.
See the series three teaser trailer below:
Inside No. 9 series three starts on BBC Two on Tuesday the 21st of February at 9pm. Come back then for Den of Geek's interview with the show's creators.