News
In the Tall Grass: Release Date and Trailer for Netflix Stephen King & Joe Hill Movie
A movie based on Stephen King and Joe Hill's novella, In the Tall Grass, is coming to Netflix in October.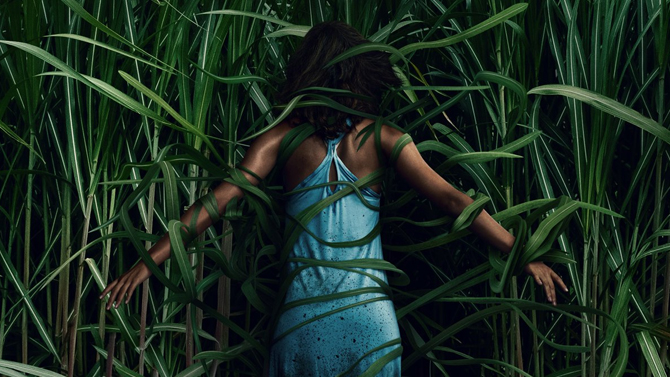 In the Tall Grass, a novella written by Stephen King and son Joe Hill originally published in Esquire and then released as an e-book, is getting the movie treatment from Splice director Vincenzo Natali. Why? Because just about anything that Stephen King wrote has become the object of a frenzied rush to acquire adaptation rights. – There are worse things that the industry could be collectively pursuing.
While this King onscreen offering – one of myriad others across all networks and streamers – will, quite literally, have you watching grass grow – centered on a murderous Kansas lawn – Netflix was the lucky outlet that won dibs.
In the Tall Grass Trailer
Creepy, crimson-spilling timey-wimey woe is abundant in the first trailer for In the Tall Grass. Check it out!
Netflix recently released a sizzle reel of its fall season horror offerings, which notably includes the first released footage of In the Tall Grass, along with Shadow of the Moon (September 27), Fractured (October 11), Eli (October 18) and Rattlesnake (October 25).
In the Tall Grass Release Date
In the Tall Grass is set to premiere on Netflix on Friday, October 4.
The release date reveal was accompanied with this poster.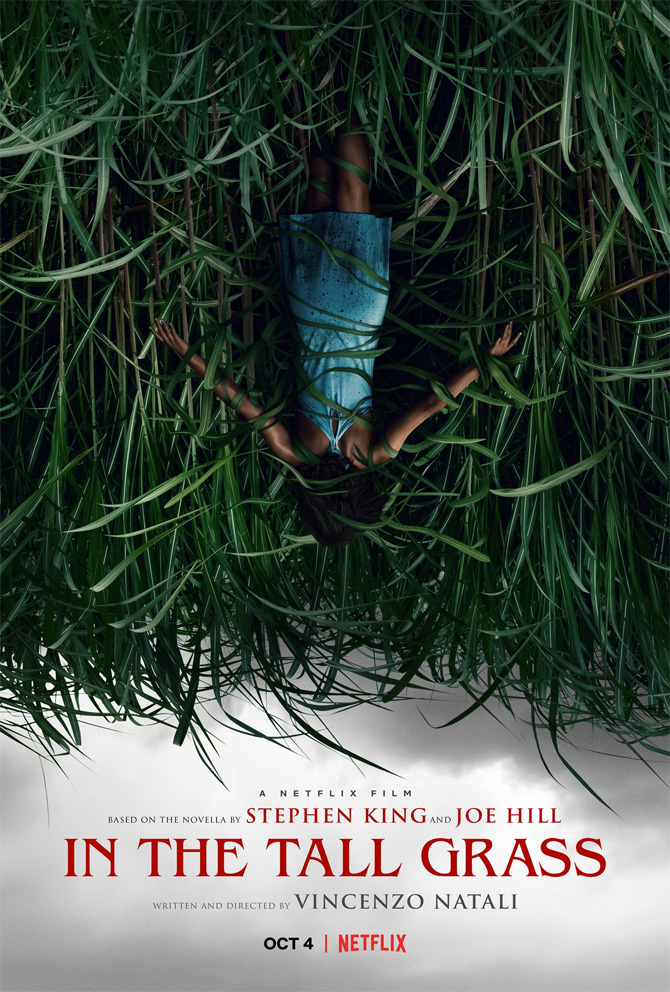 Further Reading: Every New Netflix Horror Movie and TV Series Coming This Fall
In the Tall Grass Cast
The main cast of In the Tall Grass consists of:
Patrick Wilson (Aquaman, Insidious, Watchmen), Laysla De Oliveira (The Gifted, iZombie, Nikita) Harrison Gilbertson (Picnic at Hanging Rock, Fallen, Need for Speed), Rachel Wilson (Impulse, Republic of Doyle) and child actor Will Buie Jr. (Bunk'd, Daytime Divas).
Interestingly, In the Tall Grass was set to star James Marsden (Westworld, the X-Men movies). However, scheduling conflicts have reportedly kept him out of this proverbial X-Mansion.
In the Tall Grass Details
In the Tall Grass is classic Stephen King horror fiction. The story begins with a brother and sister driving down the Kansas countryside when they suddenly hear a boy screaming for help in a field. Then, as you'd expect from this father-son duo, all hell breaks loose. As King's son and co-author, Joe Hill, recently mused of the project on Twitter:
In the Tall Grass will be Netflix's third Stephen King project. The streaming service previously released adaptations of Gerald's Game and 1922. Both were warmly received by critics.
Here's what Natali had to say about "In the Tall Grass" in an interview with Screen Daily:
"Who would think that grass could be frightening? Trust Stephen King and Joe Hill to find a way. They have transformed an otherwise innocuous Kansas field into a stage for some of the most disturbing horror fiction I have ever read."
The film was produced by Splice's Steve Hoban, Jimmy Miller at Mosaic, and M. Riley. Miller and Riley previously produced The Lazarus Effect.
Joseph Baxter is a contributor for Den of Geek and Syfy Wire. You can find his work here. Follow him on Twitter @josbaxter.