News
In the Heights Trailer Lights Up Hype
The first trailer for In the Heights, a musical written by Hamilton's Lin-Manuel Miranda, is here. Get ready.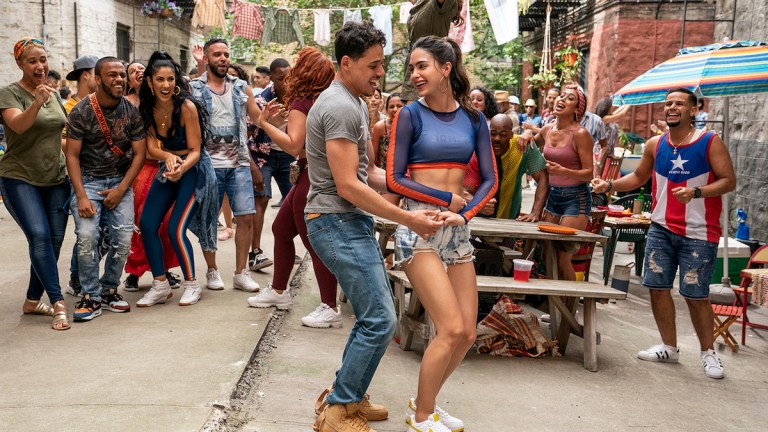 It's lights up on Washington Heights at Warner Bros. this week, as the fabled studio has just dropped the first trailer for the In the Heights musical movie. Indeed, the Tony winning musical that made Lin-Manuel Miranda a household name—at least in Broadway enthused households—is about to make the jump to the big screen, and with it comes an aesthetic that at once feels familiar in terms of Hollywood gloss, and yet refreshingly vital and new. After all, this is a story about protecting the Latin heritage at the top of Manhattan in the face of gentrification—and the place where Miranda grew up.
In the below trailer, fans can check out Anthony Ramos, who originated the role of John Laurens and Philip Hamilton in the original Hamilton cast, take on a role Miranda originally wrote for himself: Usnavi de la Vega. The film also offers a lovely romantic sheen to the neighborhoods of NYC that often go overlooked.
The film is directed by Jon M. Chu who made bones as a Hollywood director by helming the most kinetic Step Up sequels, but who more recently helped turn Crazy Rich Asians into one of the biggest original hits of 2018. And like that movie, he is bringing a classical shimmer to the events in Washington Heights. But the material itself has a grit and grounding that's kept it celebrated for the decade since its off-Broadway premiere in 2007. It went on to win Best Musical and Best Original Score at the 2008 Tonys and being a finalist for the Pulitzer Prize in 2009. It also put Miranda on path toward Hamilton, beginning when he was invited to the Obama White House in '09 to perform a sampling of his whacky idea about an Alexander Hamilton musical.
The full synopsis is below.
Residents of largely Latino Upper Manhattan neighborhood Washington Heights – a bodega owner, a college student, a taxi driver, a beauty salon worker, and an old woman – aspire to better lives as gentrification begins to take hold, and a sweltering summer power blackout brings their personal life crises to a head.
In the Heights finds its groove when it opens on June 26, 2020.