Reviews
In Search Of A Midnight Kiss DVD review
A beguiling tale of a late-night search for love, but with an uneven tone...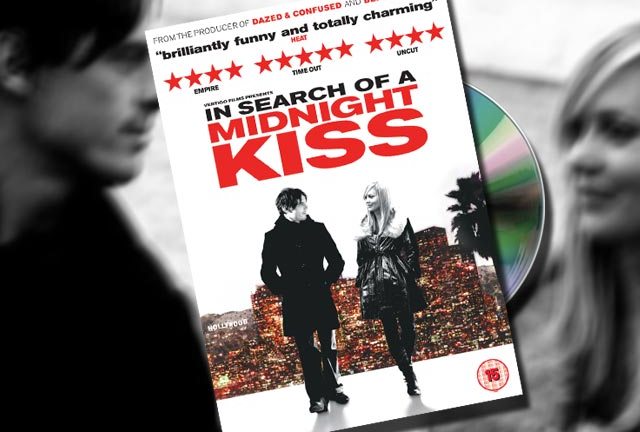 During an early scene in In Search Of A Midnight Kiss, our unlucky-in-love hero Wilson references City Of Quartz, writer Mike Davis' 90s book that explores the problems facing urban society in Los Angeles. As Wilson and his blind date Vivian walk the streets of the city on New Year's Eve, they observe the loneliness of the place and slowly discover some of its secrets. It is clear that the film's writer/director Alex Holdridge is as much concerned with saying something about the City of Angels as he is about the plight of the modern lover.
Following a romantic montage of couples kissing in locations throughout the city, the film quickly switches gear. Wilson, a 29-year-old struggling writer attempting to come to terms with a recent break-up, is caught masturbating to a picture of his flatmate's girlfriend. Rather than breaking Wilson's neck, said flatmate, Brian McGuire's Jacob, points him in the direction of America's answer to everything, Craig's List, where among concert listings and apartment ads are lonely hearts searching for love.
Wilson, hoping for a date for New Year's, calls "misanthropee" Vivian, another troubled soul, who not only wants to escape the clutches of her jealous ex-boyfriend but hopes to find the love of her life in the process. She gives Wilson until sunset to figure out whether she likes him or not. If she doesn't, she'll leave him in search of someone worthy of a midnight kiss.
It is a gentle tale with rough edges, cynical and optimistic in equal measure. As Wilson and Vivian walk and talk, they grow closer, further apart, and closer again, in a game of misunderstandings and uncertainty. Their journey takes in old converted movie theatres, shopping malls and subways, and eventually comes to rest in a car stationed in traffic as the clock ticks closer to twelve.
Photographed in glorious black and white monochrome by Robert Murphy, Holdridge is able to hold the attention of his audience with what is, essentially, a conversation between two people as they explore a city together. In this way reminiscent of Richard Linklater's Before Sunrise and Before Sunset, here we are treated to a more modern interpretation of romance, and evidence of how personal ads and the likes of MySpace have not made dating any easier. Indeed, things 'out there' are harder than ever, and none more so than under the lonely, harsh neon lights of Hollywood.
A subplot involving Jacob planning to propose to his untrustworthy, cheating girlfriend, Min, is the flip side of Wilson and Vivian's recent tryst, showing how even after years together a relationship is never easy, a match rarely right. Though on the surface a film with a negative outlook, Holdridge pulls us in with occasional moments of warmth, as well as a hilarious attempted rescue of Vivian's beloved weed and baby photos, and a near-final scene that is both incredibly sweet and painfully honest.
The problems, however, lie here in a mismatched tone that leaves an uneasy aftertaste. Vivian, played with fierce tenacity by the fearless Sara Simmonds, begins as a loud and obnoxious character, a roughly sketched, chain-smoking diva too farcical to be taken seriously. Where she ends up is somewhere else entirely, yet her contradictions are too extreme and therefore negate her character's believability. Jacob, the main source of what is occasionally some nice comedy, is also a character with questionable motives, a 'quirky' friend in a real world. These are, of course, staples of indie filmmaking, but ultimately one wishes Holdridge had gone either way – a genuine or alternate reality – for something a little more streamlined and affecting.
The extras on the DVD include the theatrical trailer, which paints a more romantic portrait than the film actually delivers, and some incidental deleted scenes featuring further trouble between Jacob and Min, as well as Wilson and Vivian debating the wreckage of downtown L.A. A brief Making Of includes interviews with the director and cast and provides minor insights. Far more interesting, however, is the audio commentary track, which features everyone from the director, producers and actors to other crewmembers discussing the project. This is well worth a listen, with nice snippets of detail on the various locations and the stories behind each scene.
Though Wilson's character provides the brighter outlook than Vivian's, at one point in the film he observes that L.A. is "where love comes to die". Vivian tells him off for being cynical, insisting that "what goes around comes around". Positive, cynical, Holdridge manages to point out that when it comes to love, we all have the potential to be both, or neither, at all times. Finally, the director's message is simple; as he states during the Making Of, his primary theme is a plea – "for people to be just a little bit nicer to one another".
Film:
Extras:
In Search Of A Midnight Kiss is out now.