News
In praise of the sci-fi corridor
Yes, this could comfortably be the very nerdiest piece ever put up at Den Of Geek...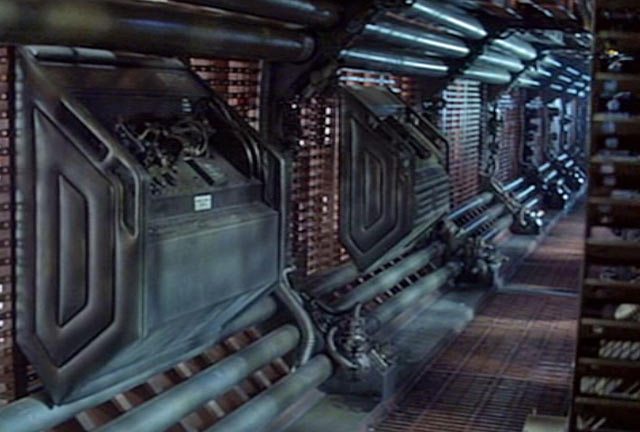 There's a moment in every geek's life when one goes for the 'communal hug' on a pet-subject and finds oneself unexpectedly out in the cold.
The piano player stops playing. The landlord shakes his head as his eyes head heavenward, and he slinks away to rearrange the crisps. The lonely sound of a misdirected dart is all that haunts the otherwise silent pub. And it's definitely time to get your anorak.
"You like what…?"
Corridors in science-fiction movies. I love them.
I wasted too much of my childhood and youth imitating and developing the superb production sketches of Ron Cobb, Syd Mead, Ralph McQuarrie and many others. I walked round Elstree studios collecting precious vacuum-formed sections of cloud-city corridor from The Empire Strikes Back, some months after principal photography stopped. I had reams of sci-fi corridors worked out.
Corridors make science-fiction believable, because they're so utilitarian by nature – really they're just a conduit to get from one (often overblown) set to another. So if any thought or love is put into one, if the production designer is smart enough to realise that corridors are the foundation on which larger sets are 'sold' to viewers, movie magic is close at hand.
Here's what started me off…
The designs that Roger Christian synthesised from Ron Cobb's prolific and extraordinary conceptual sketches for Alien (1979) are lingered over lovingly at the start of the movie. Ridley Scott knows that corridors matter in a horror (or 'haunted house') movie, but these marvellous sets are also being showcased to sell the gritty and grimy, commercial and industrial reality of the Nostromo as well. The upper sections related to the command deck were dirtied down with gold and black paint after a reshuffle of sections in order to convey the grittier world inhabited and Parker and Brett on the engineering level.
There's a distinctly different look and feel to the different sections of the ship. The corridor leading to the hypersleep section remains horribly creepy, despite being padded literally from wall to wall in cushion-like material, presumably to minimise the risk of accidents during turbulence, or from sleepy space-people tripping up on the way to the canteen.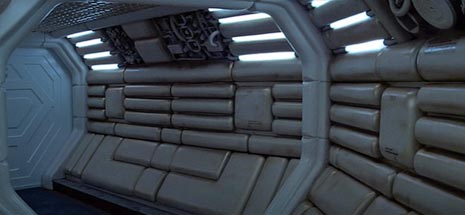 These sections are re-used for the corridor outside med-lab, and since the lab itself is another antiseptically white set, a truly spectacular and faithfully-rendered Ron Cobb design, the clean lines of the corridor make sense here as well. The medical context, as with the hypersleep chamber, disarmingly suggests the comfort and soft edges of the corridor.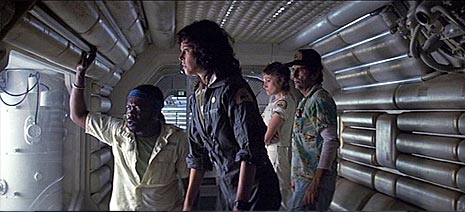 What a contrast is to come, as we enter the bone-ridden and gruesome imagination of H.R. Giger, and the skeletal corridor leading to the space-jockey inside the alien derelict. Dank, dark and positively dripping, there's something quite Victorian about this section of set; with the cantilevered arches finishing off in boney protrusions, it's like being inside some dank and rotten musical instrument…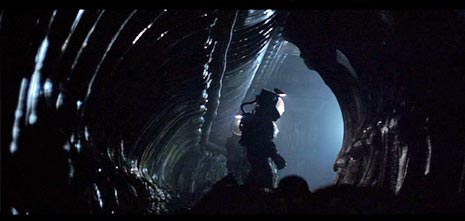 Anyway, returning to the human tech of Alien's production design, it certainly had an influence on many of its imitators…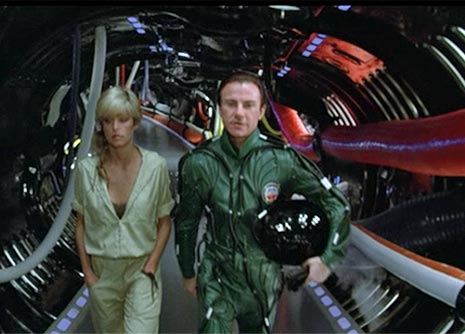 What's mostly wrong with the corridors in Stanley Donen's Saturn 3 (1980) is that the floor-surfaces resemble the base floor of a movie studio, something which had plagued the corridors in the medium-budget Star Wars three years earlier (more on Star Wars corridors in a moment).
The garish colours of the pipes actually makes a great deal of sense, as exactly the kind of over-insured coding that occurs in order to make sure you don't tap into a pipe for a blast of air only to get zapped with Freon.
The other thing impressive about Stuart Craig's Saturn 3 corridors is the full curvature. Curves cost money in corridor-land – lots of money. Anyone familiar with the angular corridor sets of Buck Rogers In The 25th Century or classic Doctor Who (in both of which there was always a great deal of 'corridor business') can almost spot the chippies knocking out those hard edges with a jigsaw. But curves like these are class…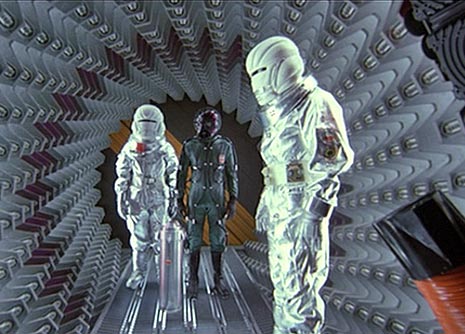 And if Saturn 3 took its cue from Alien (or just plain ripped it off), there's an interesting bit of visual cross-fertilisation going on between this box-office failure and one of 1980's biggest cinema hits…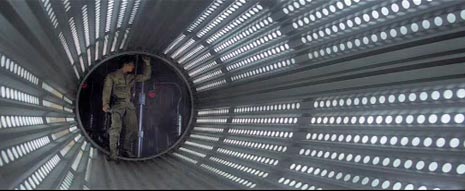 Alien
started the kind of corridor-fetishism in screen sci-fi that Kubrick had failed to start with
2001: A Space Oddyssey
, since the latter film was so visionary and expensive that practically no-one could even attempt to imitate it.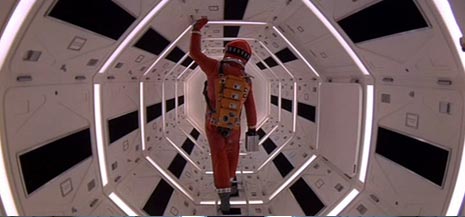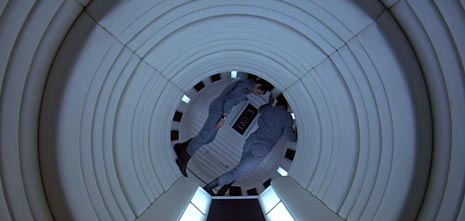 Instead Roger Christian got inventive with his lower budget and strip-mined an aircraft graveyard, strewing Alien's Nostromo with sections and detailing from WWII bombers. This usage of full-sized 'nurnies' followed the long-established visual effects practice of cannibalising parts from model kits (most especially WWII tanks and destroyers) in order to provide ready-made detailing without resort to custom-crafting and vacuum-forming every last valve and pipe. By the time the 1980s set in, Alien's strip-mined tech was practically de rigeur for screen sci-fi…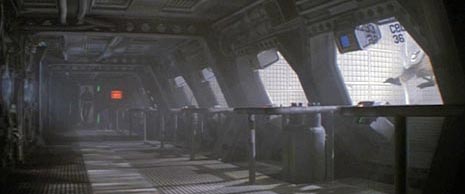 Philip Harrison's superb prison set from Peter Hyams' Outland (1981) will be hard to beat in the pending remake, and unlike Saturn 3, the lighting really brings out the quality of the work.
By the mid-1980s, the hacked-together and post-industrial look of Alien was starting to seem a little too low-budget, and sci-fi movies began to demonstrate that they were willing to fabricate artifacts the old way, from scratch, and pay for the privilege too…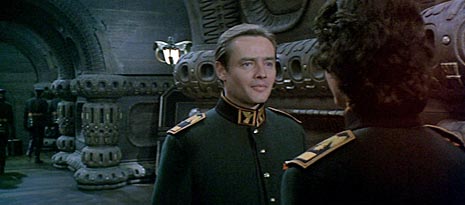 Anthony Masters' extraordinary work on House Atreides in David Lynch's Dune (1984) may use repeat templates, but no-one found this wonderful wooden detailing in a junkyard. The atavistic palace of the Atreides clan truly brings out the feudal feel of the scenario, and shares more DNA with Salvador Dali than the likes of Alien.
Repeat sections are what corridors are all about, and they're part of the iconography of pre-CGI sci-fi movie-making. For Alien, Roger Christian would have the production department mock up different sections of corridor for Ridley Scott's perusement, and whatever got the green light was fabricated multiple times to create the final corridor, often with the classic trick of placing an angled mirror at the end of the long set to suggest further recession and depth.
It's a trick lovingly employed by Duncan Jones in this year's Moon, wherein rather thin sections of strut support have been laid in to provide geometry on a pretty low-budget corridor…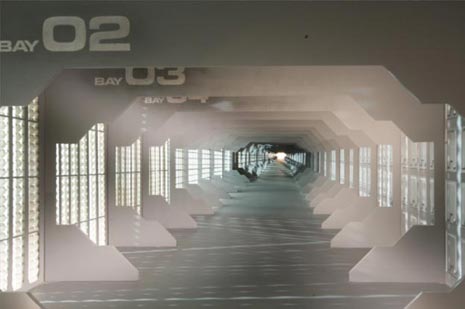 Note the use of the 'Eurostile' typeface that pretty much typified movie and TV sci-fi typography in the 60s and 70s once everyone got over the ghastly computer-fonts that were sadly used in Space:1999 (in fact this was the typeface used in the earlier UFO, and in most of Gerry Anderson's late sixties SF TV shows). Moon is a retro-feast for the SF corridor nut!
The sci-fi classic Forbidden Planet (1956) uses the same 'layered' technique of struts to achieve depth in the corridors of the Krell…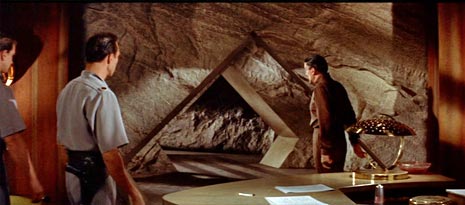 Returning to the more opulent and luxurious sci-fi corridor, Danilo Donati's brightly-coloured work in Flash Gordon (1980), prefigured the grandeur of House Atreides in typically Italian opulence…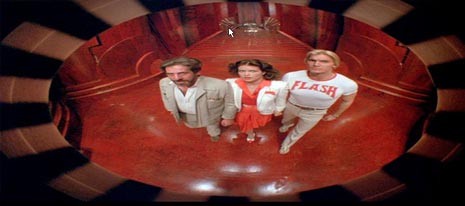 Later Donati tones down the colours, but not the budget, for this superb ante-corridor to Klytus's mind-lab – it even has a moving (and illuminated!) walkway…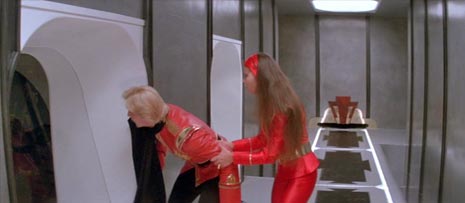 These are fantastic and imaginative concepts for 5-star corridors, but a real corridor-head is most likely to appreciate the NASA sheen of verisimillitude on display in the likes of Moonraker (1979)…
Ken Adam has just gone totally out of his way to lend 'Canaveral' credence to this barmy 007 outing involving genocide from space, combining those luxurious and expensive curves with a prosaic sensibility that everything you're looking at was shipped up in sections perforce…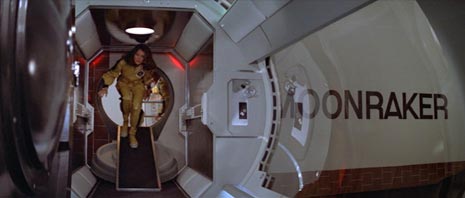 Another great example of NASA-porn is to be found in the first class mis-en-scene of the Steven Soderbergh remake of Tarkovsky's Solaris (2002)…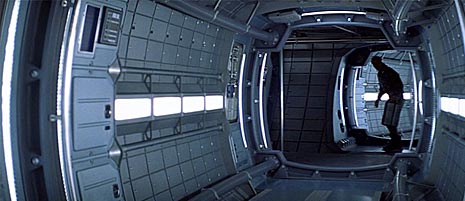 What luxury – a flat wall with a slight curve. It's antiseptic, unfriendly and really quite repellant, but a very convincing projection into the near-future from the current state-of-the-art in space stations.
Similarly impressive utilitarianism was found in the look of the corridors in Douglas Trumbull's cult eco-SF outing Silent Running (1972)…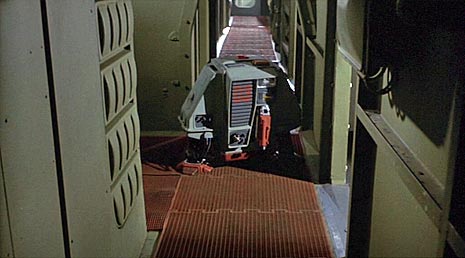 The Valley Forge in Silent Running was actually a decommissioned naval destroyer called the Valley Forge, and its cramped confines provided a suitably hard-edged and rather submarine-like feel to the crew's living quarters.
It's hard to let the subject of corridors go without a mention of the steampunk-like trolley ride that the crew of the Palomino take in Disney's The Black Hole (1979)…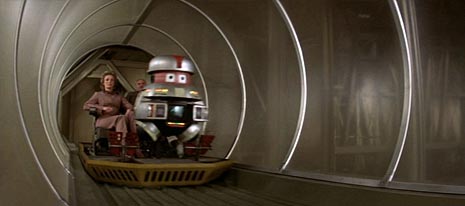 One can't help but feel that Disney was perhaps a little over-inspired by its own numerous and world-famous amusement rides. This one would have been a doozy…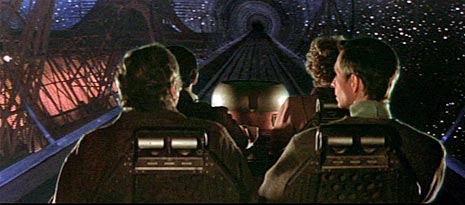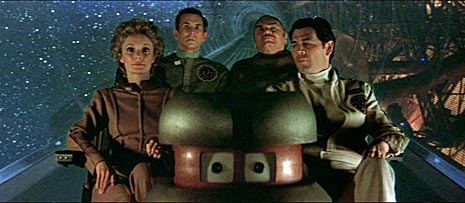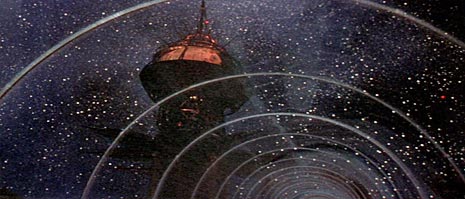 The subway-style corridor also had a nice outing as the inter-suburb transport system of Logan's Run (1976)…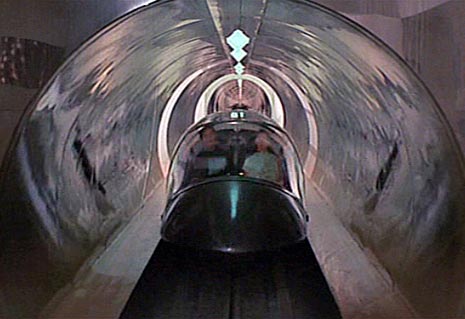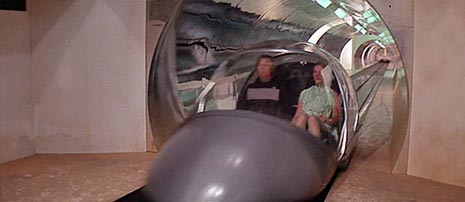 …although the film did have a little trouble seeing past the 1970s in certain parts: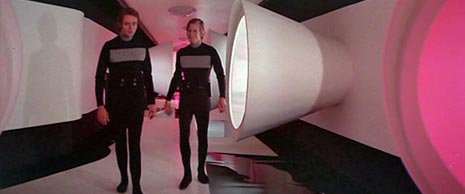 The sci-fi corridor is always evolving, but in 1986, unbeknown to most of us, it was about to evolve entirely away from movies and into videogames…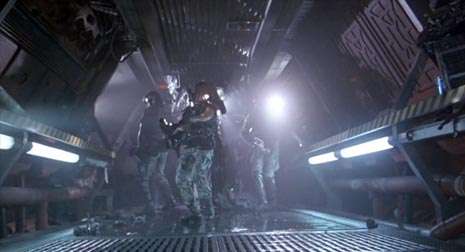 James Cameron's Aliens practically set a template for corridors in the first-person shooter genre of video-gaming. In early gaming corridors were even more important than they are in movies, as the repeatable instances of corridor sections could make a significant saving on the processor overhead of earlier consoles. The dark, industrial and forbidding corridors of LV-426 were to haunt many an evening of terrified button-mashing…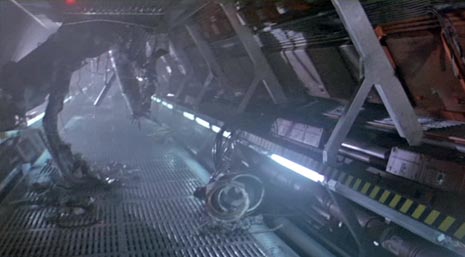 ---
More from this author: