Reviews
In Bruges DVD review
If you've not seen it yet, get yourself a copy of one of the finest films of the year. And Colin Farrell? Welcome back. sir...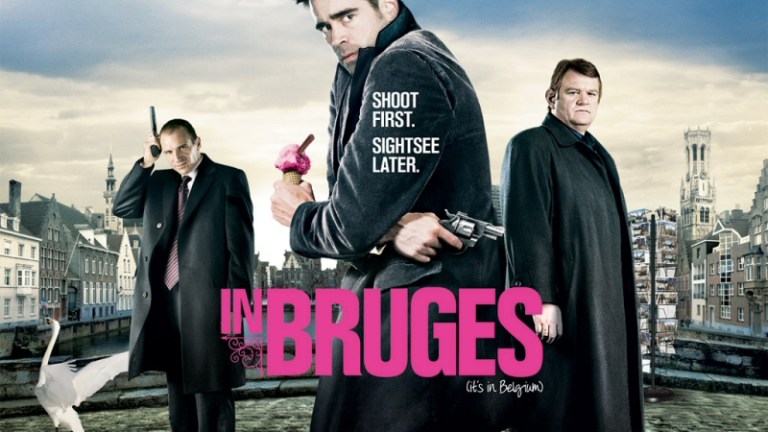 If there's a more gloriously offensive film than In Bruges to be found in the 2008 cinema roster, then we're a long, long way from finding it. But, unlike countless other features that simply barrage you with violence and verbal abuse, In Bruges has a damn sight more in its locker. In fact, it's unsurprising that many have been rating it among the best films of the year.
And there are several reasons why, chief among them the outstanding interplay between the two leads, Colin Farrell and Brendon Gleeson. Farrell has long since diluted the early promise seen in films such as Tigerland, and so it's a genuine surprise to see him so effortlessly recapture what got us all excited about him in the first place. Make no mistake, he's flat out brilliant here, as one of a pair of hitmen sent mysteriously to Bruges (it's in Belgium, you know…), where they'll be given a job they need to do.
But Farrell is also matched toe-for-toe by Gleeson, an actor who for many is known for Harry Potter, and not a fat lot more. In Bruges redresses that in spades, aided by a terrific script that leaves plenty of space for the two leads to simply sit around and talk. Blessed with dialogue that sparkles, Gleeson and Farrell take full advantage of the opportunity to natter, and it means that by the time the tempo is upped as the film enters its last act, you're rooting for a pair of fully rounded characters. To tell any more would be to spoil things, and while the ending just goes a bit bonkers, the path to it is up there with anything else released this year.
A quick word too for Ralph Fiennes, who appears to have spent his time preparing for his small role in the film by watching Ben Kingsley in Sexy Beast on loop. He too is as good as he's been in ages.
The real credit for the film though must go to writer-director Martin McDonagh, whose debut feature behind the camera is going to take some beating. His film is frequently very funny, often pushing the boundaries of taste, and yet seemingly effortlessly gets away with it, such is his commitment to his subject matter. Weaving a fleshed out narrative throughout his small cast, McDonagh only slips a little near the end, but by that stage, you'd pretty much forgive him anything. The Belgian tourist board might think differently, though.
The extras package is decent, and one or two of the deleted scenes in particular are worth giving a spin to. The gag reel isn't, and the making of featurette is fairly run of the mill, albeit with plenty of talking heads. It's all rounded off by some short featurettes, and a welcome blast of swearing.
There's nothing of particular substance in the supplements however, leaving the film primarily to cover the justification for buying the disc. Fortunately, in that regard, In Bruges is an absolute no brainer, a blast out of nowhere with rewatch value in abundance.
And Mr Farrell? More like this, please. More like this.
Film:
Extras: