Reviews
I'm Sorry I Haven't A Clue: Live on Stage DVD review
The funniest show on radio gets a DVD release, and our Clue fan couldn't wait to get his hands on it…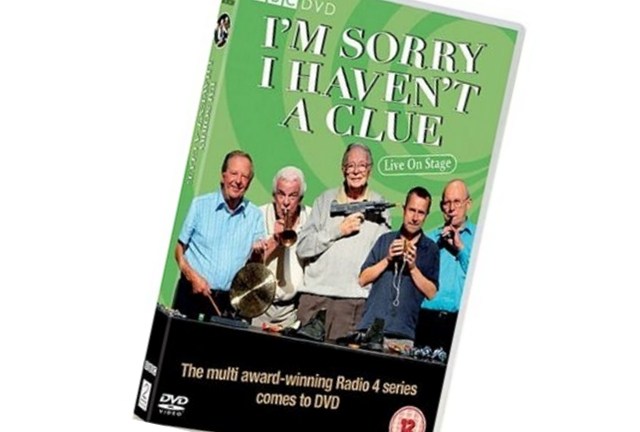 It's a while since a DVD rendered me a blubbering mess by the end of its runtime, but this DVD release of one of Britain's longest running radio shows had me reaching for my tissues.
I'm Sorry I Haven't A Clue is, quite simply, the funniest show on radio. It's been that way since it started over 35 years ago, then with a cast including the BBC's favourite nature lover, Bill Oddi, and his other Goodie chums, Graeme Garden and Tim Brooke-Taylor. Since then, the regular cast of Garden, Brooke-Taylor, Willie Rushton and Barry Cryer (and, of course, the Chairman, the late, truly great Humphrey Littleton) took the show to new heights and garnered a near-obsessive fan base. Following Rushton's death in 1996, the show has featured a number of rolling panellists to fill his chair, never permanently replacing the irreplaceable (for my money, Rushton's off-kilter humour helped it gain a new generation of Clue fans).
In 2007, the show was, for the first time ever, taken on the road. Sticking to the same format, essentially recreating what it's like to watch a radio recording, the gang toured the country, and I was gutted to not get my hands on any tickets. Fortunately, this DVD, recorded during that tour, does its best to make up for it.
Clocking in at 105 minutes, this is far longer than many live DVDs out on the market. Covering both acts of the live performance, with little seemingly left out, this feels as close as being live as it gets.
Jeremy Hardy joins Garden, Cryer and Brooke-Taylor on stage and, as always, Colin Sell is on piano. The show takes in all the favourite games played on the radio show, including a hilarious game of Mornington Crescent, which puts Hardy on the spot on more than one occasion. Naturally, he rises to it every time.
Fans who have collected the audio CDs over the past few years will recognise some of the jokes told here, as they've appeared on the show before. The second act in particular features quite a few I'd already heard, but then the stage show is a mixture of live, off-the-cuff material and sketch jokes anyway, so that didn't bother me. Plus, when the jokes are this good ("On my breakfast sausages, I see there's a picture of Anthony Worrell Thompson. Underneath, it says 'Prick With A Fork'") they're worth hearing again.
Seeing the performers on stage really brings you in to the Clue family. It's obvious that they all really get along and the way Garden and Cryer, in particular, bounce off each other is great to watch. The audience even get in on the act during a rousing rendition with their Swannee-Kazoos (a Clue favourite).
If you've never seen the show before, many of the games will seem bizarre, and, of course, that's the point. An unscripted panel show with people given 'silly things to do'. If you like irreverent humour and clever wordplay, you won't do better than Clue, and this live DVD is as good an example of any of the performers doing what they do best.
The show draws to a close with a ten-minute sketch-style game show that the performers all have a good laugh with and is, surprisingly, one of the highlights of the show. As it's a departure for listeners to see the cast doing scripted comedy, I wouldn't have been convinced it would work, but it does and it had me roaring out with laughter.
And then there's the ending. Chairman Humph plays out the show by treating the audience to a trumpet solo, and I just couldn't stop weeping. Even as I type this, I'm welling up. For those of us who love listening to the show, Humph was such a key part of the setup. His jokes may have been scripted (by Iain Pattinson) but it was Humph's perfect, acerbic delivery that so enthralled audiences. He always played the grumpy old man, somebody who had a million and one better things to be doing than hosting this radio show. But you always knew he was loving every minute of it.
So were we.
This DVD is a fantastic tribute to Humph and the show in general. I've read some reviewers complaining about the production values but that's missing the point entirely. The live stage show wasn't meant to be a glitzy, all-singing all-dancing production (as Garden explains in the DVD feature). It was always intended to be a straight reproduction of the radio audience experience. Clue fans wouldn't have it any other way.
Extras The DVD only comes with one extra, but it's a belter. A 25-minute interview with the cast and Humph with questions ranging from how the show came about (Garden was instrumental in bringing the show to life) and what they all think of each other, to their thoughts on Samantha (the show's mysterious scorer). Jeremy Hardy's dry responses are particularly funny and it's a cracking watch. It's still a shame there isn't more about the show here though, clips of the radio programme during production for example, and it's a missed opportunity.
Feature:
Extras: