News
Idina Menzel Talks Wicked Movie and Radiohead
Idina Menzel appeared at Tribeca Film Festival to accept she won't be in the Wicked movie... unless it was animated.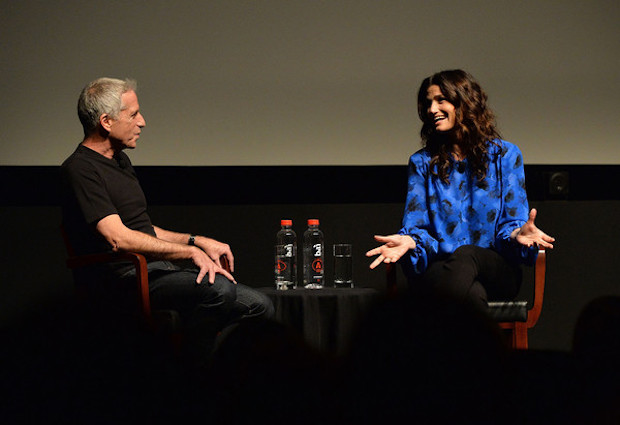 Idina Menzel and Marc Platt have had a long professional relationship. Ever since she walked into the audition for a musical Platt was serving on as a producer—you might have heard of Wicked—they have had the opportunity to collaborate on the biggest cultural phenomenon wave the theater world has seen in the 21st century.
So, it makes perfect sense why the Tribeca Talk series gathered them together for a friendly and varied conversation in Chelsea on Monday evening. Indeed, their chat ranged everywhere from the shows that inspired Menzel to want to pursue musical theater as a child (Peter Pan, Annie, and Dreamgirls, for the record) to which roles Menzel might still one day look forward to playing on the stage (Mama Rose in Gypsy, apparently. Broadway producers take note!).
Yet, of course, everything comes back to Wicked when the two are together, and Menzel teasingly pointed out that Platt is still planning to make a movie about the Broadway touchstone sometime down the line—and she would love to play the emerald-skinned Elphaba in it if the animated opportunity should arise.
While considering the differences between actually singing and lip-synching for the camera, Menzel said, "To illustrate the point, if I was in the Wicked movie, which I probably won't be—"
Platt then interrupted to allow another applause line for the star of stage and screen to his left, asking the crowd, "Who would like to see Idina in the movie," which led to a thunderous clap. But while Menzel downplayed the likelihood, she left a curious opening.
"I'm going to be way too old by the time you get it done. Unless he CGI's it, and he knows how I feel about that: I really want him to do that!" Menzel said, which brought more laughter… but also at least the appearance of an open-ended idea. Platt did not seem to rule out the possibility. Of course, this could all be in jest, yet Menzel seemed to indicate she had mentioned this thought before, and Frozen certainly showcased to astonishing effect what an animated musical starring Idina Menzel can do at the box office.
However, more concretely, their discussion offered plenty of insight into Menzel's career and balancing the perceptions of her being able to sing for the stage, as well as the recording room, and acting either in New York or LA.
"For a long time, being a theater person and trying to have a pop career was like, 'Forget about it,'" Menzel said. "You walk into a room, and people are like, 'Are you going to sing like Ethel Merman trying to have a pop album?' And that's not me!"
She continued, "My versatility has always made it difficult for producers and people to figure out. So, I go to one producer, and they'll go, 'I love this low and sexy after-party voice on the mic,' and we'll do this whole thing. And then it's like, 'You didn't use your money note and that's what people want to hear.' And the record label will go, 'That sucks!' And then I try to do something with money notes, and people are like, 'Oh, you sound like you're showing off! Be intimate!'"
Still, at this point in her career, after Menzel's powerhouse rendition of "Let It Go" for Frozen became a bigger radio hit than the poppy version Disney produced with Demi Lovato for that very purpose, Menzel is finding such boundaries are becoming moot. Indeed, her live-performance concerts are more popular than ever thanks to roles in projects like the aforementioned Wicked and Frozen, as well as her early Great White Way debut success in Rent. However, while Menzel likes to incorporate music from all of the above, and even that hinted at Ethel Merman medley, she likes experimenting with new sounds as well, including even Radiohead's "Creep."
Says Menzel, "I think I took a chance on that. I was feeling a little bit—I had 'Let It Go' and 'Defying Gravity,' almost sort of empowerment songs, and I was feeling a little bit like a fraud, because it's this sort of telling everybody, 'Feel good about yourself and be powerful, and you're a woman, get out there and fly! You know, own who you are and be an individual!'  And then I'd have a bad day, I'd be depressed in my own bed, and I couldn't get out of bed, and felt like shit. And so I was like, 'I need to do a song where I talk about feeling like shit, otherwise all of that doesn't make sense to me.'"
Still, the impact of her legendary projects carries on. In fact, when she accidentally used the turn of phrase "let it go" while describing how one performs an emotional character arc eight times a week—for Menzel it's like muscle memory—she had to wait as the entire audience stopped guffawing at the irony.
"It's just a very ordinary saying!" Menzel protested. "Now, I can't say it ever!"
Of course she can while earning audience cheers every time.