News
I was an alien in a sci-fi movie
Parsley finds himself unable to limit his love of sci-fi to being a passive viewer, and goes green as only a geek can..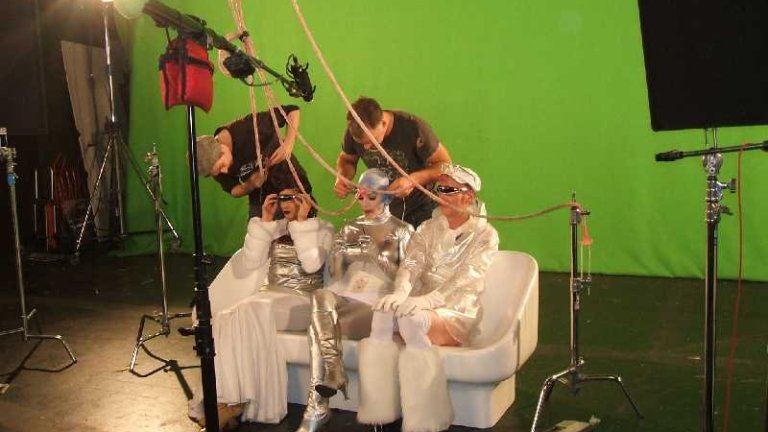 Nick Simpson is a wonderful and amazing chap. I first met him when he was looking for models to appear in strange caricatures, and he had me as a sadistical dentist. He always likes to photograph the extreme, and regularly asks me for 'more teeth!' It is quite difficult to hold such poses for a long time, especially for a mild-mannered chap like myself.
He subsequently took pictures of my bands for our records, including a shot of Adventures of Parsley (my TV themes band) jumping out of an old Jaguar in a pastiche of The Sweeney, wearing seventies suits and kipper ties. At the time he took some Super-8 footage of the car driving towards him. The old style Jag was one hired out by a firm owned by Nick Mason of the Pink Floyd. Bizarrely, it couldn't go particularly fast, as it was prone to overheat.
After creating extreme and bizarre photographs for many years, Nick has now also become a film director, making his own brand of crazy shorts under the title 'Naff Films'. The films are to promote 'Focus On Imaging' the photography exhibition that opens at the NEC this weekend (22nd-25th February 2009, more info at www.focus-on-imaging.co.uk).
In 2007, he had me in a military coat and furry hat as an Eastern European security guard trying to stop pictures being taken of our secret installation. We filmed on a former military base that still had working electric sentry gates, and a row of fighter plane bodies. I was quite surprised how much fun it was to be playing spies and I wondered how sentries ever managed to stand around all day without wanting to fire their guns.
Films
The latest film is the third in a bizarre series charting the history of photography from prehistoric times (yes, that's right, stone age photography), through medievel times (yes, that's right, sorcery photography) and now on into the future. Of course, when he decided to make a science fiction film he thought of me.
In the future, everything that can have been photographed will have been. So instead of taking photographs, people will be hooked into an 'egotography' machine (a giant eyeball with tentacles) through which they will experience what it was like to be a photographer, in this case taking pictures of a beautiful space girl robot.
The film is available to view online at www.focus-on-imaging.net/jf/jf-main.htm, and if you go to the exhibition you can meet and have your photo taken with characters from the film.
Ethan McKinley is the actor who stars as Justin Focus. He is an amazing guy. Aside from being tall and good-looking, he is the consummate professional, saying his lines perfectly whilst being hung up from wires or holding excruciating physical positions. He's also extremely funny and good fun. He even created several of the props and costume items for the shoot.
Mary Walker is the power behind the Focus On Imaging exhibition and the woman with the vision to support the creation of Nick's amazing films. She also provides the voice of the cool but slightly sinister future camera MAR-E3000.
Mel Winning (www.melwinning.com) is the makeup artist able to change me into a Vulcan and make other cast members look so alien that you couldn't recognise them without their makeup on! She regularly does pointed ears for kids that want to be pixies, but she told me that she would be very happy to offer her services to the Spock fans at a Trek convention. She is going to be giving a makeup demo (including Alien) every day at the Focus On Imaging show on the stand L40 'The Focus Foto Skool'.
Test Shoot
My role in the film began with a test/promo photoshoot in Farringdon. At first I had a blonde wig and a lightning strike of makeup across my face, which I thought made me look like Ziggy Stardust's brother, although some people unkindly said I looked more like Ronnie Wood on a bad day.
The girls in the film were wearing tight-fitting PVC outfits, and the 'model' had an amazing afro wig. Of course, I brought my own outfits. I started off in a white Nehru suit, but switched to my silver jumpsuit. A special Focus On Imaging logo was created for me to wear on the suit.
A week or two later, we all met again at a studio in Hendon which specialises in green screen (the green background that other images can be put onto). Apparently, the studio has been used for several major fantasy films. However, it was clear that this film was unusual even for their standards, and they asked to film some of the filming so that they could use it to promote the studio.
The first part of the day was spent setting up, with quite a lot of work on the elaborate makeup. Ethan had already done several of his shots the day before, but we were all here for the party sequence, where, in the story, several strange-looking alien types had been invited to experience the latest 'egotography'.
At certain stages in the proceedings, we would look at each other and enjoy the insanity of what we were doing, albeit with the organised professional framework that the filming provided. Sometimes it was hard not to laugh as, for instance, when the silver spacegirl was communicating with me by blowing and bursting bubbles in her bubble gum, into my face!
At the party, the robot waiter dished out the space food, which looked remarkably similar to brightly painted corn plasters. Nick set up one real shock surprise moment when the butler let off a klaxon that none of us knew was coming.
The space furniture and props had all been carefully picked out to fit the film. The 'camera', a kind of giant silver eyeball that could wink its eye, had been specially created for it. I was particularly impressed by the tentacles, which were made from transparent bathroom sealant, with red and blue fibres inside to simulate arteries.
Difficulty
One of the most difficult shots was where the camera tentacles attached themselves to the foreheads of the party guests. This was quite elaborate as it involved crew members releasing the tentacles from behind the actors' heads in sequence, then running the film backwards so it looked like they jumped onto peoples' heads.
Nick drove everyone to give their best performances and used his photography experience to create crazy visual images. The delight of the film is that the fantastic amount of detail that went into it is not 'signposted' and so it's more ticklish when you notice, for instance, that a spacecraft is based on a classic old camper van.
In a nod to a previous film he also let me go 'oooo' when I saw the camera, as I did when I was a medieval sentry in his film Cameralot.
There was an enjoyable camaraderie on set, with everyone giving their all to make the finished film as good as possible.
Seeing it now, with the amazing backgrounds added, you can see what a feat it is to bring it together, and one I am very proud to have been an alien in.
See photos from filming and in-between over to the right.
Parsley the Lion's own website is gardenrecords.com and he can be contacted via parsley@gardenrecords.com.