Features
Hugh Jackman: movie star, song and dance man, mutant superhero
Hugh Jackman: From OKLAHOMA! to Wolverine, the Boy from Oz can do it all.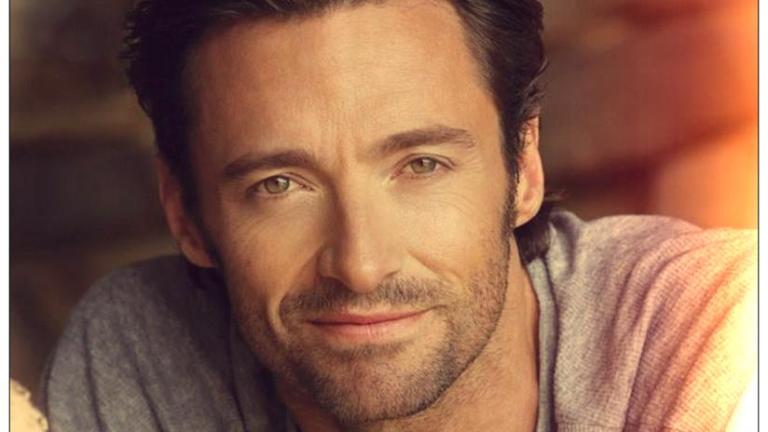 I remember when I first saw Hugh Jackman. Sitting in the dark theater, munching popcorn, I watched a babyface Rogue (Anna Paquin) jump off the truck she was hitching from and enter the nastiest looking biker bar in the cold wasteland they call Canada. Inside, every X-Men or Marvel Geek worth their Adamantium knew what she'd find. Behind the rustic doors of a bar that may have once housed cattle, lay a steel cage with lambs lining up for the slaughter. A tall, shirtless, killing machine leaned calmly against the wall's metal trappings as he took a drag from his cigar. For him, beating the ever- oving crap out of these bums was just another Tuesday. His next cage match opponent, ignoring the advice of the bar owner, tries to make things personal by kicking this feral beast in a place where no man should be kicked. Bad idea. A berserk rage takes over the force of nature and he rises like a demon to claim this man's soul. A wave of metal crashes on the fool's brittle bones and the announcer bemusedly calls the victory for THE WOLVERINE. Hugh Jackman is so good in this scene and X-Men (2000) as a whole that he instantly became an iconic screen character for many a Geek and a new action star for the industry…except that is not the first time I had seen Hugh Jackman.
A few months earlier, PBS aired a taping of the London West End's revival of Rodgers and Hammerstein's immortal Broadway legend, OKLAHOMA! (you have to type it in all caps). It's the wonderfully catchy musical comedy about a group of cowboys and ranchers learning to co-exist in the changing frontier of early 20th century Oklahoma. They tap dance away their differences about "The Cowman and the Farmer," becoming friends. The women sing of why they "Just Can't Say No." And at the center of it all is a wonderful love story about Curly, the kind of sure-footed rustler who greets every sunrise with a jovial "Oh What a Beautiful Mornin'" and Laurey, a woman who will go to the dance with creepy Jud to avoid people saying she and Curly are in love. Of course, by the end of Act II they get over it, get married and lead a company chorus praising the bountiful land that is OKLAHOMA! And who do you think starred as the wide-eyed cowman with a song in his heart? Hugh Jackman: The Wolverine! Wait, what?
Over the last decade, Hugh Jackman has proven himself to be the most versatile and confounding of old school showmen. Part Clint Eastwood and part Fred Astaire, the Australian thespian is willing to do anything for any audience. He's been so good at it that quite frequently, people forget who he is.  Like my stunned surprise to discover that before he was Wolverine, he was Curly the Cowboy, much of Hollywood and even Geek culture has struggled to reconcile his many sides. For while the actor has become royalty on Broadway's Great White Way, Hollywood and moviegoers have strained to see him as anyone beyond the metal claws and grimaced snarls.
That appears to be changing these days. On Sunday, Jackman stood up to clap for Daniel Day-Lewis as a fellow Oscar nominated actor in the Dolby Theatre. He is finally seen as more than a Hollywood action icon thanks, of all things, to a musical. So, to celebrate the ascension of this Geek hero to the heights of "proper" Hollywood, we thought there'd be no better time to look back at his remarkable career and consider how he got here. It is time to see why Jackman has the best of both worlds.
He Just Can't Say No
Much of Jackman's early career seemed to come from a man unsure of what exactly he wanted. Indecisive regarding what to do, Jackman tried everything. Not even seriously pursuing acting until he completed his BA at the University of Technology in Sydney, Jackman was 22 when he began to attempt performing professionally. Raised with four siblings by his single father after his mother returned to England, the family saw as much theater as they could find. Christopher Jackman, an English accountant for Price Waterhouse, believed theater and the arts were part of a fully rounded education for his children. Yet, Hugh didn't realize it could be a career until he attended the Western Australian Academy of Performing Arts of Edith Cowan University in Perth, well into his 20s. Acting was a hobby, not a profession for an English gentleman's education.
Even after he embraced the theatricality coursing through his blood, Jackman didn't see himself as the closest thing the 21st century would get to Gene Kelly. "At my college there was a theater school and a musical theater school," Jackman later said in interviews. "I went to THE theater school." But after graduation, like a pair of red shoes with a mind of their own, funny things started moving the guy in different directions. Right out of school, he landed a major part on Aussie primetime soap, Corelli (1995). The show was a melodramatic dud that only lasted a season, but Jackman met his future wife, Deborra-Lee Furness, to whom he is still married, 16 years and two children later. He also found himself auditioning for anything after Corelli ended, including sneaking into a casting call for the role of Gaston in the Walt Disney Australian production of Beauty and the Beast. In a case of professional reverse engineering, Jackman was educated in musical theater after he landed his first singing gig. "In my contract, they had a singing lesson once a week. They paid for it." No one may sing, hit or spit like Gaston, but I'm also willing to bet almost no one else was cast like this Gaston.
Beauty and the Beast brought magical opportunities Jackman's way. While he continued to do Australian television, the entry into musical theater led to a starring role in the Australian production of Andrew Lloyd Webber's Sunset Boulevard, the lead in the 1998 Midsumma (an Australian Gay Pride festival) production of Summer Cabaret and the chance to host both Melbourne and Sydney's "Carols by Candlelight" Christmas shows. He quickly became the musical star of the Land Down Under and drew international attention, including from musical director Trevor Nunn. Nunn, stage crafter of musical mega-hits like Cats and Les Misérables, took Jackman to the West End as Curly in his production of Oklahoma! With choreography by Susan Stroman, Oklahoma! played for six months at the Royal National Theatre and netted Jackman an Olivier Award.
The show also gave Jackman the international exposure needed for Hollywood to light the beacon. Why not? In 1999, Jackman's Oklahoma! was recorded as a film and seen all around the world. The strapping Australian gives off an air of authenticity when he struts onto Laurey's farm like he owns the place. Even though he had never been to the American West, this Aussie born of English parents sounds like he's never left the turn of the century territory. "I totally felt like it can't get any better than this," Jackman later said of the role. "On some level that production will be one of the highlights of my career."
It wasn't enough for Broadway, whose producers would not put up the equity to transfer the show across the pond. Oklahoma! is a doggone piece of Broadway heritage! It was theirs first! No, it wasn't until years later that Broadway finally took on Nunn's vision with a real American cast. But their loss was Hollywood's gain, because Fox was producing a mid-budgeted superhero movie and, since we all know superhero movies don't make money, they were looking to cast an unknown as their lead.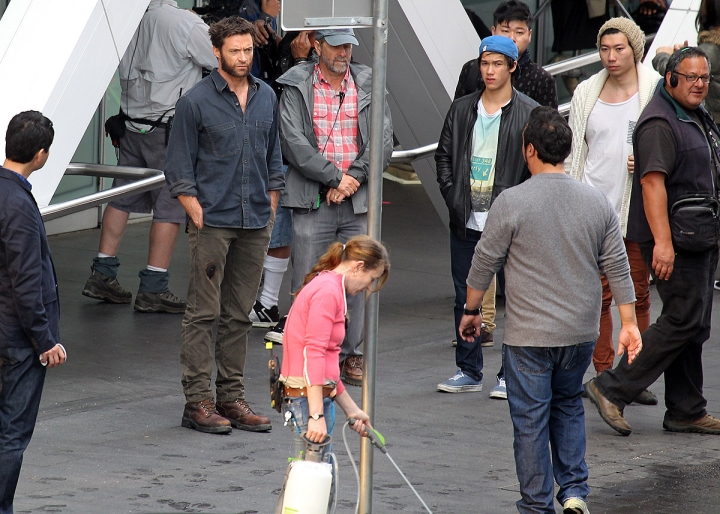 Then They Gave Him Claws
Filmmaking wunderkind Bryan Singer was under a lot of stress in 1999. The helmer of the long gestating X-Men had just hit the film's newest hellacious developmental hurdle. Shortly before shooting, actor Dougray Scott had to drop out of the project due to an extended production schedule for Mission: Impossible II. The Scottish tough guy had been cast in the film's lead role as Wolverine. With shooting about to commence and Fox cutting the $75 million budgeted actioner's post-production in half by moving up its release date from Christmas 2000 to that year's summer, Singer needed a new lead ASAP.
As it so happens, Scott also wasn't Singer's first choice for the role of the amnesia-suffering anti-hero. He first approached Russell Crowe years earlier. Crowe, another rugged Australian, was making waves in Hollywood after his electric turn in LA Confidential (1997). Singer thought the Aussie would be perfect as his X-Men's Canuck bad boy. But after a dispute over salary demands, Crowe declined the role in favor of his future Oscar winning turn in Gladiator (2000). However, he did recommend a fellow Australian who'd been a buddy of his back down under. Now, with Scott jettisoned from the movie, it turns out that this other unknown's schedule was also clear since Broadway had turned up its nose at Oklahoma! Just as he stumbled into musical theater, Jackman tripped and tumbled into Charles Xavier's School for Gifted Youngsters.
X-Men took a LONG time to get to the big screen. The earliest talk for the jump began in 1989, when James Cameron expressed interest in turning the misunderstood Marvel heroes into celluloid. He'd eventually jump ship for his equally doomed attempt to make Spider-Man into a movie, but many more would take a crack at the project. Writers including Andrew Kevin Walker, John Logan and Joss Whedon all turned in unproduced drafts to Fox. Only when Singer took the helm did it finally start to work. Fresh off the success of The Usual Suspects (1994), Singer passed on the offer to direct the X-Men movie three times until the studio finally convinced him to at least read the comics. What he once viewed as unintelligent literature took on a very personal life for the filmmaker. The themes of prejudice, alienation and acceptance appealed to a director who, as a Gay man, had to deal with these issues himself as an adolescent. He scrubbed out most of the comical nature of earlier drafts when he came onto the project and put in allusions as varied as Martin Luther King Jr. (Xavier), Malcolm X (Magneto) and Joseph McCarthy (Senator Kelly). He even retailored Magneto's plan of turning world leaders at a UN meeting, as well as all of Manhattan, into mutants around Constantine I's Christian transformation of the Roman Empire.
Lofty ambitions are nice, but if the actual film didn't work, they wouldn't matter. Yet, somewhat fortunately, Fox's decision to lowball the film because superheroes were out after 1997's Batman and Robin travesty may have helped it. First, it gave Singer more free range to thematically play with the story as he saw fit and cast talent over names. Secondly, the budget was so low that he had to make sure the characters worked first and foremost. It is the latter that allowed his ensemble, which included Patrick Stewart and Ian McKellan, to shine. At the center of the cast was a very simple, but quietly sincere relationship between Logan (Wolverine's real name) and Rogue. In this writer's opinion, that central relationship did more than launch the Hollywood careers of Jackman and (adult) Paquin. It may have birthed the entire superhero genre that's still invading multiplexes today.
It's not only Jackman's gritty badassery that made him a star in X-Men. There's no denying his Wolverine was a cool loner and that Jackman's studying of Clint Eastwood in Dirty Harry (1971) and Mel Gibson in Mad Max (1979) paid off. But it was also his ability to convey a level of depth and feeling beneath the raw anger that made both Wolverine and the actor so memorable. His big brother relationship with the totally alienated Rogue (if she touches anyone they can die) and his own personal anguish over amnesia endeared him to audiences overnight. In this relatively low budget action movie, Jackman, in a role his wife initially voted against, created the modern cinematic superhero and was off to the movie star races.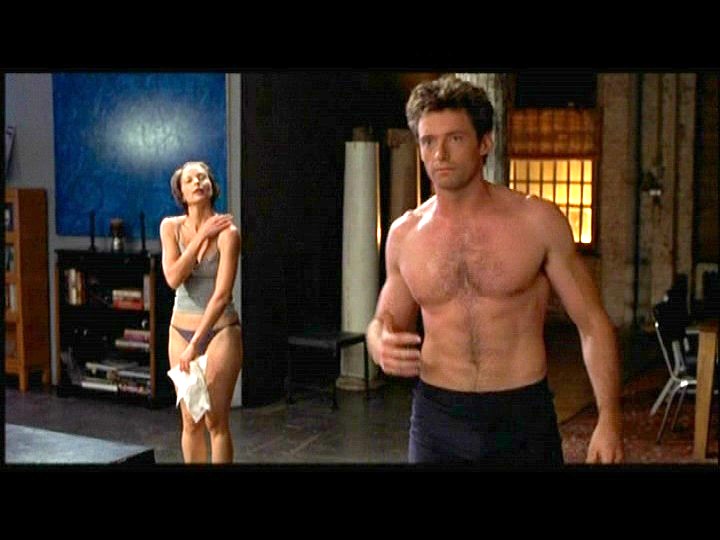 Dreams of Butter
Following X-Men's surprisingly big success (who knew if you did superheroes right Geeks would come?), Jackman became the name about Tinseltown. The actor and his agent, knowing they had the male audience wrapped up, could now pull from the handy Movie Star Playbook that women needed convincing next. Thus, Jackman reinforced his star with not one but TWO romantic comedies within a year of X-Men. The first, Someone Like You (2001) is standard chick flick fluff. In it, Ashley Judd has the nominal romcom-approved leading lady job of producer for a syndicated talk show in New York. After her boyfriend dumps her for his old girlfriend, she moves in with her coworker, the piggish Jackman. Somehow, despite his chauvinism, he really has a heart of gold and overcomes Judd's new anti-male tendencies exemplified in her pseudonym-penned book. Yawn.
The other one is a more intriguing exercise in star building and romcom formula. Kate & Leopold (2001) is perhaps the ultimate romantic comedy. No, it's not anywhere near as good as the genre's classics like Love, Actually (2003), When Harry Met Sally (1989) or Breakfast at Tiffany's (1961). Rather, it's more fascinating as a study in what Hollywood thinks women perceive as the PERFECT man. The time-traveling romance is the tale of Mr. Fancy Pants Leopold Alexis Elijah Walker Thomas Gareth Mountbatten, the Duke of Albany and Meg Ryan. Just Meg Ryan. Technically her character's name is Kate McKay, but it's really Meg Ryan. In 1876, Leopold, future inventor of the elevator (go take the shaft Elisha Otis, actual inventor of the modern elevator cable), follows his great-great grandson (Liev Schreiber) home. Turns out, the kid is something of a time traveler from 2001 New York. When Leopold reaches modern Manhattan, he instantly grasps all the facets of our reality and quickly makes time to romance Schreiber's ex-girlfriend, Kate. See, she's a market researcher for television advertising (what else?) and she realizes that her ex's dreamboat granddad could sell a whole lot of margarine. Of course the faux-butter's crap, but she's a career woman who has to make it on her own! Well kind of. Really, she just needs an 1876 poet who is musical, understanding, handsome, charming and rich to sweep her off her feet and take her back to 1876 where society won't let her have a job. Or personal hygiene. Or modern medical services.
This is the movie that gave Jackman his crossover appeal and movie star bonafides. It's also a fascinating look at the career woman's supposed fantasy. This perfect guy will stop the world's stupidest purse snatcher (midday on the Upper West Side?!) by riding him down on horseback through Central Park. He'll save Kate from her exhausting job by questioning the integrity of advertising (something we all know was an honorable vocation in the 19th century) and taking her to a time where she'll never have to work…because it's not allowed. Kate & Leopold is a stunningly regressive film whose success feels somehow disparaging for the 21st century. Beyond that, it showed a peculiar trend almost unique for Mr. Jackman. He can act in the most unapologetically sappy of romances and still be viewed as a masculine uberman by Geek and male culture. Can you imagine other of the genre's stalwarts like Hugh Grant or Patrick Dempsey playing Wolverine and being beloved by fanboy culture? Somehow, like margarine, he can be molded and squeezed into anything without any apparent difficulty. This unique quality would extend beyond tight leather and period vests.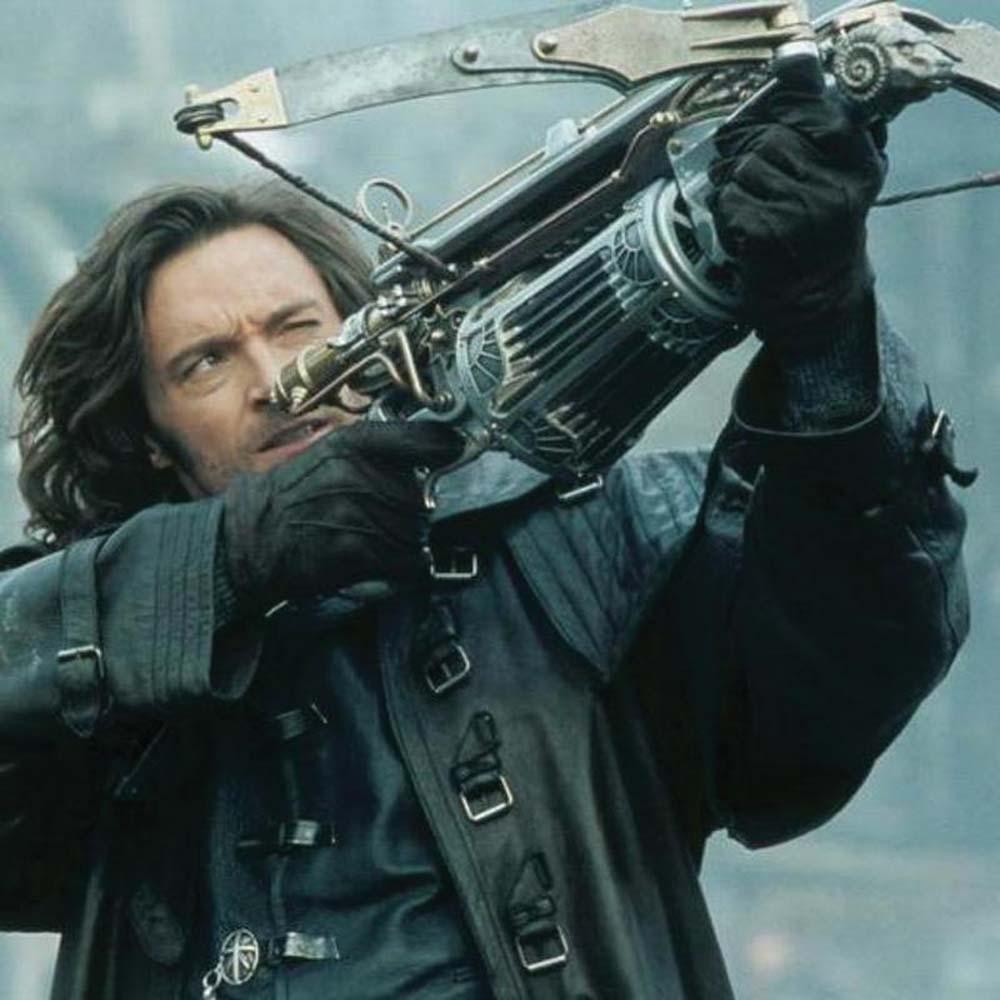 Action Jackman
In 2003, Singer and Jackman returned to the X-verse with actual money. X2: X-Men United was bigger and better than X-Men in every way. However, Jackman wanted to be seen as more than Wolverine and Mr. Butter, hence a string of action flicks in the early part of the last decade. In Swordfish (2001), he played the most athletic and good looking hacker in movie history and second banana to a mugging John Travolta. In a film best remembered, if at all, for paying co-star Halle Berry an extra $500,000 to be topless for 10 seconds of screentime, all Jackman has to do is furiously pound keyboard buttons that display his mastery of the mysterious magic known as "hacking." He's even able to crack the Department of Defense's firewalls in 60 seconds with a gun pointed to his head and the mouth of Travolta's prostitute pointed at his other. Not the best movie, but hey it made money. Soon Jackman was appearing in a number of other star vehicles, including the legendarily awful Van Helsing (2004). Supposedly Indiana Jones Goes Gothic, the poorly rendered video game cutscene was meant to be a second franchise for its star. Instead, it's a cautionary tale about how not to make a blockbuster. If only more studios would listen.
By the time X-Men: The Last Stand (2006) rolled around a few things had become industry wisdom about its star. First, he is great as Logan. Even though X3 is a long walk off a short pier in terms of quality as compared to the first two, as well as a rush hack-and-shoot job by Fox and director Brett Ratner, Jackman is superb. The success of X3 likely stems from the Geek culture's admiration for the first two films and Jackman's very obvious affection for the character. Hell, he's even played him again in X-Men Origins: Wolverine (2009) and in a cameo appearance for X-Men: First Class (2011). For most actors, a fifth trip to the well means a paycheck and an easy ride (ahem-A Good Day to Die Hard-ahem), but Jackman still gives Logan the same kind of passion and energy he reserves for his prestige pictures, even in something as mindless as the 2009 iteration.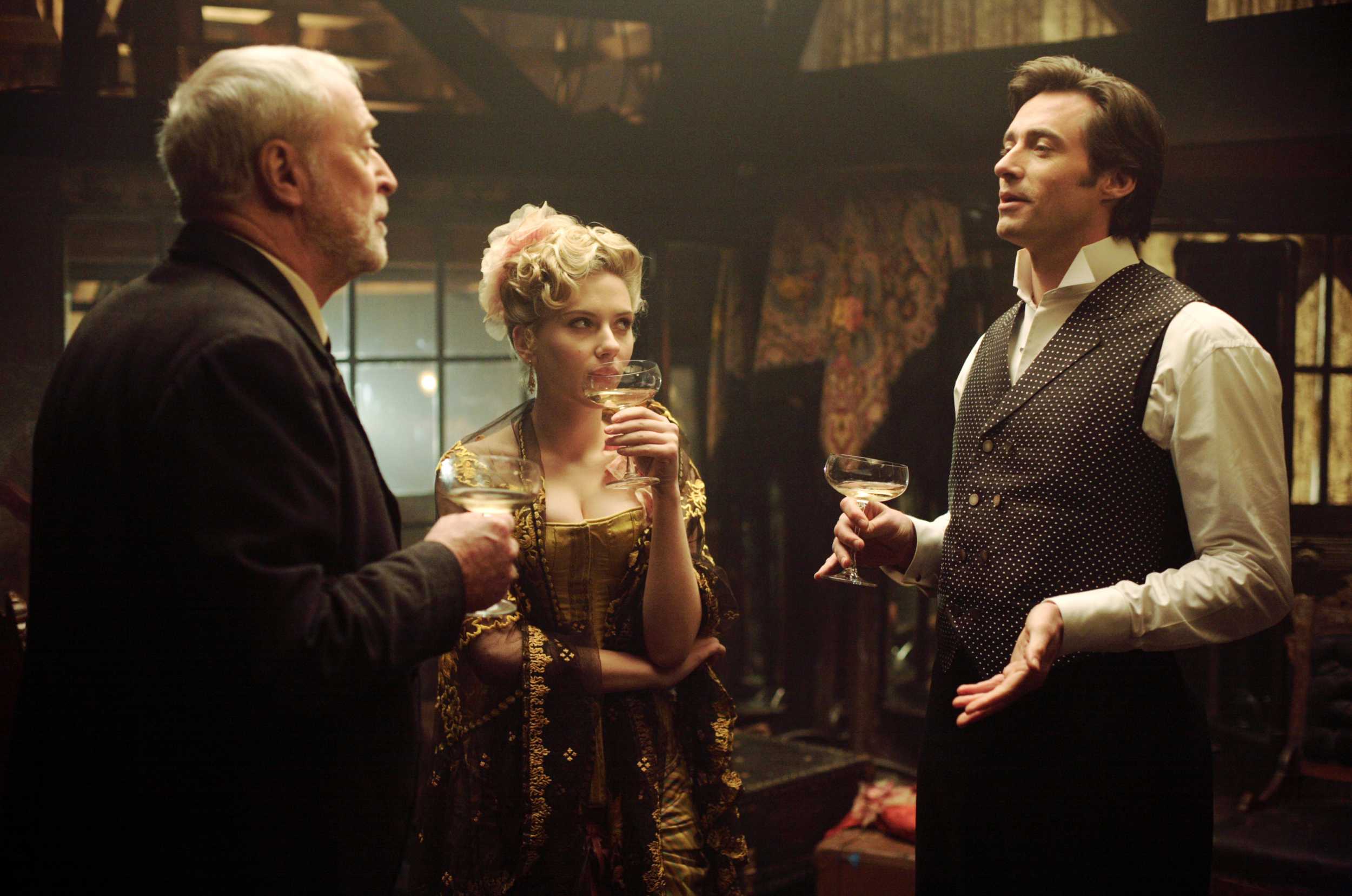 However, the other conventional Hollywood wisdom became that Jackman is good for comic book movies and romcoms, but little else. With the failure of Van Helsing, he attempted to move on toward serious work despite the general apathy of Tinseltown. In The Prestige (2006), he worked with Christopher Nolan before it became a safe blockbuster move. Sure, Nolan had already done Batman Begins (2005), but he was years away from the juggernaut successes of The Dark Knight (2008) and Inception (2010). Indeed, 2001's Memento was still his primary calling card. In the thriller with Jackman, Wolverine squared off against Nolan's Batman, Christian Bale, as the two played a pair of dueling Victorian magicians with a dark feud that spanned decades. The film was a refreshing period piece that relied more on mystery than art direction and costumes. Nolan even refrained from building most of the sets, choosing to instead rely on a more unorthodox method involving redressed locations and handheld camera work. The movie is an underrated gem that, while successful, got lost in the shuffle of magician themed films in 2006. It shouldn't have been too surprising for the star though as he was in one of the others.
In Scoop, Jackman continued to pursue work with other auteurs. This time, he and Prestige co-star Scarlett Johansson went under Woody Allen's spell. Cast as a rich London aristocrat and a neurotic journalism student, respectively, the two become entwined in a dangerous romance when a magician's (Woody Allen) teleportation act crosses paths with a real ghost. The specter (Ian McShane) warns Johansson that Jackman is a serial killer of women. This being an Allen comedy though, she still must fall in love with the posh maniac and hijinks ensue. It's surely one of Woody's lesser films, especially when sandwiched between Match Point (2005) and Vicky Cristina Barcelona (2008), however Jackman was again reliable as he played the polar opposite of Wolverine.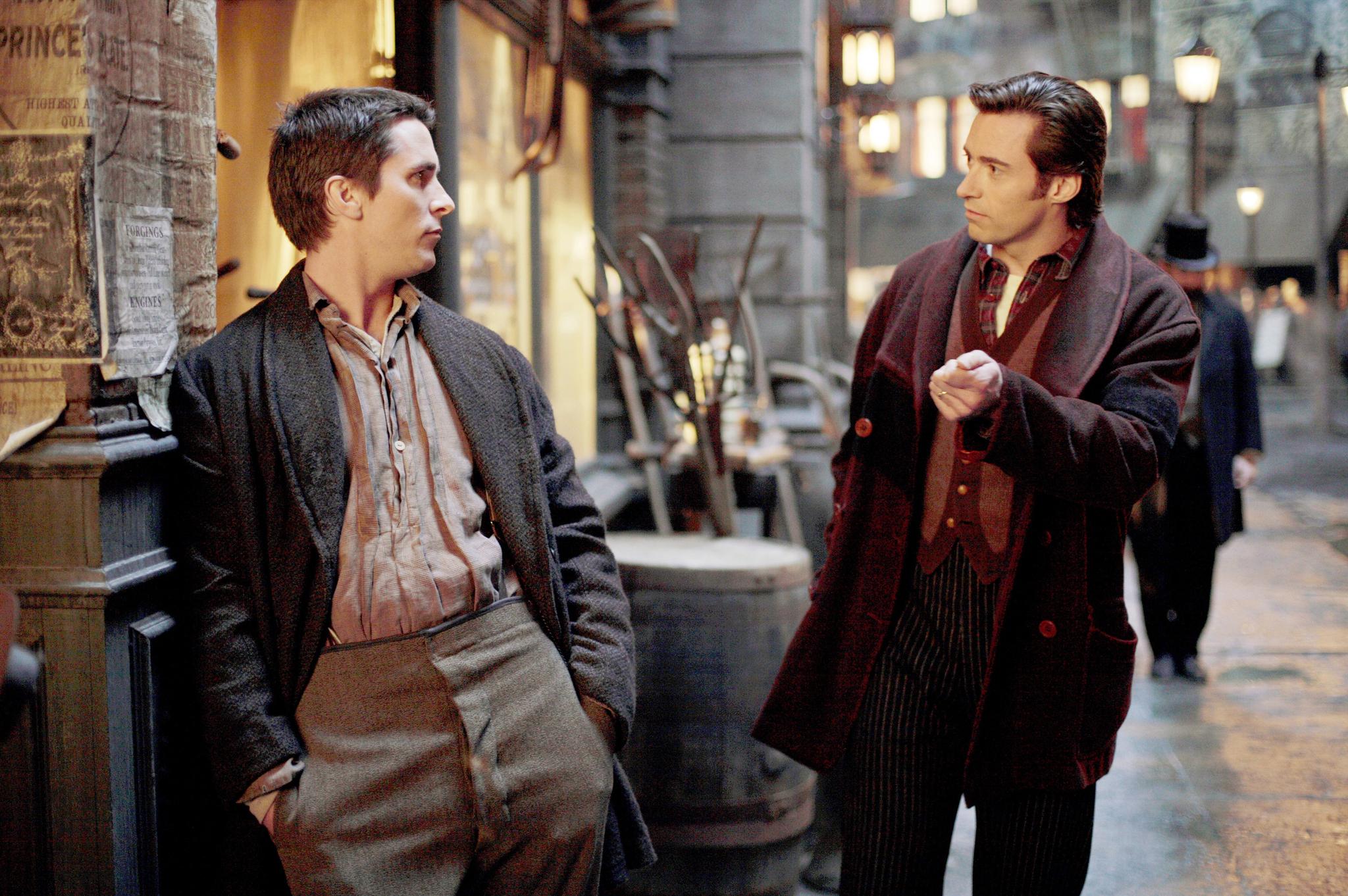 Jackman's desire for credibility even took him to the extreme with two starkly different visionaries. The first was Darren Aronofsky, who directed the Aussie in his sci-fi period drama/psychological character study, The Fountain (2006). Jackman played three versions of the same man in 1500, 2005 and 2500. In all of the narrative threads, he tries and fails to discover immortality for his Spanish Queen, his cancer stricken wife and his long deceased space lover (Rachel Weisz, all). The confounding tale is more puzzle than film about confronting mortality. The ambitious art picture was booed at the 2006 Venice Film Festival and underperformed at the box office. Perhaps it is as pretentious as its critics assert, however it is still an ambitious and wholly unique experience unlike anything else ever made. Aronofsky and Jackman's willingness to so boldly explore something that noncommercial should be applauded. However, by the time Australia (2008) came along, Hollywood thought the star had a lot to prove.
Australia was the long-simmering labor of love for Baz Luhrmann. His first attempt to step away from the "Red Curtain Trilogy," Australia marked Luhrmann's unashamed love letter to his homeland and a throwback to old school epics like Gone with the Wind (1939). Also, as with everything concerning Baz, he announced these intentions loudly and decadently by setting it mostly in 1939 and having his characters watch and reenact, scenes from another 1939 film, The Wizard of Oz. The sprawling story is of Lady Ashley (Nicole Kidman) and a cattleman known only as Drover (Jackman) protecting Outback farmland Faraway Downs and raising Aboriginal child Nullah (Brandon Walters). It's an overly grand film that suffers from ADHD. There are too many plot threads and it's an emotionally distant muddle. But, again, Jackman is great as Drover and carries much of the second half of the film when World War II starts. It also, again, underperformed at the American box office. However, it featured the biggest opening weekend ever in Australia and received a mostly ecstatic response from Jackman, Kidman and Luhrmann's countrymen and women, including from Jackman himself. "I got to shoot a big budget, shamelessly old fashioned romantic epic set against one of the most turbulent times in my native country's history, while, at the same time, celebrating that country's natural beauty, its people, its cultures…. I'll die a happy man knowing I've got this film on my CV."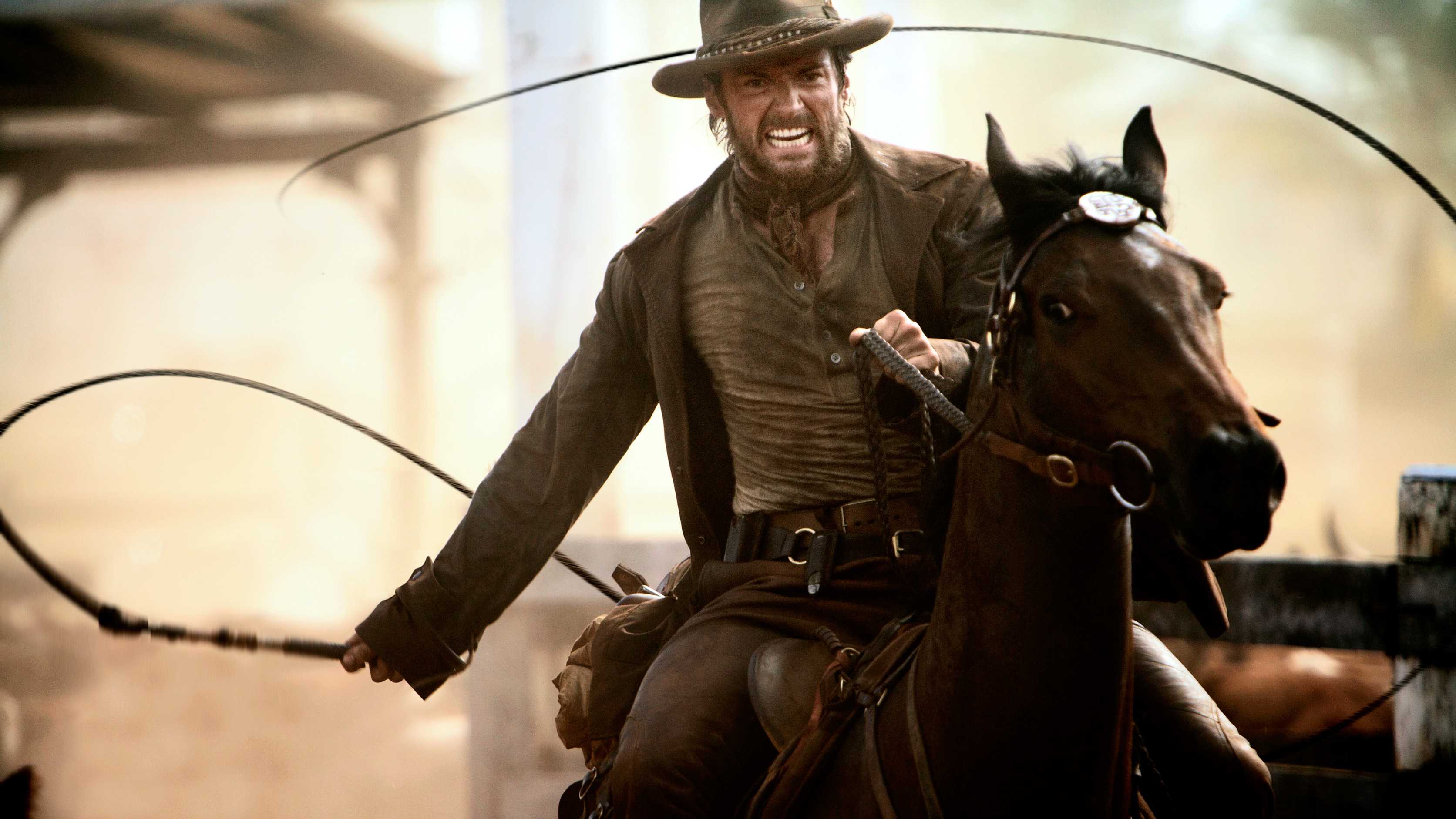 The last half of the 2000s marked a period of cinematic struggle for Jackman. Despite the continued success of the X-Men movies, his acceptance into "high-brow" Hollywood kept being thwarted by either mixed reviews or box office, even in truly great films like The Prestige and The Fountain. Where other careers might suffer from such setbacks, Jackman has continued to persevere as if he actually IS made of Adamantium. It's also very easy to see the reason he got through so many misfires undaunted is the same reason he can play so many kinds of roles without alienating one choosy audience from the other. The answer lies not in his films, but in his true professional home.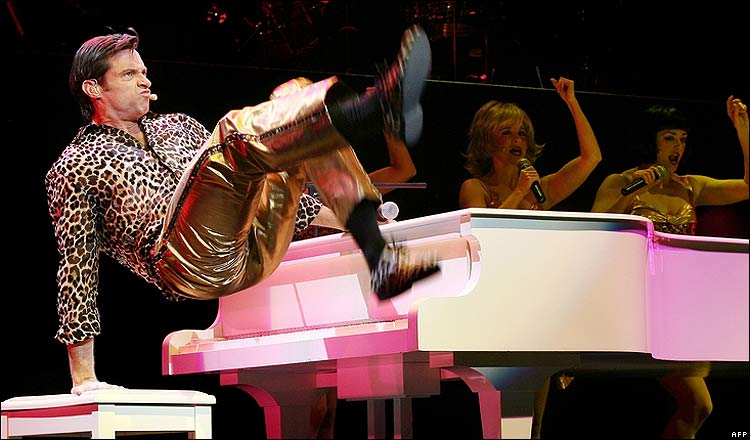 The Best of Both Worlds
A few years ago on Saturday Night Live, Andy Samberg came up with a rare thing: a genuinely funny recurring sketch. Called "The Best of Both Worlds," Samberg would appear with Wolverine's copyrighted haircut and an atrocious Australian accent. In the skit, "Hugh Jackman" would celebrate on his TV show how he's "both the most masculine and most feminine man in the world." He would bring on other conflicted action stars who celebrate their "Two Sides," including Gerard Butler and Mandy Patinkin; dueling Jackman to the death as they sing Broadway medleys from The Phantom of the Opera, West Side Story and Les Misérables. The sketch could only be so hilarious because it's based in truth.
In 2002, Jackman made his Broadway debut as Billy Bigelow in a one night Carnegie Hall concert performance of Carousel. It was an especially personal triumph for the actor, because his father flew a round trip of 48 hours just to see the show. Well reviewed and well received, it did not necessarily prove he was a name meant to light up the Great White Way. The following year, he hosted the Tony Awards (Oscars for Broadway) and won over the last of New York's curmudgeons. For a community that shunned him only a few years before, they were ready for his star wattage to absorb all the energy in Times Square.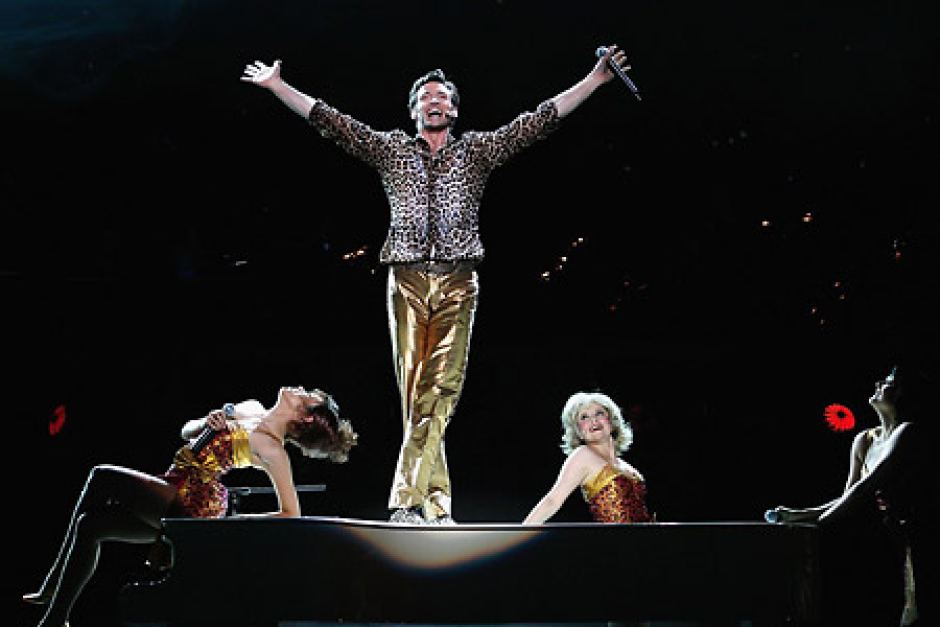 Jackman got the chance to reinvent his name as a true musical icon the same year X2 was released. That movie may have permanently imprinted Jackman on the hearts and minds of Marvel Zombies and general moviegoers alike, but for the Theater Geeks, he'll always be Peter Allen: The Boy From Oz. Allen, a trailblazer for Australian entertainers, was a song and dance man who brought his music to Broadway, American Top 40 and well into the Garland home. Performing with Judy and marrying her daughter Liza Minnelli, Allen was already a Gay Icon before he came out of the closet in 1974. An openly Gay man who was beloved in the wilds of the Australian Outback, Allen's audacity appealed to Jackman. "It was sort of difficult for Australians…[particularly in the '70s] but they loved him," muses Jackman. "He's an Outback boy, used to play in the pub, tap dance and sing on the piano [and] he had that ability to crossover."
The Boy From Oz, already a brief 1990s jukebox musical in Sydney, was extensively reworked for an American audience by playwright Martin Sherman. And in September 2003, around the same time Jackman finished up playing super straight and Kate Beckinsale lovin' Van Helsing, Jackman opened The Boy From Oz at Broadway's Imperial Theatre. For 365 performances, Jackman donned tight gold pants and leopard themed shirts as he skipped and disco-ed across the boards. Also, in tune with Allen, he'd practice his fanged improv wit when he picked random audience members every night to mock, tease or seduce for everyone's entertainment. Even the show's haters, such as the equally fanged Ben Brantley of the New York Times, gave Jackman a glowing pass. The adulation continued all the way for Jackman until he accepted his Tony for Best Actor in a Musical.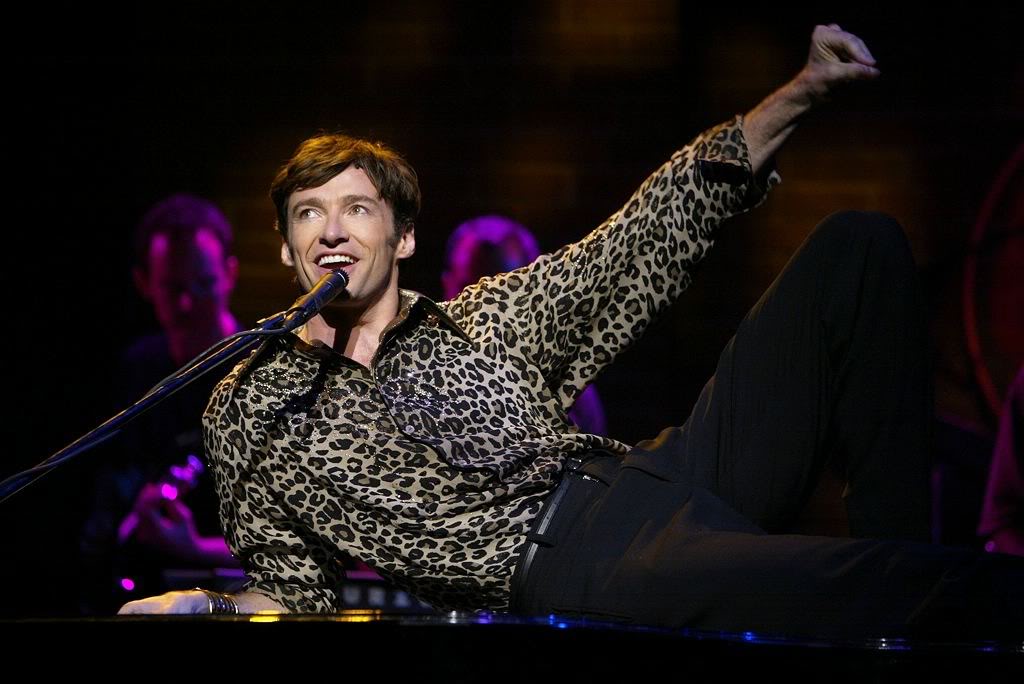 The reason Jackman has become such an embraced hero of Broadway is the same reason he can so easily dust off box office disasters like Van Helsing and The Fountain. He is just a natural showman. In the vein of old school performers like Fred Astaire, Gene Kelly and Julie Andrews, he does it all simply because he can. He doesn't care if his image is emasculated by homophobes on the fringes or if his chances of winning a serious award are hurt because he continues to play the clawed X-Men superhero. He just enjoys putting on a show and the energy he brings is infectious, even if the show is as lousy as X-Men Origins: Wolverine.
On stage, Jackman went on to host the Tonys two more times, which in turn led to him singing Astaire's signature "Top Hat" with Beyoncé as host of the Academy Awards. He's also tackled serious drama in the spotlight with Daniel Craig in the two-man show, A Steady Rain. Based on a true story about Chicago detectives hunting a cannibalistic serial killer, the play received mixed reviews and huge box office. Jackman returned to the boards again in 2011 for a one-man show, no longer even needing Craig's marquee name. Hugh Jackman, Back on Broadway sold out at the Broadhurst Theatre for its two month run. If you missed it, don't worry. Jackman has already promised to bring it back. And just as he worked in Peter Allen last time, he's working in a new character for his next cycle…Les Misérables' Jean Valjean.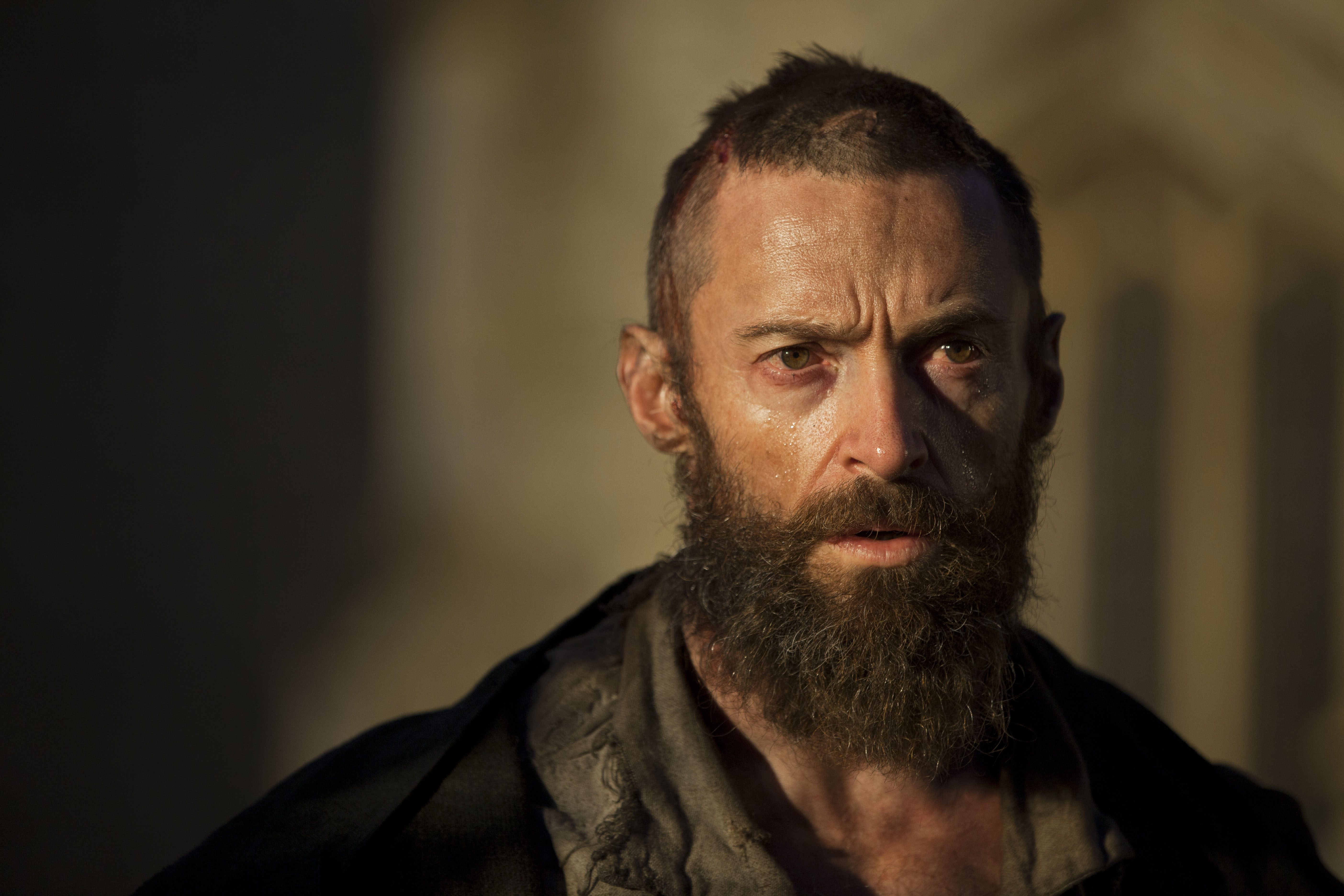 One Day More
Which brings us full circle. Sunday, Jackman basked in his first Academy Award nomination and true Hollywood prestige because he played one of the most coveted roles in musical theater. Jean Valjean, the French messiah of Victor Hugo's sprawling Les Misérables, is a tragic hero who trudges through 18 long years of suffering in the name of righteousness and God. Mounted as a musical in Paris, Les Mis was produced in English for the West End by Cameron Mackintosh, the Jerry Bruckheimer of theater. London's biggest success, it eventually found its way to Broadway, as well as every other musical stage in the world.
After Tom Hooper miraculously won the Best Director Oscar for The King's Speech (2010), he had one dream project on his mind: adapting the long-gestating Les Misérables for the screen. And like nearly every musical film made in the last 10 years, he wanted Hugh Jackman as his star. Jackman, sensing a better role than almost any in his film career, took on the part of Valjean. Losing over 20 pounds only for the film's prologue, he looks gaunt when Valjean is released from 19 years of hard labor because he once stole a loaf of bread. He then spends the rest of the film in doughy shape (for Jackman) as he's pursued by authoritarian, hellhound Inspector Javert (Russell Crowe) and protects dying prostitute Fantine's (Anne Hathaway) child from the harsh realities of post-Napoleonic France. It's a long and grim tale of suffering, revolution, Shakespearian levels of death and some minor kind of redemption.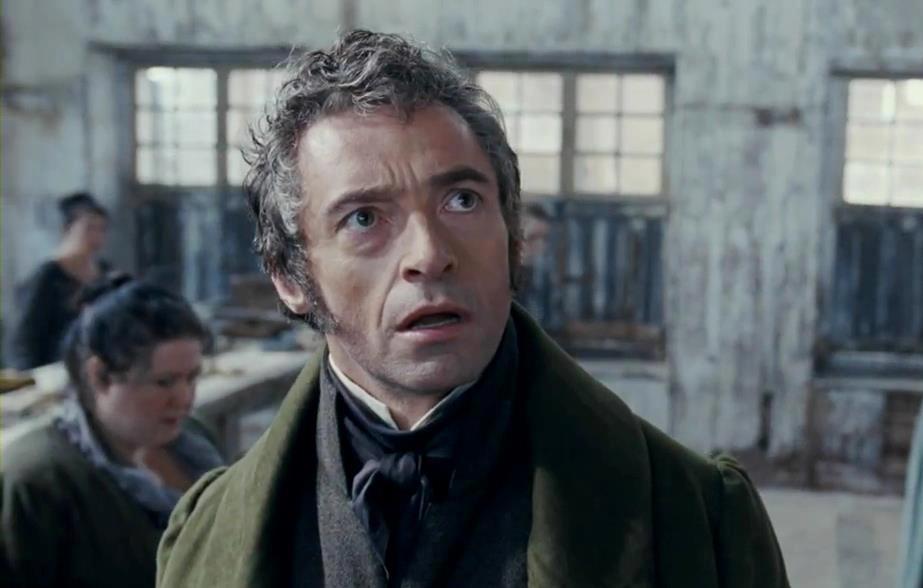 As a movie, I think it is both flawed and liberated by Hooper's direction. The filmmaker's choice to use live singing certainly brought the raw anguish and pain to the singing of Jackman, Hathaway and most of the cast (as well as just the audible pain of listening to Crowe belt). However, his choice of long, sustained, extreme close-ups that are always positioned from Dutch angles is distracting and visually limiting. Even so, it does allow the actors to dominate their scenes and for a few performances, including Jackman's, it made room for heartbreaking showstoppers.
Les Misérables marks a major milestone for the actor. He finally has combined his two wheelhouses of big Hollywood spectacle and musical theater. It also marks professional recognition by Hollywood for what Broadway has long known…he's just really damn talented. So much so, that he's even there to dash to the Oscar stage and help a stumbled Jennifer Lawrence back up. What a guy.
And still, he hasn't forgotten his Geeky roots. This summer, he will appear as Logan for a shocking sixth time in The Wolverine. He also signed up as soon as production ended to play the hero FOR A SEVENTH TIME in next year's X-Men: Days of Future Past. Like a true showman, he knows what audiences love and he loves giving it to them. I am sure that by the time he's nominated for his next Oscar, he will have played Wolverine another five times and done Valjean on Broadway a few times too. There's probably a Real Steel sequel brewing in some Burbank basement, as well. He's not just Geek or Broadway royalty; he's the last of a dying breed. Let someone this versatile go as berserk and flamboyant as he wants. Here's a cheers to the Two Sides!