News
Howard the Duck in the Castle of Illusion
The Disney/Marvel merger is not unprecedented, or even necessarily a bad thing for Marvel fans...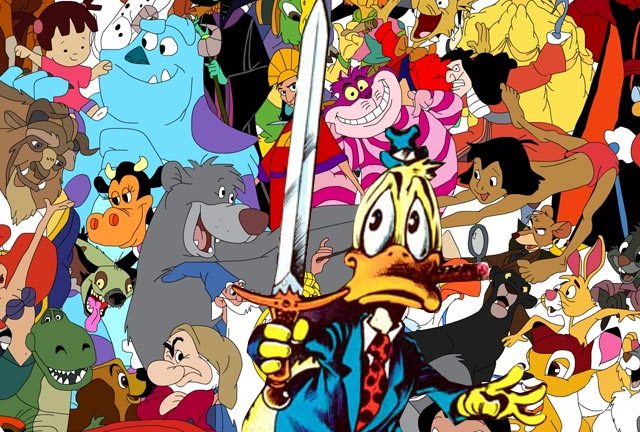 Walt Disney Company just bought Marvel Entertainment for four billion dollars. To a lot of people, this will probably be on a par with being informed that your best friend's kindly widower father is marrying your madcap divorcee mother. For four billion dollars. Fittingly, the merger is a definite double-take, kids movie moment. I can't speak for you but I kind of feel like Lindsay Lohan right now.
Walt Disney Co. is the largest media conglomerate in the known cosmos. That pretty much makes it some kind of benevolent god. It's still early days but, luckily, Wall Street murmurs indicate that Disney seem to be waving their righteous hand and suggesting they'll leave Marvel to play in its own universe, echoing treatment of the earlier Pixar takeover.
Obvious comparisons will be drawn (no pun intended) with the Warner Bros. Entertainment acquisition of DC. From a fan perspective let us keep in mind that – perhaps aside from Jack Nicholson's portrayal of the Joker – That's All Folks-style material has not found its way into the major DC properties. If anything, shows like Batman: The Animated Series have set a high benchmark.
Similarities between the two companies abound. Walt and Roy Disney crafted the archetypal nuclear family-friendly franchise with their animation properties; Stan Lee and Jack Kirby's creations have dominated the comics world for decades, but only in the past few years gained the opportunity to move to celluloid.
A potential partnership has seemed on the cards for a while, and recently re-branded children's channel Disney XD currently screens cartoon shows based on several Marvel franchises including The Avengers, Fantastic Four, Hulk, X-Men, Iron Man, and Spider-Man.
With this pricey deal, the animation giant is marking its territory and securing greater access to properties that are just beginning to see successful development into other media, and even rivalling Disney's own. Marvel's current licensing and distribution deals with other big names such as Paramount, Fox, and Sony are under threat.
Business issues are probably not the primary concern of many fans. Our part in the deal is the characters we regularly invest our time and money in. Any possible outcries over the relative broodiness of Marvel characters when compared with Disney's are probably unfounded.
Regardless of their usually spotless image, as a business Disney have come under fire several times in the past for supposedly objectionable content in their own franchises and those of their subsidiaries.
Religious groups, environmental activists, and human rights campaigners have aimed various criticisms at the House of Mouse. Accusations that the word "sex" appeared in a cloud of dust during the Lion King were reported by the Washington Post in 1995, and several other bizarre complaints about popular Disney films have cropped up on occasion.
Will fans of Marvel be Lilo & Stitch'd up? Will Disney film gritty live-action versions of the Little Mermaid and Brother Bear? Will Troy and Gabriella team up with Deadpool? Both companies look well set to profit from future collaboration, and we can only hope animation and comic books fans will be able to join in the fun.