Reviews
How To Lose Friends And Alienate People DVD review
Simon Pegg follows Ricky Gervais into the Brit-in-the-big-apple comedy set-up...but did it need a little more ambition?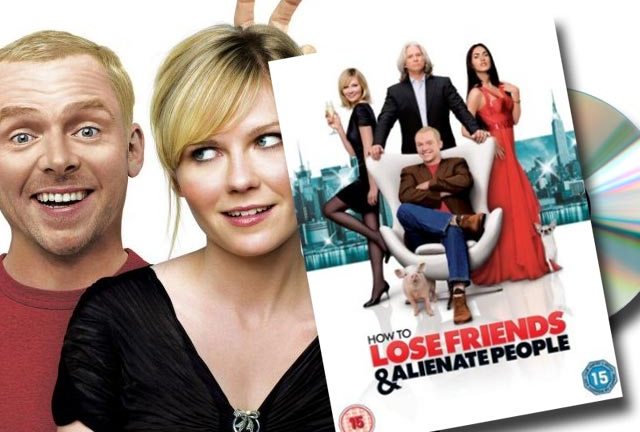 Adapted from journlist/caricature Toby Young's memoir about his stint as a commissioning editor at glossy American mag Vanity Fair, How To Lose Friends And Alienate People is a mollified and utterly defanged comedy.
The story goes that Sidney Young (Simon Pegg), a hard-nosed, doltish English journo, obsessed with the celebrity lifestyle yet absurdly adept at creating sticky situations, somehow gets hired by Sharps Magazine, the USA's premier high society publication. Coming from the rough and ready, take no prisoners approach of his Post Modern Review magazine, Sidney must contend with the sleazy, glitzy two-facedness of the New York social world.
How To Lose Friends And Alienate People boasts a good and able cast lost in an uncertain, messy film. Simon Pegg is a major comedic talent, but his Sidney has neither distinction or depth. The subject matter hints at arrogance, conflict and vacuous ambition, but Pegg is too likeable an actor to make Young a detestable or flawed figure. Instead, he is a gawkish dolt, who means well but just has rotten luck – a Johnny English of journalism. Character is put on the back burner in favour of loosely linked scenes of farce and faux-pas. These comic sequences are broad and not entirely successful, and explore the post-Farrelly Bros idiom, from 'dog mishap' and unfortunate bodily expressions, to well-aimed spillages and 'aren't trans-sexuals funny?'.
Sure, it's a comedy. But – why set the sights so low? The film is populated by one-dimensional characters who are supposed to be 'satirical', but to say so would be crediting the lazy writing much more than it deserves. It is a shame to see Gillian Anderson as the predatory talent agent, or Danny Huston as the underhand section editor, or Jeff Bridges as the successful, unpredictable sell-out head of the magazine. Talent in spades, wasted on roles defined by their first appearance or batch of dialogue. They are merely perfunctory in a narrative confused about it is trajectory.
With Sidney's arrogance softened up, his pursuit of fame, fortune and a night of passion with Hollywood actress Megan Fox is played with an Adam Sandler-ish innocent idiocy. His initial failure at, and eventual surrender to the restricted deceitful Sharps approach to journalism, then, is without depth or any real coincidence, as the actual writing side of the magazine business is pushed aside. This approach is almost offensively straightforward, and is filled with exaggerations and cliches. Megan Fox is a ditzy actress because, well, aren't they all? Max Minghella's Vincent Lepak is a pretentious film director, seemingly because he wears sunglasses indoors – because that is what pretentious film directors do.
Kirsten Dunst's Alison obviously has more depth and ambition since she carries around a notebook containing her work-in-progress novel, and is only working at the magazine to pay the bills. In fact, she might as well have been renamed Integrity, as the film struggles to encapsulate such an abstract concept, and instead chooses to bury it in a predictable romance between her and Sidney. Throw in an heirloom from a deceased mother and handy (if unwise) references to La Dolce Vita (still one of the best films on the subject of celebrity) and you have the ingredients of the film's tidy, shallow conclusion. Sidney realises his errors not for personal, self-analytical reasons, but because he discovers a love for Alison. Cue emotional climax.
Although, to its credit, H2LF&AP is slickly produced, skipping along at a good pace through its myriad gags, awkward scenes and one-liners, this is no doubt due to the sometimes subtle, sometimes expressive flourishes on behalf of director Robert B. Weide and composer Tom Arnold. However, instead of being a penetrating look at the incestuous or soul-degrading world of celebrity media, or a portrait of the central character, it is a droll comedy, with all possible sharp edges of satire smoothed out.
Extras A good, if not entirely enlightening selection of deleted scenes, two commentaries (one with Weide solo, the other plus Pegg) and a 30 minute (!) gag reel. Of note, though, is the multi-part fly-on-the-wall 'Simon Blogs' segments, featuring behind the scenes footage.
Film:
Disc:
How To Lose Friends And Alienate People is out now.