News
How Star Trek re-conquered the world
50 days after JJ Abrams' film blasted into cinemas, we trace how Paramount won its gamble to bring Star Trek back to life...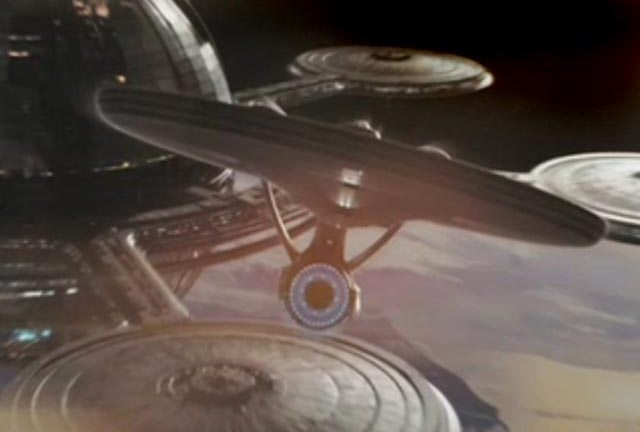 When the final numbers for Star Trek: Nemesis were totted up, even the most ardent of Star Trek fans must have thought that the game was up. While the film has its share of fans – although I confess that I'm not one of them – there was no arguing with the figures. Star Trek: Nemesis was the lowest grossing Trek movie to date, beneath even Star Trek V, with just $43m taken in the US, and $24m overseas. The cinematic franchise, to all intents and purposes, was dead.
On the small screen, Star Trek's fortunes weren't doing too much better. Nemesis hit cinema screens the year after Star Trek Voyager's adventures drew to a close. That said, the expectation was that the freshly-launched Star Trek Enterprise would pick up the mantle, and to give Trek a shot in the arm. Yet it didn't. And while it ran for four seasons, and had many devoted fans, Enterprise finally lost its battle for survival in 2005, meaning that for the first time in nearly two decades, there were no new Star Trek episodes or movies in production. Things, it seemed, had come to a stop.
To revive things, Paramount needed to take drastic action, but to be fair, it had few options at hand. The trend for cinematic reboots wasn't, in 2002, anywhere near what it is now, and to continue with an eleventh Star Trek movie along existing lines was simply not feasible. Something was going to have to give for Trek to be able to spring back to life.
Catalyst
The catalyst, as it happened, was a business parting of the ways. In 2005, Viacom – the owners of Paramount Pictures – split from CBS. CBS, as part of the separation, took the rights to Paramount's television franchises, Star Trek included. However, the Paramount head-honcho at the time, Gail Berman, asked for an 18 month window to try and get a new film going. After all, Star Trek had literally made billions of dollars for Paramount over the decades, and it was in no mood to dispose of such a lucrative franchise if it didn't have to. A deal was struck with CBS, and Berman enlisted the help of writers Roberto Orci and Alex Kurtzman. The pair had just written Mission: Impossible III for Paramount, which was also the feature directorial debut of JJ Abrams. Berman, impressed with what Abrams was doing, sounded him out about producing the picture. To help out his writers, he agreed to do so.
Abrams, Orci and Kurtzman also brought Bryan Burk and Damon Lindelof to the table, and between them, they argued that it was time to dig into what happened before the original Star Trek series kicked off. The reasoning was that they felt that many subsequent stories had been explored, and that didn't leave them much room for a new film. Abrams himself wasn't a hardened Trekkie, and hadn't even watched Nemesis, but he was also keen to dig into the formation of themes developed in The Original Series that financial constraints had meant couldn't always be fully explored.
Abrams hadn't originally come on board with the intention of directing the film, but when Orci and Kurtzman delivered their script in 2007, he signed up to do so, arguing that it'd be hard for him to watch someone else try to realise it. The plan, therefore, was to produce a film that would engage the existing Star Trek audience, but not isolate the mainstream market. And that was at the heart of Paramount's gamble.
Appeal
Looking back to Star Trek: Nemesis, its broad appeal was limited. The box office numbers reflect the fact that Trekkies turned out to watch it, but the underwhelming movie and comparably strict genre elements meant it was never going to be a breakout hit. The most successful movie in the series to that point, Star Trek IV, played on comedic elements that worked whether you were a Star Trek fan or not. Yet Nemesis was strictly one for the fans.
Given how much Paramount was looking to invest, it needed its new film to be broad, and to an extent, it needed to pretend it wasn't Star Trek. And as JJ Abrams and his cast and crew got to work, the promotional word soon started to reflect that.
As filming commenced, to Paramount's favour, various cinematic franchises were being successfully rebooted. Paramount seemingly watched and learned lessons from them all.
It was also studiously careful in the material it would release. An early teaser trailer turned out to be the construction of the Enterprise, while character posters were doing the rounds a good year before release. It knew it had to play a long game in getting Star Trek back into people's minds, and thus it had got to work early.
Wrapped
Filming wrapped in March of 2008, with the plan being to release the film on Christmas Day of that year. But Paramount, which had invested around $150m in making the film ($50m more than the most successful film in the franchise had taken at the US box office!) realised that it stood its best chance of maximising its return by releasing the film in the summer blockbuster season. Buoyed by the quality of the footage coming through (which made the studio realise it had an excellent shot at a breakout hit), and the enthusiasm around the film, it thus shunted the release back by six months, giving it a prime summer May 8th release date. Not for the first time on the project, Paramount was taking a big gamble.
It stacked the odds in its favour, though, by playing hard to broaden the film's appeal. With the movie in the can effectively by the end of 2008, director JJ Abrams embarked on a worldwide tour to show key scenes from the film to assembled reporters. The response, including our own, was very enthusiastic, and word was out: Star Trek could very well be the summer 2009 movie to watch out for, Trekkie or not.
Then the full trailers started coming, and it was clear that Paramount was pitching the film as a mass-market summer action movie. Actively wooing the Star Wars market as much as Trek fans, it underplayed the Star Trek elements in much of the promotional material, appreciating that Trek fans – starved of a new addition to the franchise for several years – would be likely to turn up come what may. Thus, we got an avalanche of effects, and promos that couldn't help but turn up the excitement factor. Yet they kept the words Star and Trek out of things as long as possible.
Doubts
But the doubt, even in the run up to that May release, still remained. Could Star Trek really rid itself of its old clothes, and appeal to a mass market audience? And could it do so without isolating the fans who had kept the franchise going thus far?
The early reviews answered the question. Abrams and his team had hit it out of the park. It's difficult to see just how they could have walked the line between reverence and attracting a new audience any better, and the final cut was surely the film that the Star Wars prequels should have been. It wasn't perfect, but it's arguably the finest blockbuster of the summer (with the possible exception of Up), and genuinely one of the best and most exciting big budget movies in years. And heck, it was fun and upbeat, a marked contrast to the blockbuster that preceded it in cinemas, X-Men Origins: Wolverine.
What's more, people turned up to see it. Star Trek snared an opening weekend of $75m in the States, and in spite of fears that its audience would suddenly drop off, word of mouth has thus far fuelled it to a $241m US gross, with another $123m coming from overseas. Not only is it the most successful Star Trek film ever, it's also the most successful franchise reboot at the US box office to date, eclipsing Superman Returns' $200m, Batman Begins' $205m and Casino Royale's $167m. What's more, it'll cross a quarter of a billion dollars in the next two weeks. And while Transformers 2 and Up are set to overtake it, it's spent most of its time to date as the most lucrative film of the year at the US box office.
Against the trend of many current blockbusters, the key was that Star Trek's weekly audience drop offs were comparably low, the by-product of making a film that people really enjoyed, and went on to re-watch, and recommend to others. Even the competition that arrived in subsequent weeks, such as the fourth Terminator movie, failed to halt it. And its rivals' drop offs were proving to be more dramatic.
To put this into some kind of context, X-Men Origins: Wolverine suffered a 69% second weekend drop in business, Angels & Demons fell by 53%, Terminator: Salvation by 61% and Night At The Museum 2 by 55%. Star Trek? It fell just 42.8%, a remarkably low figure for what was originally considered a franchise-contained genre movie.
Fighting Fit
It leaves the franchise in the best state it's been in since the mid-90s. Paramount has already commissioned another film, which Abrams may well direct. Meanwhile, earlier this year, Bryan Fuller – the man behind Pushing Daisies and some of the finest episodes of Heroes – confirmed that he'd love to have a crack at a new Star Trek TV series. Fuller has recently quit Heroes (for a second time), giving the reason that he's working on new pilots for unnamed television series. Is it a major leap of faith to suggest that one of those might be the return of Star Trek to the big screen?
Paramount, to its immense credit, gambled hard with Star Trek, and backed it with the funds needed to really make an impact. Backed by, arguably, the savviest marketing campaign of the summer, it's in a position now where it needs to choose carefully, given that there's a genuine thirst for the franchise now that it won't want to squander.
As audiences trailed out of Star Trek: Nemesis, this would have been an unthinkable position to be in. The trick now? To build on it properly. If JJ Abrams remains involved, there's little reason to suggest that won't happen.