Reviews
How Not to Live Your Life Season 1 DVD review
A better than average new BBC Three comedy, Dave reviews the first series of How Not To Live Your Life on DVD...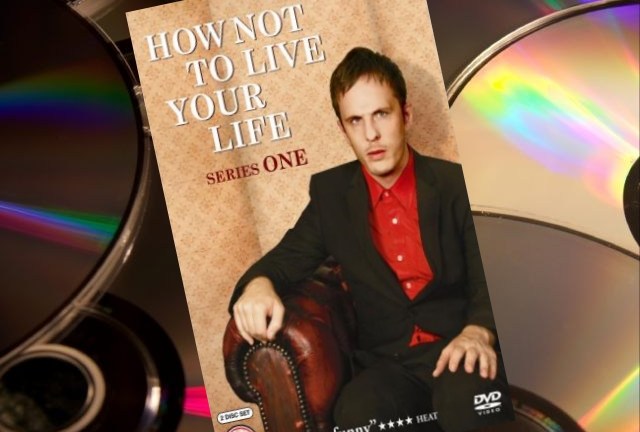 BBC Three's comedy How Not to Live Your Life is written and performed by Dan Clarke, a young, affable comedian whom I have seen a couple of times in a couple of things. I seem to remember he was funny. HNTLYL is a really just an extension of some comedy skits that he did for The Paramount Comedy Channel where he's showcases a handful of things not to do when dating and working.
Dan plays Don Danbury, a 29-year-old loser who finds that he's inherited a house from his recently diseased grandmother. In order to pay the mounting debts associated with the house, which he can't sell, he decides to get a lodger who turns out to be an ex-love interest called Abby, with her upwardly mobile boyfriend, Karl. To add complication, there's his grandmother's home help, Eddie, whom he can't seem to get rid of and who seems just a bit too friendly and just won't leave.
The six episodes of the first season chart Don's varied attempts to charm Abby, make a success of his life and become a responsible adult. However, his varied attempts are hampered by his social ineptitude and an innate inability to ever do the right thing at the right time… or at all… ever. In between all this, we get Scrubs-esque 'Things Not To Do' moments, where we see a handful of things that Dan shouldn't do after having sex with his boss, meeting his neighbours, and more…
Episode 1 sees Don sleep with his boss, inherit the house and the rather bizarre (and terribly, terribly affectionate) housekeeper, get sacked, sleep with his boss again and take in a lodger and her unwanted (by Don) boyfriend.
Episode 2 sees Don sleep with a girl who might just understand his feelings, sabotage Karl and Abby's school trip plan and try to ingratiate himself to Abby by escorting young children on a field trip. Except he doesn't like children and really can't look after himself. On top of that, competitive (and slightly miffed) Karl turns up to challenge Don to a scavenger hunt.
Episode 3 sees Don have to fake a wake for his dead grandmother, leading to auditions in a retirement home. It turns out that his grandmother's will specified a wake with an open casket, followed by a funeral, not cremated on the cheap and deposited in an M&S carrier bag. In the meantime, Don uses his own grief to get closer to Abby. Except he's upset about the cost of the funeral, not his grandmother's death.
Episode 4 sees Don risk house repossession, having to find a job (except he's not particularly good at anything) so decides to become a charity collector, or, more accurately, a 'chugger' (charity mugger), meet a 20-year-old girl and try to recapture his youth by hanging around with her friends (and just how many of us would love to do the '4 things Don would like to do to these kids'? Well, maybe not No.3.)
Episode 5 sees Don visited by a bailiff (and his young daughter) for failing to pay his council tax, Eddie pretending to be a television, Karl getting Dan an interview at his father's property development company (against Karl's, and Dan's, wishes), Karl's father growing to like Dan more than his own son, and spending his salary on luxurious extravagances that he really doesn't need. But, will his high flying job make him arrogant and conceited – anymore than he already is?
Episode 6 sees Don and Eddie go out on the pull, Eddie meets a woman over a glass of milk, Don's meets a girl with an interesting laugh. At this point, things aren't going well for Abby and Karl, allowing Don to finally get closer to Abby for all the right reasons. This, the series finale, is the most melodramatic of the episodes and really works quite well.  here's a certain tenderness to Dan Clark's performance and it definitely gives Sinead Moynihan her most challenging role in the series. However, with the past five episodes to go on, it's unlikely to end with romance and happy endings, especially when Karl changes his mind.
Don is quite an affable fellow, despite his self-destructive attitude to life. Dan Clark pulls off the role well and leaves you with the feeling that he'd be the type of mate who would be fun to be around and annoying at exactly the same time. He's definitely versatile enough as a comedian, switching from observationalist humour to slapstick to music humour without skipping a beat. It is, however, David Armand's Eddie who really steals the show. He's just the right side of psychotic neediness without being too creepy. Sinead Moynihan is sweet as Abby but the role is seriously lightweight, whilst Finlay Robertson's Karl is suitably slimy as Abby's boyfriend.
In parts, How Not to Live Your Life is quite amusing. It didn't have me laughing myself off my sofa, but there were times when I did titter. The 'Things Not to Do' sections go from really funny (5 things you shouldn't do when you're fired) to really quite surreal (6 things they could be doing instead) to the tastelessly amusing (6 things not to wear at a funeral.) It's one of those comedic devices where you sometimes think, "If only I could get away with that." Dan Clark's Don is really quite endearing, despite all of his shortcomings. It doesn't have the biting edge of recent offering such as E4's The Inbetweeners, or Channel Four's Peep Show, but sits comfortably between traditional and more contemporary sitcoms.
Extras This two-disc set features all six episodes and commentaries on the first disc and the extras on the second disc. 
Episodes 3, 4 and  6 have commentaries featuring Dan Clark, David Armand and director Gary Reich and are, in places, funnier than many bits of the series. The commentaries have very few places where there's absolute silence and each member seems to have some interesting anecdote or behind-the-scenes comment to make about what's going on. It's through the commentary that we learn why the opening scene of episode six is poor quality.
Behind The Scenes lasts fifteen minutes and is presented by Dan Clark, accompanied by Sinead Moynihan. We get a quick tour of the studio set, along with footage of various sequences from filming and rehearsal. It could have been fifteen minutes of fluff, but it's quite amusing and some interesting technical stuff is revealed: day for night shooting, how to shoot teenagers, and the tour of the house are particular (short) highlights.
Pilot Comparison is four minutes long and shows the differences between Don arriving at the house from the (not included) pilot episode compared to the first episode of the series. The first episode has a more grandiose house, and there's some dialogue changes. It would have been nice if the pilot had been included on this disc, or as a picture-in-picture comparison.
Deleted Scenes last all of 36 seconds. I'm guessing that more was filmed and deleted and it would have been nice to see more. As it is, 'deleted scenes' is a single scene from episode 4 where Karl reports his credit card missing and Don gets his hair cut by Eddie.
Outtakes shows two outtakes from episode 6: firstly, Dan's attempts to say the line "horny babies" from episode 6, and then Dan's attempts at the bangers and mash dance.
Dan Clark's Guide to Dating is The Paramount Comedy short sketch series that inspired How Not to Live Your Life and lasts just under 11 minutes. The sketch is broken down into sections (10 Ways You Shouldn't Arrive, 10 People You Shouldn't Bring With You, 10 Embarrassing Moments You Hope Never Happen, etc) and each section lasts about 90 seconds. As with the sketches in the series, some are funnier than others. There was a second sketch series – Dan Clark's Guide to Working – sadly, that's not included.
Episodes:
Disc:
How Not To Live Your Life Series 1 is released on July 20.